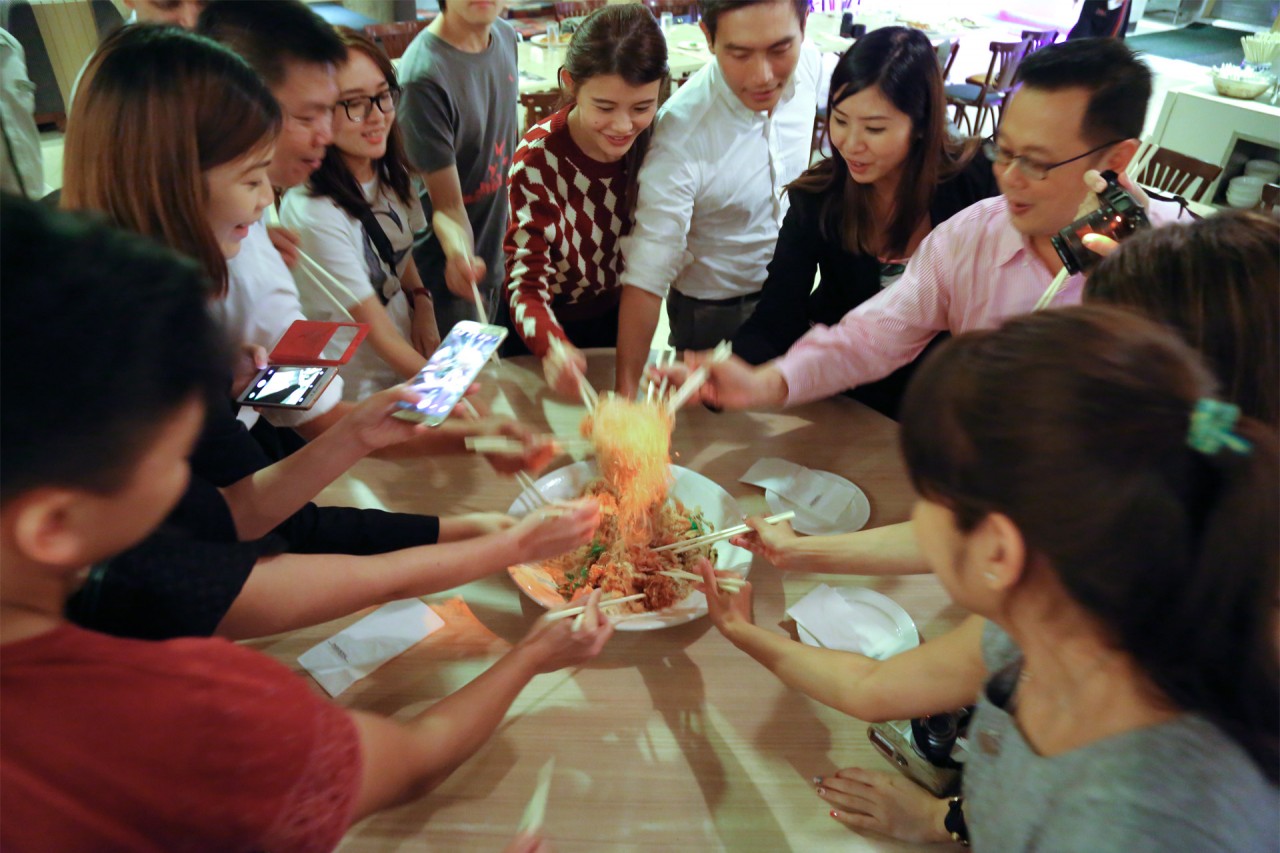 Start the Year of the Monkey with feasts of abundance to set the year on a prosperous note. PARKROYAL on Kitchener Road is bringing back its Chinese New Year buffet at Spice Brasserie, a perennial favourite with the whole family, along with tailored menu packages for private gatherings, and a brand new Yu Sheng creation from the popular Si Chuan Dou Hua.
The hotel's all-day dining restaurant Spice Brasserie is celebrating the Lunar New Year with an abundance of delicacies in a delightful feast. Created by Executive Chef Low Hoe Kiat, the highly raved Fivefold Fortunes Set (五福临门) is making a comeback this year to spread good fortune, with each dish symbolising a blessing for the New Year.
To kick start the Chinese New Year dinner, toss in Abundance with the Crispy Baby Crab Yu Sheng, a delightful crunchy twist on a bed of fresh salmon slices, drizzled with Passionfruit and Plum Sauce. This unique combination of ingredients and  flavours is very balanced is was well liked by everyone. Due to the recent raw fish incidents, the hotel understands that not all diners are keen on having fresh salmon slices in the Yusheng. Not to worry as diners will not be served the raw fish component. For those who would prefer 'yu' or fish in your Yu Sheng, you can easily add your own salmon sashimi taken from the wide array at the buffet table.
For Prosperity, dive into the Prosperity Pot (盆菜), featuring juicy abalone, pork belly, mushrooms, sea cucumbers and scallops.
Well-wishes for Longevity lies in the Lobster in Superior Stock. This rich and delicious broth is not to be missed as the fresh lobster is extremely succulent.
Family Unity is celebrated with a hearty Abalone Glutinous Rice with Liver Sausage, reminiscent of traditional home-cooked meals.
Finally, round off your meal with the delightfully smooth Pumpkin Purée with Almond Flakes, signifying sweet beginnings.
The buffet also features Asian delights, a sushi and sashimi corner and several 'live' stations cooking up a medley of Asian and Continental creations. As always, the signature Claypot Pumpkin Crab is one of the buffet highlights of the night. Many at our table also went for repeated servings of the Singapore Chilli Crabs and Crab Bee Hoon. The sashimi selection is pretty fresh and there is a good spread of sweets and desserts to cater to all those with sweet-tooths.
For lunch bookings, guests can enjoy a complimentary Crispy Baby Crab Yu Sheng per table, while dinner bookings are a complete feast with the Fivefold Fortunes Set on us. UOB, DBS, HSBC, Maybank and Diners Club cardholders will enjoy 25% savings from 4 to 14 February 2016 and 10% savings on 7 February 2016 for the Reunion Lunch and Dinner. Reservations can be made by calling 6428 3160.
For vegetarians or those who prefer a more wholesome and nourishing dish, Si Chuan Dou Hua is launching a 'fish-free' Premium Truffle Yu Sheng (黑松露养生鱼生), comprising 20 different ingredients to commemorate the restaurant's 20th anniversary. This charming Chinese salad features a generous portion of fresh black truffle slices, matsutake mushrooms and wholesome greens, tossed with soya bean crisps, crispy rice grains, truffle oil and homemade truffle mushroom sauce. Prices start from S$98 for 4 to 6 persons. A white truffle version is available by ordering two days in advance.
Hope this gives you more options when you are deciding where to bring your family for Chinese New Year this year.