Merry X'mas and a great 2007 to come to everyone! It's been awhile since I last blog cause I've been soooooooo busy during this festive season. On top of that my poor darling Louis has fallen ill! It really breaks my heart to see him so weak now and I hope he'll recover soon.
Before X'mas… I met up with Yan and Mel and we took our dogs to attend a Doggy X'mas Party at Sentosa! It's organized by SPC and it was my first time attending their outing.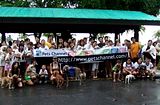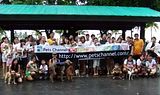 The day actually started out pretty lousy cause it was raining cats and dogs the moment we reached Sentosa and we happily joined the first group of dog and owner gathering we saw on the beach. After a couple of hours of playing and swimming did we finally realize that this was the wrong group of people and the correct party was actually at the end of Tanjong Beach! Here are the gals with their respective dogs in the car before we head out into the rain!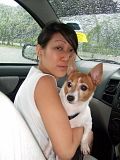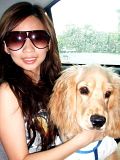 It was really paiseh! And we were late for the real party having both owners and dogs looking wet and disheveled. Louis looks like a total mongrel when he's wet!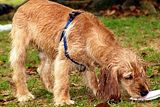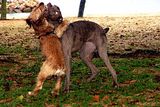 Luckily the members there were all really nice and friendly! We took out our share of foodstuffs and joined the potluck while Louis happily played with the bigger dogs. His favorite friend that day was a beautiful Great Dane and Louis just won't stop running about! Nikki on the other hand was more of a people dog…. contented to be near anyone would would pet her and refused to join in the mad dog chase.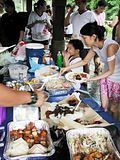 One of the dogs even had a huge dog birthday cake… it was a hot favorite among the dogs! Even Louis stopped playing for a moment so he could gobble it up.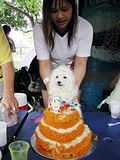 We also had gift exchange…. for the dogs only! LOL… Louis kept swimming and playing even after everyone was out of energy… I was like a mad woman running about in my swimsuit and skirt looking wet and sandy!However.. the moment Louis reached home he became a total pig!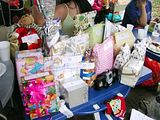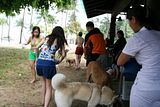 Last pics of the two gals before we head home!