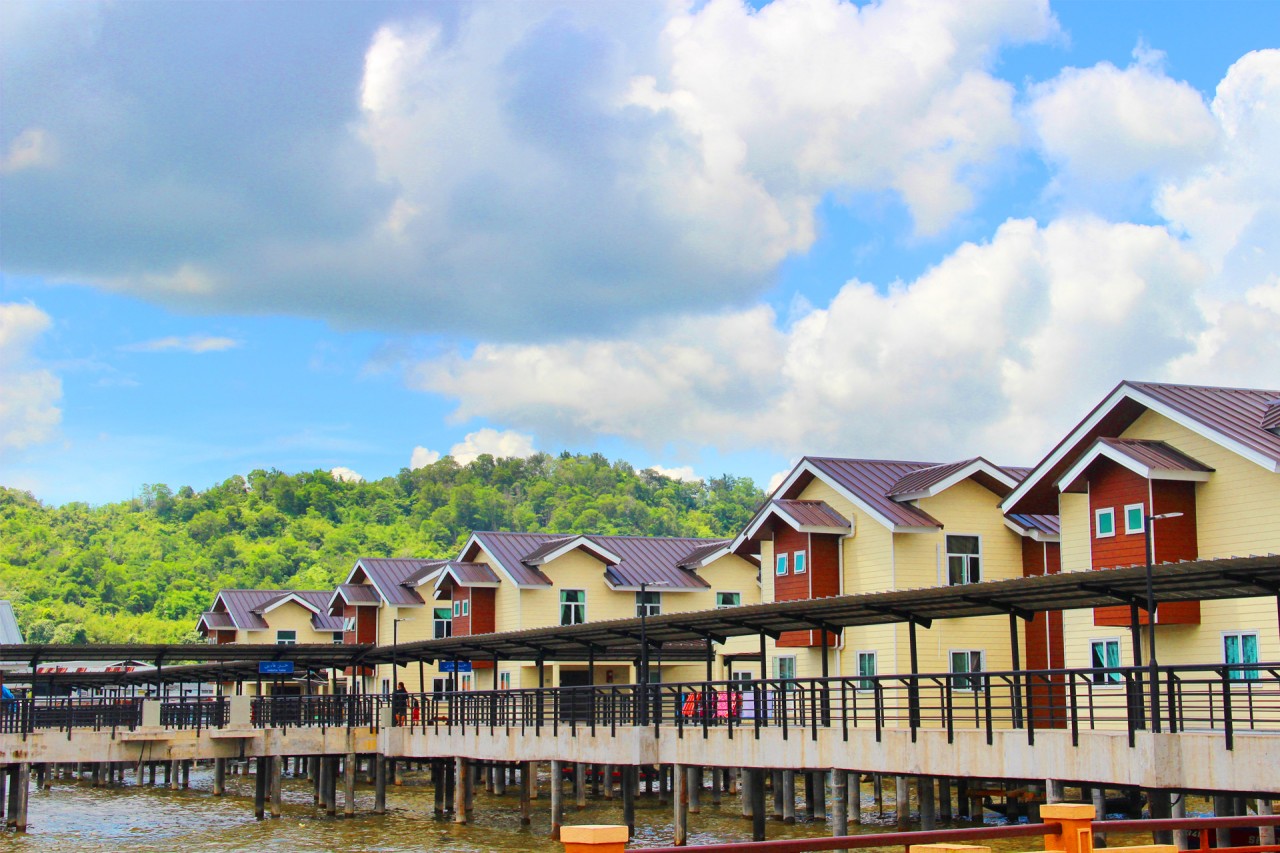 After a long journey from the tree tops of Ulu Temburong National Park, we once again made it back to the city so that we could explore Kampong Ayer (Water Village).
Instead of just gazing across the waters into this area of houses built on stilts above the Brunei river, this time we were going to take a boat to head over!
I love how colorfully painted the river taxis are. The ride across the river is pretty cheap and fast (only B$2) and the moment we arrived on the other side, we headed for The Kampong Ayer Cultural and Tourist Gallery. It was also here that I changed into a long dress as I felt that it would be more respectful to walk around in the village compared to the hiking outfit I had on traveling to the city from Ulu Temburong.
Free to enter, this gallery showcases the 'way of life' and preserves the heritage of Kampong Ayer. People have lived in Kampong Ayer for over 1300 years and it was dubbed 'Venice of the East' as far back as 1521. The district is a culturally important part of Brunei that preserves the nation's river dwelling origins. In fact it was a living insight into the historical significance of Borneo as it used to be one of the most important trade centers in the region.
As we head out to explore the water village itself, we could see two different scenes. On the right was the original water village houses and on the left you could see newly developed water houses.
The glistening new structures are the latest initiative to upgrade the living standards of residents living at Brunei's iconic water village from the cramped, polluted image etched in the minds of many, to a more green, modern community that preserves Brunei's cultural heritage. These eco-homes cost $400,000 each to build but with the government subsidy, the lucky ones that get to move in here need only pay $90,000.
Many Brunei residents are grateful to the new, better improved luxury water homes. But from a visitors' perspective, it's the old Kampong Ayer that steals my heart and captivates my attention.
Built entirely of stilt houses and wooden walkways, this cluster of 42 villages housing more than 30,000 inhabitants is the world's largest water village. It's unbelievable how this area could house 10% of Brunei's total population! It's a unique way of living that is done entirely by choice. Most of the residents here own both a car and a boat and they would park their cars across the embankment before using their boat to reach the doorsteps of their home.
The Water Village is really made up of small villages linked together by more than 29,140 meters of foot-bridges, consisting of over 4200 structures including homes, mosques, restaurants, shops, schools, and a hospital. 36 kilometers of boardwalks connect the buildings. I'm in love with the beautiful colors of the homes and the simple living that is practiced here.
Despite being a living heritage site that sees thousands upon thousands of tourists every year, the villagers are still able to continue their daily routine without even a blink of an eye.
The wooden corridors are lined with potted plants, hanging laundry and seafood laid out to dry in the sun.
The vibrant colors, the rustic wooden floor boards, the glories sunlight and the authentic vibe of this place makes it a photographers' dream come through. I would have taken a lot more pictures had I the time to explore Kampong Ayer at a more leisurely pace.
Along the way, I spotted this cute Pineapple Plant. I'm not sure what sort of species of pineapple these are but they are ridiculously cute!
Although we were on a tight schedule, I was glad that we could at least visit a pre-designated village home so that I could get a look at how the insides of these water village homes are like.
I was surprised that despite its aging exterior, the houses actually enjoys modern amenities including air conditioning, satellite television, Internet access, plumbing, and electricity. Of course the newer water housing are even more luxurious.
Each home is rather spacious and they can be sub divided into many small rooms to house a dozen related nuclear families under one roof. It is the community living experience that also makes up the spirit of what Kampong Ayer is about.
One of the rooms in the village house we visited had a wedding set up and we all went a little ga-ga playing dress up.
With my long dress and the tudong, I think I could have easily blended in as one of the locals.
Here's my makeshift very cool (still in sunglasses) beach styled husband-to-be, Malcolm. Unknowingly, we actually color-coordinated quite well.
Next up we had Tiffany who looks the most convincing as a local village maiden.
Andy was to be her makeshift life long partner and I think his shirt design went really well with the whole theme.
One last shot of all the girls in Tudong. It was my very first experience wearing one!
We enjoyed some traditional tea time snacks in the comforts of the village home before heading back to the jetty to catch the next water taxi back to mainland.
I love the beautiful river scene. It is so calm and surreal.
There is still one more place to share with you before I end this post.
We had a small block of time before having to head to our lunch venue and we spent it checking out The Royal Regalia Building. Located at Jalan Sultan, this museum is devoted to the Sultan Hassanal Bolkiah. The most amazing and eye-catching display here is the chariot used for the coronation of the Sultan. And this is also the only exhibit in the museum that allows photography so if you want to see what else there is, you'll have to pay a visit to Brunei.
I dwell a lot in the details, and there was just so much to absorb. The beautiful craftsmanship, the meaning and intent of each carving and the dramatic colors were all calling out to me.
I'm not kidding when I say, our guide, Tom, had to come drag me back to the transport cause I couldn't stop admiring and reading into the history of each item. I usually spend a lot of time when visiting museums and the last time I went London, I spent 3 days just browsing museums. I think my closet geek is showing *hide*
I'm only at the halfway point of blogging about my trip in Brunei, yet you can confidently tell that I love Brunei. Even the pin on my hat says so.
Thank you OMY, Brunei Tourism and Royal Brunei Airlines  for making this trip possible.
If you would like to know Brunei better or check out more Royal Brunei Airlines promotions, check out their Facebook page.
PS: I have a couple of photos that I've put up in this post without my usual watermark as these photos are used courtesy of  Malcolm Sunny and Deenise Glitz.