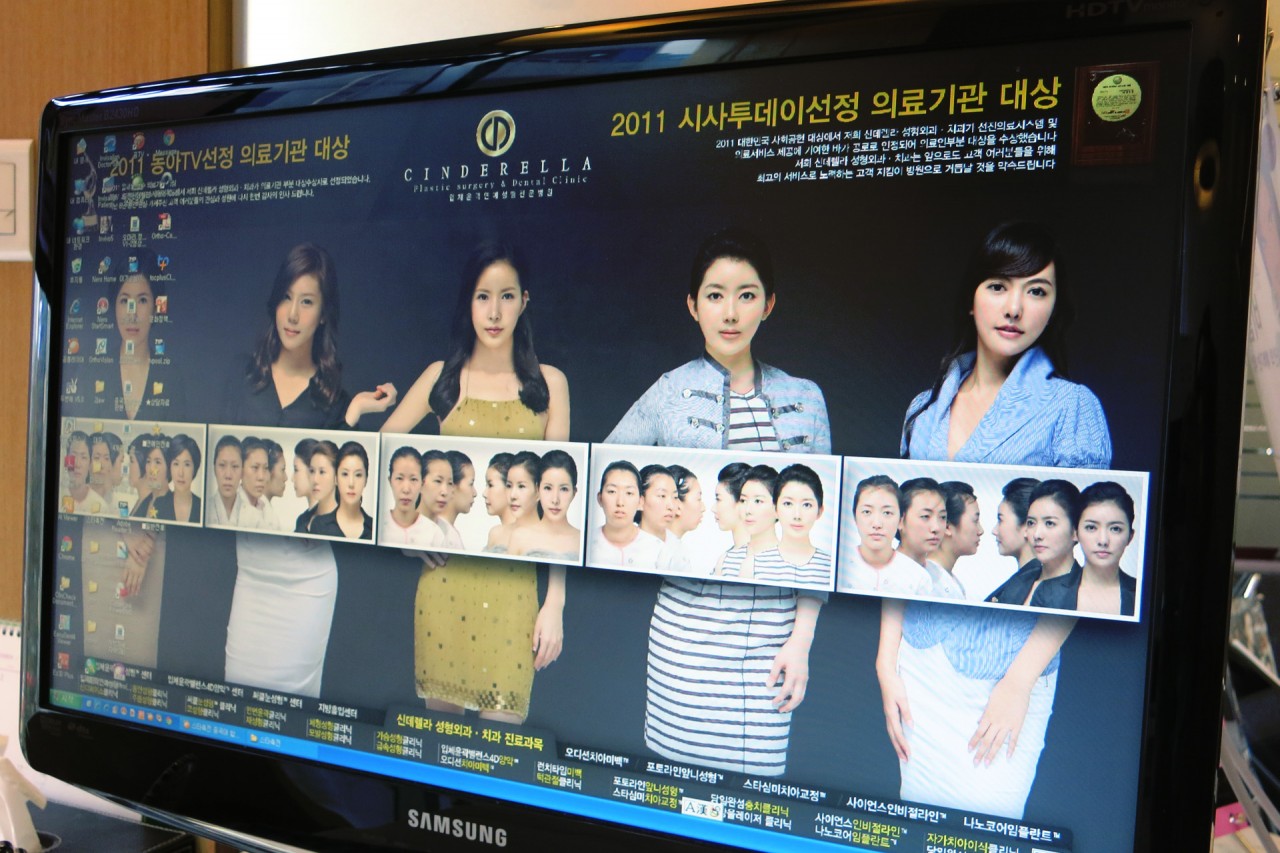 I was in Korea with my bestie, Elie, from Australia for the most part of December. We live in totally different continents but would always try allocate some time out of our busy schedule to spend time together. Last year, we decided to go Korea. Initially, she suggested Paris but it we only had 2 weeks to plan and the last minute tickets to France was just crazily exorbitant (we wanted to come back for Christmas Eve) so we decided to go somewhere nearer.
We had an awesome time in Korea, eating, shopping, having late night girly talks about everything and anything. Korea is famous for K-pop, cosmetic, skincare, plastic surgery and well, Running Man. So it's no wonder that our conversations drifted from Korean skin care products to dermatologists and plastic surgeons. Elie had her double eyelids done in Taiwan years back but they weren't done evenly and she wanted to find out if she could get that corrected in Korea since Korean plastic surgery is supposedly one of the best in the world. I had received an offer for a sponsorship by Cinderella Plastic Surgery and Dental Hospital before and I thought we could go check it out.
I started asking for feedback and reviews from my Korean friends, I was reassured that Cinderella Plastic Surgery and Dental Hospital is highly regarded by Koreans and are very popular with many Korean celebs and K-pop stars.
In fact, that told me that Director Jong-Phil Jeong (who is awarded best CRS doctor in Korea) is already so famous worldwide that doctors from all over the world ask if they can observe him in surgery. While I was at the hospital I saw video clips of many Korean stars proudly endorsing Cinderella as well.
There were even newspaper clippings about Cinderella and medical books that were authored by Dr. Jong-Phil Jeong.
Cinderella Plastic Surgery and Dental Hospital is acknowledged as Best Medical Institution for Plastic Surgery by Daily News and designated as Official Plastic Surgery Clinic for major Entertainment and Broadcasting Companies including MBC, KBS and SBS.
I've only listed a few of the celebrities that they've worked on (I'm not good with Korean celebs so don't ask me to name them) and there are even more celebs which the clinic cannot disclose due to privacy and confidentiality.
Despite me going on and on about plastic surgery, their hospital also caters to all sort of beauty related issues such as dermatological problems and dental concerns. As tempted as I was to get double eyelid surgery after looking seeing all the gorgeous patients in the clinic, I only went Cinderella for dermatological issues and not for plastic surgery.
The service at Cinderella is awesome from the moment I entered till the time I departed. I could see the streets of Gangnum bustling below me from the doctor's office.
Cinderella Hospital is so favoured among the Koreans that they haven't spent much effort in marketing outside of Korea. Even their website is fully Korean with no English version (I was told that they do have plans to improve that and expand their operations to cater to overseas patients). In fact, there is no English Translator at all though the doctors can speak English. Luckily, they have Chinese translators because they have a small portion of patients from China that comes looking for them after tracking down the doctor behind the looks of their favourite K-pop star.
As you can tell I went completely bare faced, not even moisturiser or sunblock allowed. I met Dr. Jong-Phil Jeong just long enough to snap this photo (he's indeed a super busy man who specially came to meet me before rushing to surgery). My dermatologist was a lady doctor whose name I missed in the flurry of translations and tangled nerves.

Before I go on any further, there is a few disclaimers I have to make. I only had my iPhone with me to snap photos as it was a rather impromptu decision to try out dermatological treatments in Korea. Pictures are not of the best quality but you should still be able to see the condition of my skin. I had on zero makeup on and non of these photos have been edited or filtered (except watermarks). To keep the consistency of the before and after photos, I have only taken photos of my progress before, during and after using the same iPhone camera.
I generally have pretty good skin but as you can see from my before photo above, I suffer from big pores on my nose and cheek areas. Unfortunately, it's something I inherited from my father's side of the family. No matter how well I take care of my skin, I can only make the large pores look less obvious but the size of the pores doesn't shrink. After some consultation with the doctor, I was recommended 4 sessions of Fraxel fractional laser  treatment to get beautiful perfect baby sized pores. It was the 2nd last day of my holiday in Korea and there was no way I could do 4 sessions. Since results were supposed to be incredibly obvious after a single treatment, I went ahead to do one treatment of Fraxel fractional laser.
My girlfriend, Elie, went ahead to do the almost painless and less intensive IP laser while I had to put on numbing cream. It looks uncomfortable but it really isn't. You can't tell from the picture but my heart was pumping really fast because the nurses told me that Fraxel laser would hurt.
Finally, I went into the room to lie down and prepped for the laser. I don't have any photos of the process as I was too worried about the pain to capture photos. The doctor and the nurses were really soothing and tried to make me as comfortable as possible by telling what they were doing every step of the way. I held on to one of the nurses hand throughout the procedure.
It's definitely painful but not unbearable. However, since I had an extremely sensitive skin compared most people, my skin turned completely red and I felt like my face was on fire. This is not normally felt by those that don't suffer from sensitive skin issues. After the procedure they did a blue and red light treatment to calm my skin down and promote healing. Additionally, soothing cream and a calming mask was applied over my face for about 30 mins.
There was no more pain but a quick look in the mirror showed lots of dots on my skin. Each of those dot is actually a minuscule wound from the laser penetration that will aid in stimulating collagen and resurfacing the top skin layer. The nurse told me that I could either put on a cold compress or simply walk out of the building. It was -8C in Seoul and walking out in winter was a natural way to cool my skin. Once I stepped out onto the streets, the redness of my skin started to dissipate. Having fractional laser done in winter is an added bonus!
I was not allowed to wash my face or apply anything to my face for 2 days.
The above photo shows my skin on the 2nd day.
Unfortunately, with fractional laser, the skin looks worse before it gets any better.
I was already back in Singapore on the 3rd day and the photo above shows my scars on the 4th day after the treatment. Mini scabs have started to form so the dots are more obvious.
From the 3rd day (when I could start washing my face) till the 8th day I only used 3 items in my facial routine.
The first one is a no-rinse tissue off cleanser. The running tap water may contain bacteria which can infect the wound (though chances are low) and I didn't want to buy distilled water to wash my face. By using a non-rinse cleanser, I just needed to wipe the cleanser off with cotton pads. Each time I wipe, brown spots will appear on my cotton pad as the scabs start to drop off.
The 2nd item was La Roche-Posay CICAPLAST cream that works as a barrier cream to keep the skin protected at all times
The last item I used was basically a SPF50 PA++ sunblock for the day time.
By the 8th day morning, my skin was glowing radiant and perfect! It was such a happy morning! My pores are still not as small as I'll like them to be but definitely much smaller and the results of just one treatment is truly astounding.
None of the photos are edited but yet the skin looks so perfect, it looks as if I put a filter on it.
I started wearing eyeliner and falsies again on the 9th day. No BB cream, no foundation, absolutely nothing on my skin. .
Since my pore issues are due to genetics, unfortunately, over time my pore problem will come back but if you are addressing imperfections like fine lines, visible photo ageing, wrinkles, scarring and age spots then fractional laser should show even better and long lasting results for you.
The next time you head to Korea to grab skincare, maybe you can consider visiting their dermatologist for a consult.
For those interested to check out Cinderella Plastic Surgery and Dental Hospital, here's the map and address. It's very near Gangnum Station and you can just show it to the taxi driver (taxis are pretty affordable in Korea).