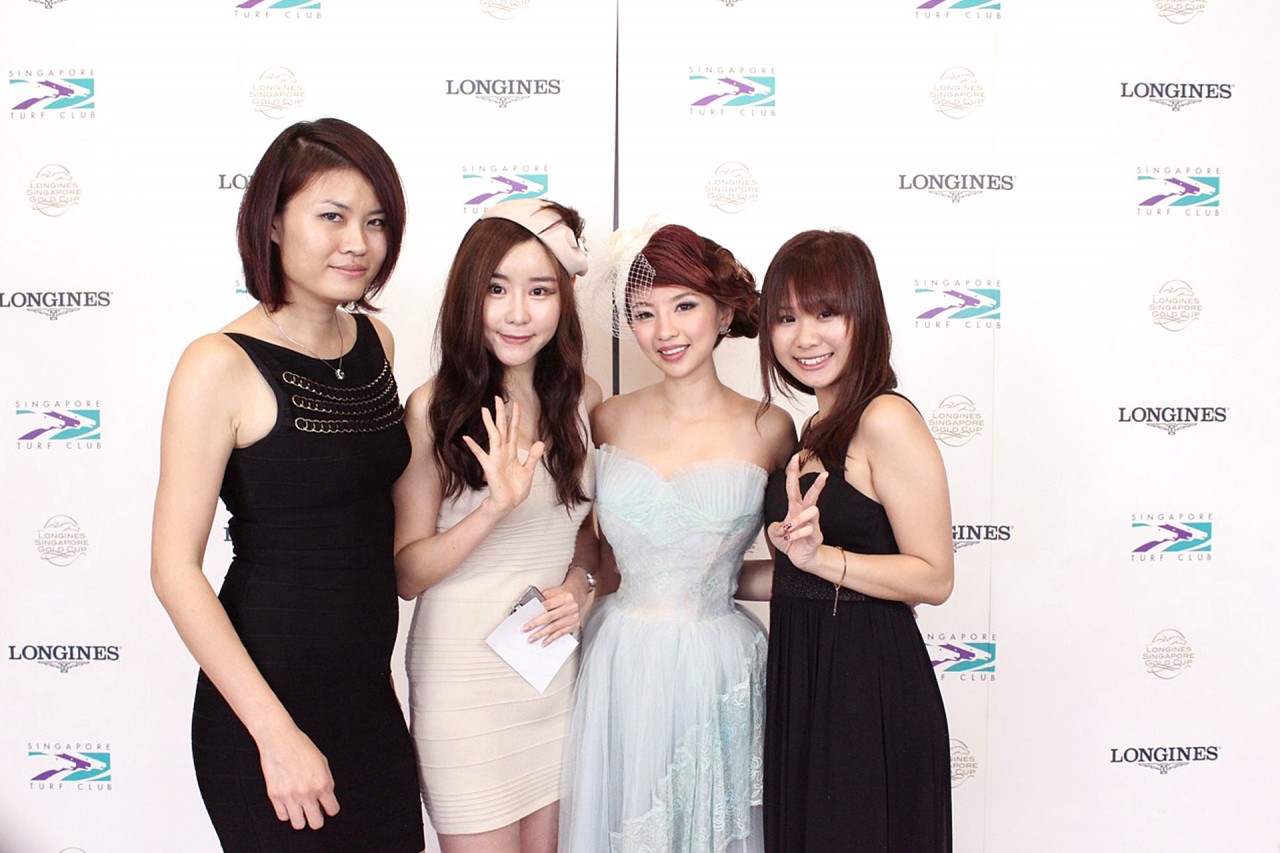 I say this so many times and yet I can't help but say it again. I always enjoy and have a great time at Singapore Turf Club events. As luck would have it, my camera malfunctioned so these photos are all taken using the mobile phone's camera (other than the photos that were taken at the event's photo booth). It's amazing how the simple smart phone is such a handy backup camera these days. I invited my Korean friend, Euni, as my plus one for this event and she was thrilled to bits.
This is Longines Singapore Gold Cup 2013 fourth title sponsorship with Mr. S.R Nathan, former Singapore President, as the guest-of-honour.This race marks a renewal of partnership between Longines and Singapore Turf Club for the Singapore Gold Cup. As the official partner and timekeeper of Singapore Turf Club, Longines hosted a charity luncheon in conjunction with the Longines Singapore Gold Cup. A total of S$374,483 was raised for Community Chest. 
With a S$1.35 million prize purse, the Longines Singapore Gold Cup is one of the most prestigious races in the region. Horse 10, Tropaios, was the first to dash past the finishing line, joining the realms of local racing legends immortalized by their triumphs in the high profile race. Longines timepieces from the Conquest Classic Collection were also awarded to the winning jockey, Mr. Tommy Berry, the trainer, Mr. Michael Freedman and owner, the China Horse Club respectively to recognize their merits.
Longines continued the tradition of designating Singapore Gold Cup Day as an annual Charity Race Day since they took on the title sponsorship in 2010. This year, Longines has pledged the total amount raised during this luncheon to the Community Chest, which supports 83 charitable organisations to help over 300,000 people.
Items that were auctioned off included a variation of hand-blown colored glass horses and a limited edition La Grande Classique de Longines watch donated by Longines. Award-winning Cultural Medallion Artist, Mr. Ong Kim Seng, contributed a watercolour painting and Singapore Turf Club also chipped in with an exclusive usage of their corporate box where guests can enjoy a private view of the racing action.
"Longines is honoured to be partner of the Singapore Turf Club and to present the Longines Singapore Gold Cup for the fourth time. This event and the charity activities connected with it are totally in line with our core values of tradition, elegance and performance" commented Mr. Juan-Carlos Capelli, Vice-President of Longines and Head of International Marketing.
Longines recently launched the Conquest Classic series in Singapore, a timeless collection for the world of horse-racing to be worn amidst the excitement of the parade rings. Conquest Classic is a tribute to the chronographs produced from 1881 on for race-goers and jockeys in New York. True to the brand's values of elegance, tradition and performance, this new collection of models, all fitted with self-winding calibres, is at the same time totally contemporary and perfectly timeless.
As you can tell from my crazy expressions, I had a lovely weekend at the Singapore Turf Club. Maybe you can join the the fun at the next Singapore Turf Club event with friends!
Thanks for reading and happy Mid-week!
*****
*****
*****
*****
*****
Outfit of the day
For this glamorous event, I wore a lovely 1950s vintage dress that needed major alteration to fit my small frame.  I'm crazy about the gorgeous details, the delicate lace and the pastel colour.
Dress: Dustbunny Vintage
Headpiece: Australia
Earrings: Chanel
Heels: Korean