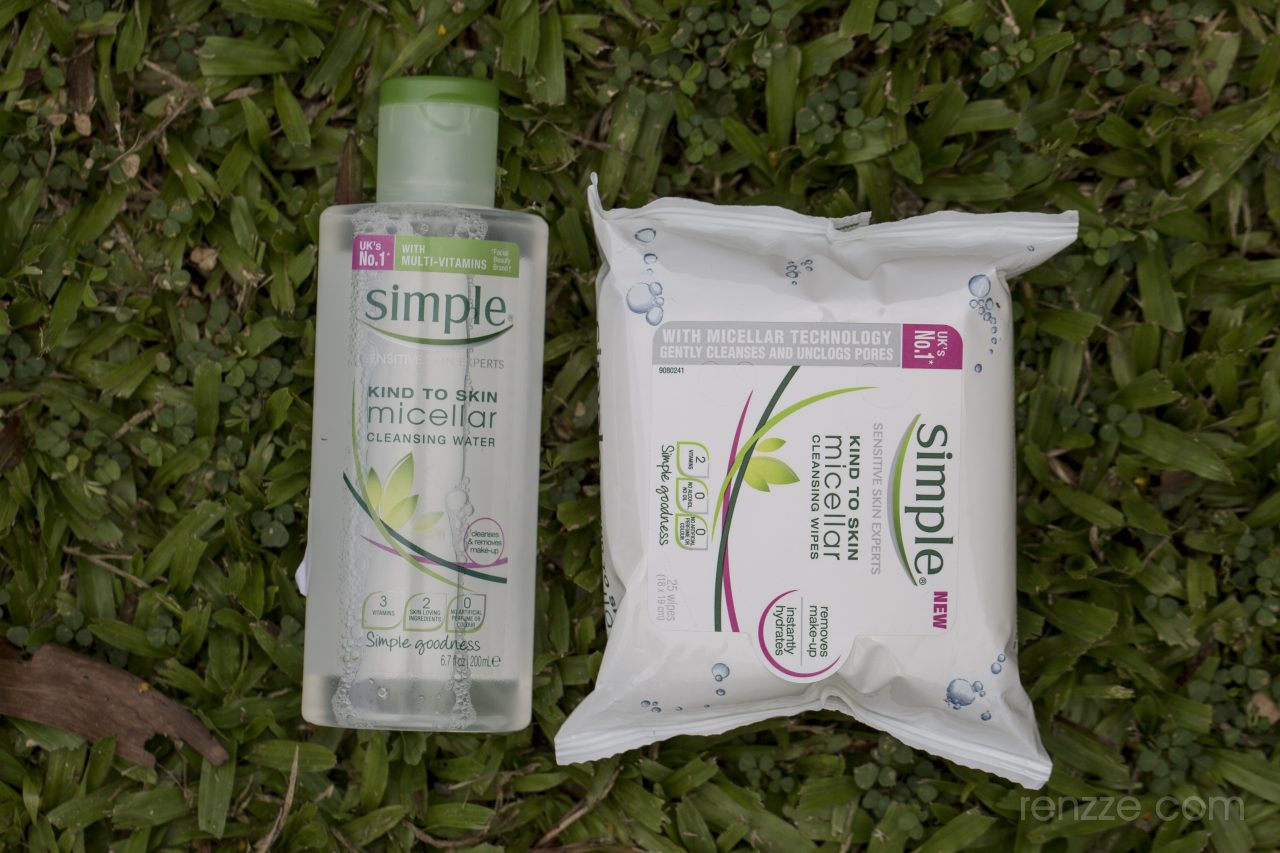 There are a million and one skincare choices out there but sometimes, we just want to look for something fast, easy and effective. Since I have pretty sensitive skin, I was delighted to have found that SIMPLE skincare (who have been the experts in sensitive skin since launching the first perfume and colour-free soap in 1960) have offered some pretty cool solutions to ease my cleansing routines.
Micellar water has been trending for some years now. Highly raved by beauty editors and makeup artists globally for its gentle but effective cleansing qualities; it is also suitable for all skin types. Today, I go bare face in my post to share with you how easy SIMPLE's Micellar Cleansing Water is to use. Just apply the Micellar Water generously to a cotton pad or a disposable facial cloth and wipe all over.
It removes your grime, makeup and hydrates the skin in one step. You don't even need to double cleanse. No more excuses of being too tired to wipe off your makeup at the end of the day! If you want good skin, the first most important rule is that you never go to bed without cleansing your face.
You can be assured that SIMPLE's philosophy of using only the purest skin-loving ingredients and no colour and no perfume has remained steadfast since 1960. For the micellar water, SIMPLE uses triple purified water so that only the purest possible water is used. That will minimize potential for irritation from extraneous particles or contaminants that can irritate skin. Other beneficial ingredients such as Vitamin B3 (known to help restore, soften and smoothen skin), Vitamin C (a water-soluble antioxidant vitamin for skin) and Hexylene Glycol (helps dissolve makeup and kindly conditions the skin) works together to freshen and revitalize your skin.
When I'm traveling, I particularly like using SIMPLE's micellar water in the convenient wipes format. They are the only micellar wipes in the market. Absolutely brilliant, you wonder why anyone else hasn't done it yet!
The technology uses micellar cleansing bubbles trapped between the soft fabric layers of the SIMPLE Micellar Cleansing Wipes. The micelles act like magnets to attract and absorb dirt and makeup from the skin. Once absorbed, they hold on to the impurities tightly to keep them off your skin and on the wipe throughout use.
I don't need to use water at all to wash off which is a godsend when I travel to places with hard or unclean water. There is no sticky residue and it instantly boosts my skin hydration levels.
Yay to clean, refreshed and happy skin in an instant. With SIMPLE, looking and feeling good can be Simple, not complicated! The SIMPLE Micellar Cleansing Water (200ml) can be found at Watsons for SGD16.90 while the SIMPLE Micellar Cleansing Wipes (25 pieces) can be found at major pharmacies: Guardian, Unity, FairPrice and Redmart for SGD15.90.
Redeem a FREE sample of the Simple Micellar Cleansing Wipes on SampleStore.com today!
Thanks for reading and have a great day!