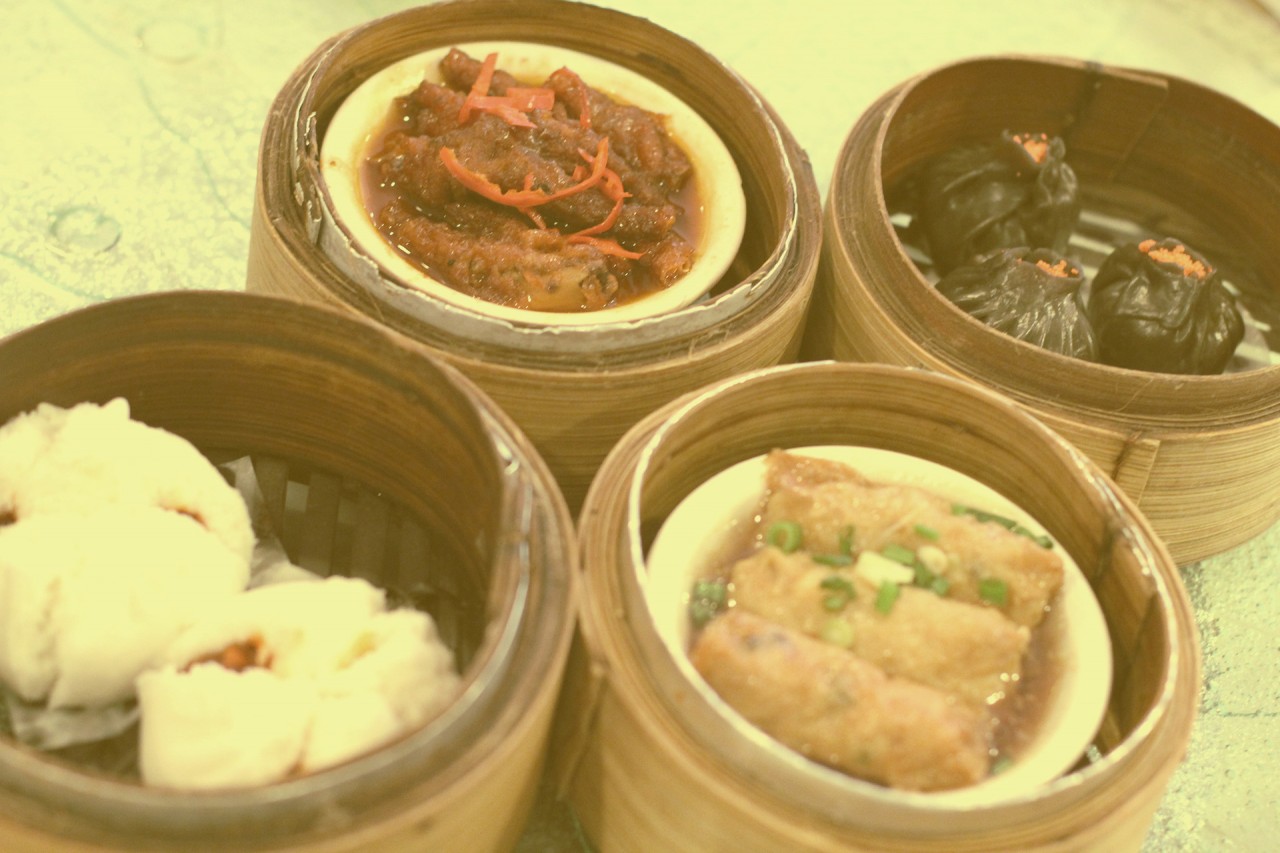 Spending my mornings or afternoon having Yum Cha "drinking tea" with friends is one of my favourite ways to spend the day and there is no better way to enjoy Yum Cha than to have dim sum. Aptly named, the Yum Cha restaurant is located (as it has been for generations) on the 2nd floor of the historically and cultural rich Chinatown streets. You will find it at the junction of Trengganu Street and Temple Street.
Even along the way up to the restaurant, I'm immediately drawn to its' old school vibes with these photos of old Singapore taken around the time Yum Cha Restaurant was founded.
These photos are not only added to entire nostalgic ambience but are a wonderful reminder of how Singapore has changed so much in the last 60 years. We have come so far but we should always remember our roots.
Having dim sum in the heart of Chinatown might seem a little kitschy and touristy but I was surprised to see a large crowd of locals gathering for dim sum on a weekday afternoon at this award winning restaurant as well.
The interior was oriental but simple and the air was bustling with a busyness as servers went around pushing dim sum carts from table to table for the customers to make their selections. I love the wooden chairs and round marble tables that reminded me of my childhood days where I used to wake up early just to have breakfast with my grandfather.
The choices available at Yum Cha are incredible! There are 80 over types of dim sum to choose from making Yum Cha a renown dim sum specialist in Singapore.
Thankfully we had a full table of people to help share the various dishes so we could try even more. Dim Sum is definitely a communal activity that is best enjoyed when there are at least 3-4 in a group.
Beancurd Roll with Superior Sauce (S$3.00)

Fresh Prawn Rice Prawn Roll (S$4.00)
Deep Fried Wanton (S$2.80)
Seafood Dumpling (S$4.00)
BBQ Pork Bun (S$2.80)
If you are drooling from looking at these photos, you are not the only one. The food tastes as good as it looks and I'm already planning my next trip to Yum Cha as I write this post. Be prepared for food porn as you scroll through the photos and if you are wondering, I did try them all!
Prawn Wanton Crisps (S$4.00)

Steam Carrot Cake with Cai Pog (S$4.00)

Chicken Yam Puff (S$3.80)
Deep Fried Shrimp Beancurd Roll (S$4.00)
Fish Meat Stuffed Beancurd (S$3.80)
There are honestly too many of them to describe their exquisite tastes individually but  you must try their Signature Dim Sum Dishes (as seen in the series of photos below) which includes Xiao Long Bao, Prawn Dumplings, Shark's Fin with Meat Dumpling, Fish Roe Siew Mai, Phoenix Claw, Paper Chicken Wings, Prawn & Mango Sesame Fritters, Baked Mini Egg Tarts, and Crispy Red Bean with Banana.
Xiao Long Bao (S$4.20)

Yum Cha Prawn Dumpling (S$4.60)
Shark's Fin with Meat Dumpling (S$3.80)
Fish Roe Siew Mai (S$3.80)
Phoenix Claw (S$4.00)
Paper Chicken Wings (S$4.60)
 Prawn & Mango Sesame Fritters (S$4.00)
Baked Mini Egg Tarts (S$2.80)
Crispy Red Bean with Banana (S$3.50)
Some unique items that are more contemporary but just as delicious includes Squid Ink Dumplings, Crispy Silver Fish, Yum Cha Crabmeat 'Sea Treasure' Soup Dumpling, Oyster Siew Mai and the Filo Scallop Rolls.
Squid Ink Dumplings (S$4.80)
Crispy Silver Fish (S$8.00)
Yum Cha Crabmeat 'Sea Treasure' Soup Dumpling (S$7.80)
Oyster Siew Mai (S$4.80)
Filo Scallop Rolls (S$4.60)
There are a couple of standard items I will always order when I have Dim Sum. Other than Siew Mai and Xiao Long Bao, I must have my Congee, Steam Pork Ribs, Char Siew Chee Cheong Fun, Fried Carrot Cake and Custard Bun. Dim Sum just wouldn't feel complete without these dishes.
Century Egg and Lean Meat Congee (S$2.80)
Steam Pork Ribs with Sour Plum (S$4.80)
BBQ Rice Flour Roll (S$3.60)
Fried Carrot Cake (S$3.80)
Custard Buns (S$2.20)
As you can tell, it was an incredibly sinful afternoon. Many have complimented that the seafood used in the dim sum at Yum Cha is very fresh. The dim sum is so good that I'll gladly do it all over again! Some people eat to live, I am definitely on the other end of the spectrum and I always savour each delicious food creation I can get my hands on.
Scallop Pea-shoot Dumpling (S$4.60)
Lotus Leaf Glutinous Rice (S$4.20)
Crispy Vegetarian Spring Rolls (S$3.00)
Pan Fried Pork Pancake (S$6.00)
As I show you the photos of my desserts and finish sharing (visually) my super satisfying meal with you, I'll also share with you how you can have such an awesome meal for just a fraction of the cost.
Osmanthus Cake (S$3.60) 
Chilled Mango Pudding (S$3.60)
Lemongrass Jelly with Fruits (S$4.60)
Double Boiled Hashima with Red Dates (S$8.00)
Head down to Yum Cha Restaurant in Chinatown on a weekday afternoon between 3pm to 6pm and you can enjoy an Ala Carte Hi-Tea buffet session with more than 60 over delicious traditional Cantonese Dim Sum dishes!
60+ dishes out of their 80+ Dim Sum dishes at that price is really incredible so don't miss out and gather your family and friends now!
For more information, join in the conversations on Yum Cha's Facebook or check out their website for more details.
YUM CHA RESTAURANT
20 Trengganu Street (Off Temple Street)
#02-01
Singapore 058479
Tel : 6372 1717  
chinatown@yumcha.com.sg
Opening Hours: Weekdays: 11am – 11pm Sat, Sun & Public Holidays: 9am – 11pm