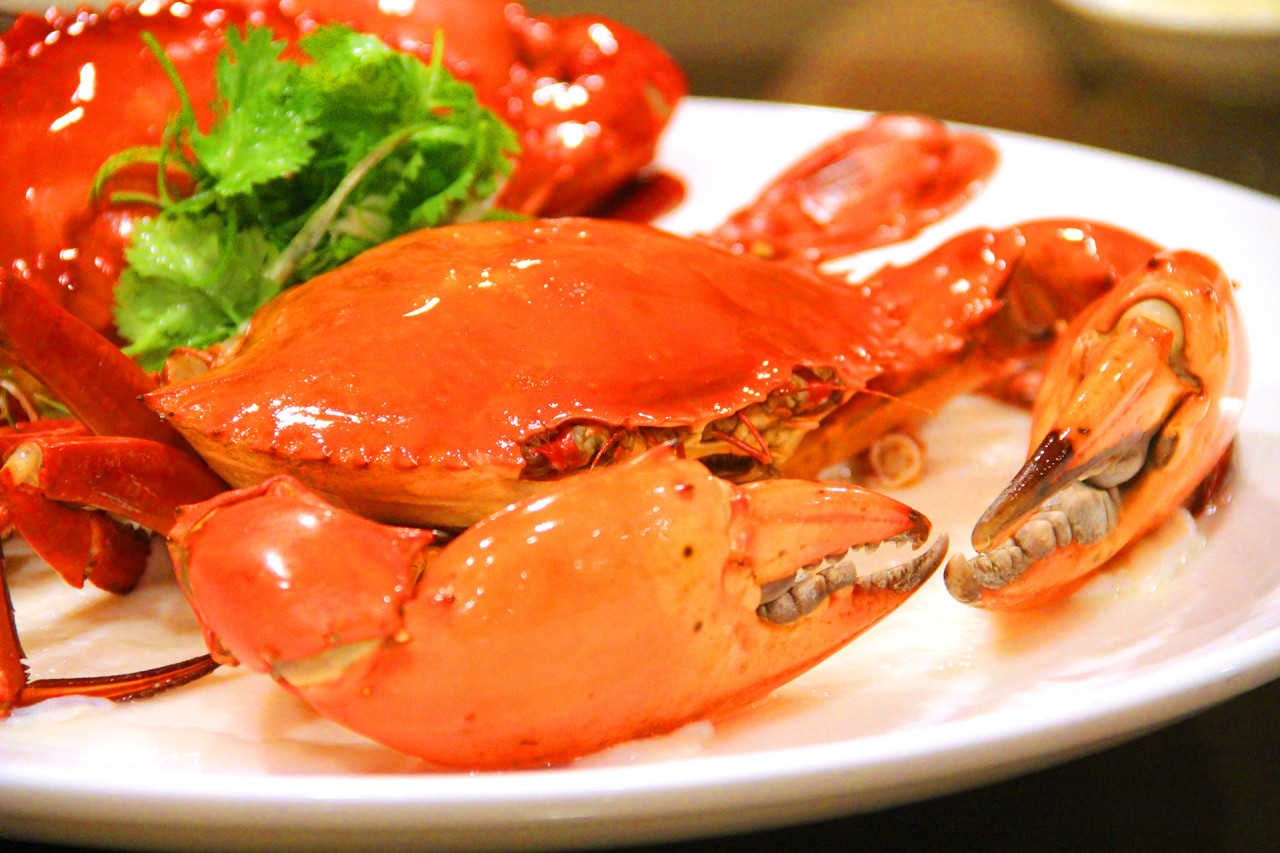 It's a new year filled with new adventures ahead and Chinese New Year is less than a month away. I'm sure there'll be lots of family gatherings and friendly celebrations in the near future. If you are looking for somewhere new to try out this festive season, I'll like to recommend seafood lovers to try Pioneer Seafood.
Loyal readers of my blog my already know that I'm allergic to shellfish. Mild symptoms includes rashes while an extreme overdose of shellfish for me can lead to a swollen face and unimaginable consequences. However, the moment I tasted Pioneer Seafood, I was so overwhelmed by the great taste that I couldn't resist tasting every single dish (shellfish or not) and risk suffering hives. Thankfully, I am always prepared with tons of anti-histamines whenever I know I'll be doing food tastings. Yes, the food is that good and definitely worth the rashes as well as the detour to the furthest end of Singapore for me.
Tucked away at an obscure corner of Tuas is Pioneer Seafood, one of Singapore's most popular and oldest seafood restaurant. Established in 1979, Pioneer Seafood is one of the two original and longest-standing seafood restaurants in Tuas.
This multi-award winning restaurant is celebrating its 35th anniversary and is the "must go" for any true seafood lover. Pioneer Seafood was named "Top 5 Most Popular Seafood Restaurants in Singapore" and was also awarded Gold and Silver in "Best Seafood Category" in the Gourmet Hunt Award, jointly organised by 95.8FM, 97.2FM and The Restaurant Association of Singapore, in 2002, 2003 and 2005.

I had the luxury of tasting some of Pioneer Seafood signature dishes and I loved them so much I couldn't wait to bring my family and friends to try them as well.
The restaurant is helmed by Mr. Lee Choon Huat, the 75 year old founder and director of Pioneer Seafood. His experience, passion for seafood as well as strong convictions towards serving only the best for his customers is the driving force behind the excellent food. In this day and age, it is rare to meet someone who wouldn't think twice about undermining his own profits to make sure that his customers only experience freshness in his restaurant.
The moment you enter into Pioneer Seafood Restaurant, you'll see the freshest fishermen's daily catch. Mr. Lee makes sure that all the ingredients comes straight from the source to his restaurant.
All the prices are displayed clearly so there is full transparency for the customers to choose what type of seafood would suit their budget. I've always believed that the freshest seafood restaurants are those who have live seafood tanks but this trip to Pioneer Seafood proved me wrong. The seafood here tastes so fresh, it rivals those the restaurants that have live seafood tanks and all the savings are passed on to the customer.
The first dish we tried is the Crispy Scallop Mango Fritters (SGD12 for 4 pieces).
A mixture of scallops and sweet fresh Thai mangos are encased in this crisp and crunchy fried skin. The combination is tasty and light which makes it perfect as an appetiser dish.
Next, we had the Baby Squid Stuffed with Pioneer XO sauce (SGD4.50/100g).
The squids are moist and sweet after lightly steamed and was highly praised by all the squid lovers who tried. The main ingredient that makes this dish so awesome is the special Pioneer XO sauce that bursts into your mouth with every bite.
Speaking of the Pioneer XO sauce, I must digress to tell you more about it because it was my absolute favourite at the restaurant. The XO sauce that is found in the squid is also served to you on the table as part of the condiments. This XO sauce is made in-house by the restaurant and is filled with the goodness of shrimp, scallops and other secret ingredients. Perfectly spicy, savoury and sweet at the same time, it is as good as my own grandmother's famous recipe.
Even though it is not on the menu, please remember to buy some home because this secret ingredient tastes good with anything! I brought some home and had it with fried rice, instant noodles, steam vegetables and even just on plain bread. Anything that I add this Pioneer XO sauce to becomes delicious. Just this sauce alone is worth my hour plus journey from the east all the way to the west.
Returning back to Pioneer Seafood signature dishes, one of the "must try" dishes is their Steam Live Crab with Egg White Custard (SGD4.90/100g).
This dish is hot favourite with everyone and only the freshest crab can taste so sweet and succulent after a simple steaming. There is no need for chilli, black pepper, butter or any type of sauces to enhance the taste because the natural juiciness of the crab is so delectable. Having a seafood meal at Pioneer Seafood is the best way to tell how freshness plays a huge part in creating a good dish. When the ingredients are fresh, there is no need to mask the taste or add too much of anything.
Pioneers Seafood uses a silky and smooth egg white custard as accompaniment to their steam live crab. The custard contains all the sweetness and essence of the crab juices that is released during the steaming processed. Fragrant and light, the custard melts in your mouth with every bite.
An energising dish that will be popular with both the young and the old is the Prawn Fillet with Macadamia Nuts in Orange Sauce (SGD23 for regular size).
I love the design and decoration of this dish even before I tasted it but I fell in love with it once I had a bite. The prawns are absolutely crispy on the outside yet nice and springy on the inside. Once again, only fresh prawns are used and you can tell immediately by both the sweetness and the texture. It's been awhile since I had tasted such fresh prawns. Most restaurants would use frozen factory peeled prawns for battered dishes but at Pioneer, every dish only uses fresh ingredients.
An essential dish in every seafood dinner is fish! We tried the Steam Red Garoupa in Pioneer Nonya Assam sauce (SGD9/100g).
If you'll like to order a steam fish, the recommended weight should be around 700 to 900g. The fish had a delicately tender texture that compliments the spicy and tangy Nonya sauce harmoniously. Pioneer Seafood found the right balance to their assam sauce as it was just the right touch of spiciness, sweetness and sourness.
Last but definitely not least is Pioneer Signature Teochew O Ni – Yam paste with pumpkin and ginko nuts (SGD18 for regular size).
Ask anyone who loves O Ni and you'll hear how difficult it is to find a really good one. As one of Pioneer Seafood's best loved dishes, the Teochew O Ni dessert has been given a refreshing twist. Instead of lard or shallot oil, water chestnuts are added to the yam paste to add crunch and infuse natural sweetness.
The specially sourced mountain yam is fragrant, smooth and filling. This makes a splendid end to the excellent meal.
I'm a Pioneer Seafood convert and will be making regular visits there whenever my family craves for seafood. The location is pretty far and desolated but I'm glad that Mr Lee has chosen to transfer the cost savings in rental back to their customers.
If you are the type that will travel great distances for good food, don't miss out on Pioneer Seafood.
Pioneer Seafood
71 Pioneer Road, #02-01
Tuas Amenity Centre,
Singapore 639591.