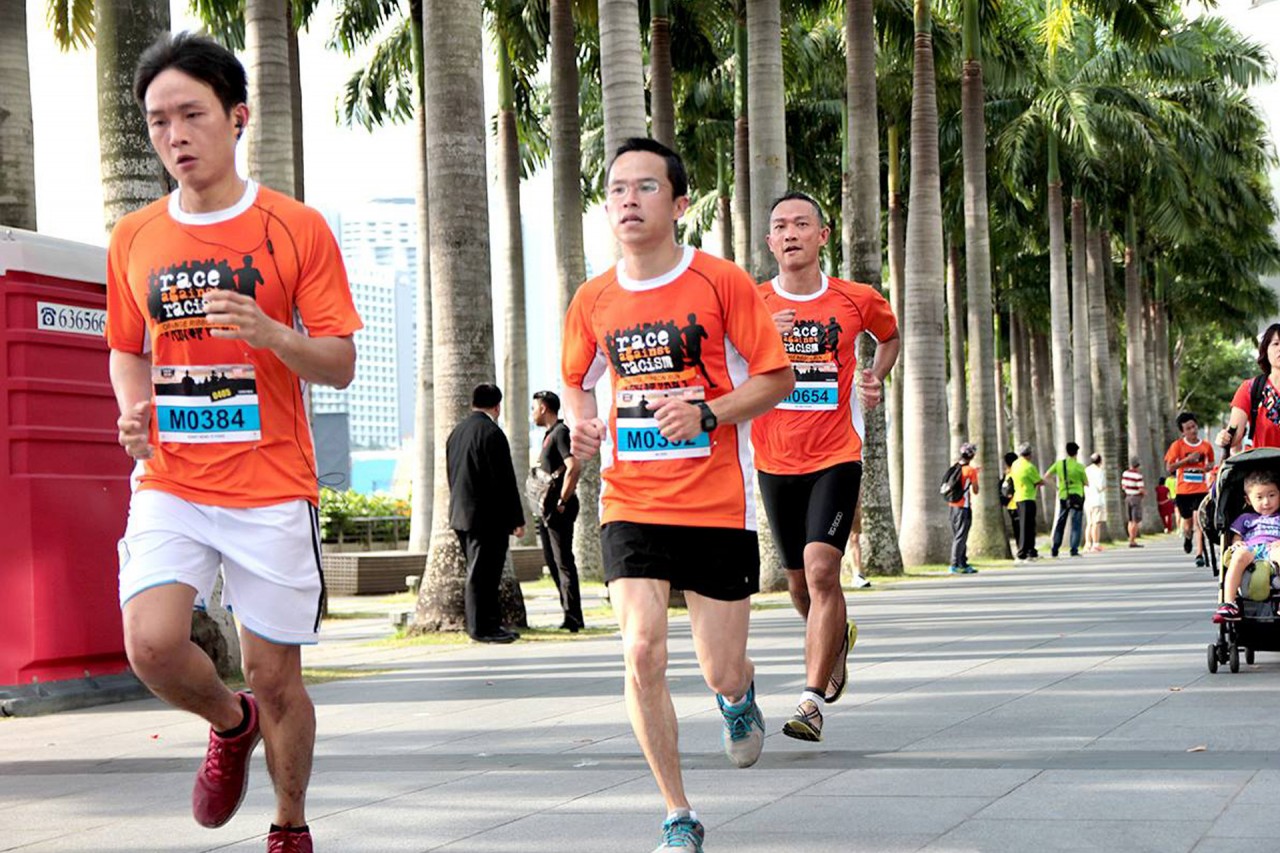 Guest post by JW Ong who went for the Orange Ribbon Run 2014 while I was in Bangkok last weekend.
Why do people run? To chase the bus. To rush errands. To train for IPPT. To challenge limits. To meet someone special or important. To keep fit. Or, to increase social awareness. To show advocacy for racial harmony. To pursue a better future. Gettin' too lofty, perhaps? Not for Orange Ribbon Run 2014.
Orange Ribbon Run 2014 was an enjoyable and well-organised race by OnePeople.sg for more than 5000 participants. Water-points were ideally placed and the route-management was flawless. 10km is also a decent goal for the average person who wishes to build up fitness, because full and half-marathons can be highly injurious if one does not commit the substantial time and effort in mileage. The 'race against racism' on 16 Aug 2014 was blessed with fair weather, although the sweltering heat made it a really challenging effort – indeed, racial harmony too does not come easily.
More importantly, I hope that the Orange Ribbon Run 2014 event has encouraged more of us to embrace both active living and multi-racial harmony so that the social fabric of Singapore continues to stay strong and vibrant. To weave it has been difficult, but to tear it is easier than we think.
In Singapore, it is also all too easy to lapse into a sedentary lifestyle. Especially since our climate is often hot and humid, so the comfort/competitiveness of our air-conditioned homes/offices lures many back to the front of a book, computer or TV. But as our lifespan extends, we ought to be more fitness-conscious! Running was actually the first sport I joined in school, coz it is simple – just grab a pair of shoes and off you go! Social events such as Orange Ribbon Run with a token medal, cool tee and practical race-pack make it healthy and meaningful fun for us! Glad to have been a part of it.
For more information on the Orange Ribbon Run, please visit http://www.raceagainstracism.sg