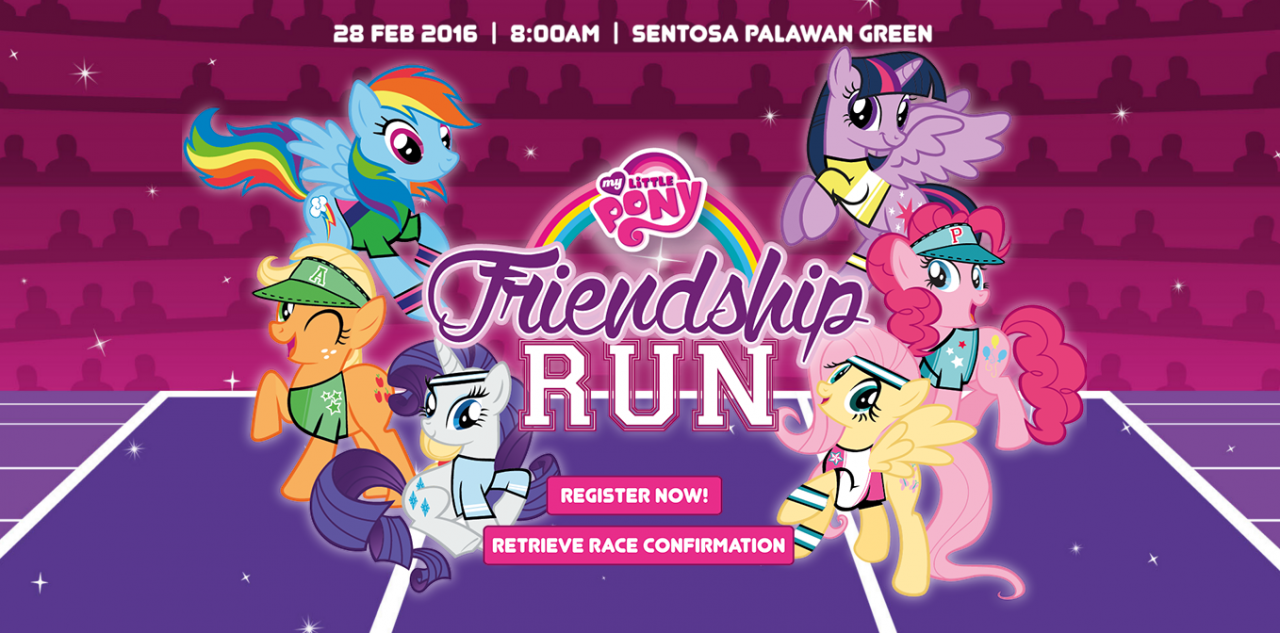 This is too cute not to share. For My Little Pony fans, this one is for you. In Febuary 2016,  come and celebrate the magic of friendship with your favourite ponies – Twilight Sparkle, Apple Jack, Fluttershy, Rarity, Pinkie Pie and Rainbow Dash – at Singapore's very first MY LITTLE PONY: Friendship Run under license from Hasbro, Inc.
With three different categories to choose from, a fun time is in store for one and all at the MY LITTLE PONY: Friendship Run 2016, which will be held at Sentosa Palawan Green on Sunday, 28 February, at 8am. The young ones can take part in the 1KM Pony Kids Run with their parent/s, while the young-at-heart can choose between the solo 4KM Fun Run, or to double the fun in the 6KM Besties run. Grab your best friend and sign up for the run now!
Run through the different zones!
1. Bubbles in the Air
2. Sparkle Zone
3. Rainbow Zone
4. "Say Cheese" Zone
Complete all FIVE Friendship Quests!
Quest: Twilight Sparkle
Complete Twilight Sparkle's jigsaw puzzle to discover the secret behind the Magic of Friendship.
Quest: Rainbow Dash
Team up and help Rainbow Dash on her three unique adventures!
Quest: Applejack
Visit Applejack and she will guide you to grow your very own unique little magical plant!
Quest: Fluttershy
Scoop up the little rubber ducklings with Fluttershy and uncover the secrets they have in store.
Quest: Pinkie Pie
Pinkie Pie wants you to spread the Magic of Friendship! Design and decorate a friendship card for that special friend in your life!
Be part of the My Little Pony post-race activities!
A series of fun-filled fringe activities and merchandise booths of collectibles awaits you at the Ponyville Marketplace. Uncover your element of harmony with the massive glitter throws, run through bubbles and huge rainbow balloons sculptures. You will also receive  a MY LITTLE PONY: Friendship Run 2016 t-shirt, race bib, exclusive finisher medal, MY LITTLE PONY plush toy and drawstring bag, as well as free entry to Sentosa, as part of your run entitlements.
Registration is now open so sign up early to enjoy the early bird promotions till 15 January 2016. Registration closes on 12 February 2016 or once all available run slots are sold out. For ticket purchases and more information, please visit www.mylittleponyrun.com.sg and follow them on Facebook at www.facebook.com/mylittleponyrun/ for more updates.