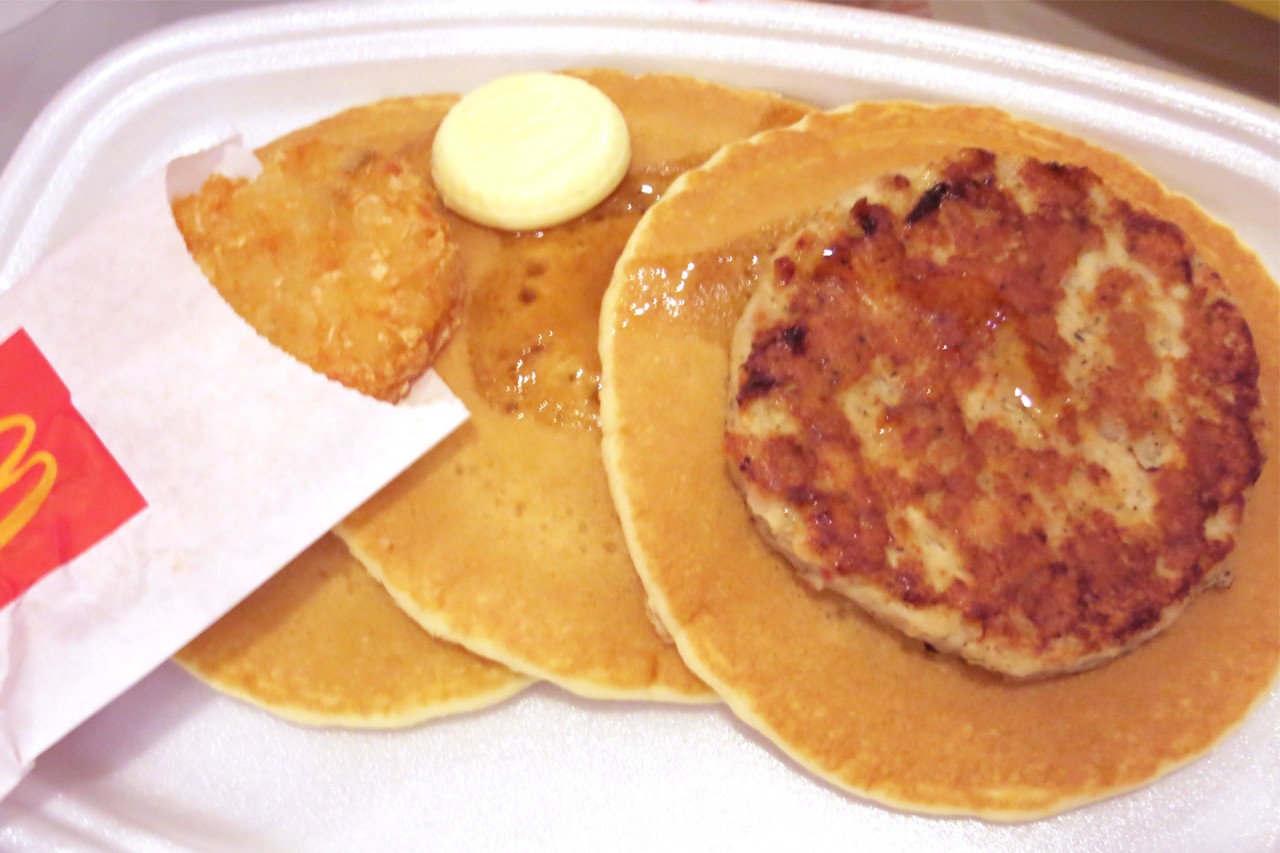 It's Sunday and another week has just flown pass. I've had one of my most hectic week this year and didn't even had time to blog in the last week. Just wanted to share some really cool news (that I learnt fresh from the source while having breakfast for dinner recently) from one of my favourite fast food chains, McDonald's, to help perk up your Monday tomorrow!
McDonald's Singapore is giving away approximately 120,000 free Egg McMuffins in a single day on March 17 (starting at 6am) in its' second year of "National Breakfast Day". McDonald's Singapore is looking to set a national record for the "Largest Number of Muffins Given Away" with more than  120,000 muffins to be handed out for free. Each participating outlet will be giving away 1,000 free Egg McMuffins to customers on a first-come, first-served basis.
Don't forget to pick one up on your way to work tomorrow morning! Having sunny side up eggs with chicken ham, melted cheese in a lightly toasted muffin is a good way to chase the Monday blues. To collect your free breakfast, visit any McDonald's in Singapore except KKH Hospital, Yew Tee (including Yew Tee Kiosk), Tampines Interchange Kiosk, Lucky Chinatown, Clementi Avenue 3, Changi Airport T2 Transit and Science Centre Singapore.
Of all the different choices at McDonald's, I love their Happy Meal and Breakfast menu the most so I'm really excited that this year, in an effort to get even more customers energised about breakfast, 'All Day Breakfast' will be served in 122 restaurants across Singapore. Chicken McMuffin and Hotcakes with sausages are my favourite items on the menu and you can't imagine how many times I've wished that it was morning when I craved for them.
Although all day breakfast is only available tomorrow (17th March) till 6pm (except Yew Tee, Tampines Interchange Kiosk and Science Centre Singapore), I do hope in time to come it will be available everyday. Customers who don't like breakfast can still order some of their all-time favourites such as French Fries, McSpicy, McNuggets, McChicken, McWings, Nacho Cheese/Tangy Filet-O-Fish, Apple Slices and desserts before 6 pm.
Breakfast is the most important meal of the day and McDonald's hopes to continue to remind people about waking up to better mornings with breakfast by launching a super fun and super cool Surprise Alarm App, a free alarm application for iOS and Android to give users another reason to wake up for breakfast. This app will be available for download starting March 17 at midnight from Apple's App Store and Google Play. The McDonald's Surprise Alarm App is a fun and snazzy new mobile alarm app that promises a great start to mornings with daily surprises to wake up to. These surprises can come in the form of McDonald's Food & Beverage digital coupons, inspiring and fun images, or music and video downloads. The key point to note is that users who use the app will stand to win surprises from 18 March 2014 onwards.
Let me share with you a little preview of the app as well as a basic walkthrough of how it works.
1.     Download the app onto mobile device from the Apple App Store or Google Play
Check both boxes and tap 'Begin'

Access the alarm, surprise wallet, store locator, and settings functions of the app by expanding the menu, sliding in from the left of the screen. To collapse the menu, slide it back to the right.
2.     For first time users, register via a Facebook account or a valid email address
Check inbox for validation email from McDonald's to complete registration and unlock surprise wallet
3.     Set an alarm
When the alarm is set, users can choose from a preferred alarm sound or "Surprise Me". If "Surprise Me" option is chosen, ringtones are randomised according to the surprise received. A special feature in the android version allows users to select songs from their own music collection.
4.     Turn off the Alarm and receive a surprise
When the alarm is turned off, a special McDonald's surprise will be displayed. Surprises range from Food & Beverage Digital Coupons to music and video downloads.
All Food & Beverage Digital Coupons will have a stipulated expiry date and coupons will be stored into the app's Surprise Wallet.
An internet connection is required to experience the app's Surprise function as well as the randomised ringtone.
Users will only receive one surprise a day. (In case you are sneaky and wondering, changing the date in your phone won't give you another chance.)
5.     Redeem the Food & Beverage Digital Coupons
Before redeeming the surprise, users can first locate the nearest McDonald's restaurant with the help of the Store Locator function.
To redeem the surprise, the user can go to the Surprise Wallet to see all the coupons available and tap on "Redeem" to go to redemption screen.
Once the user is at the counter placing the order, tap the "Redeem Now" button and show the coupon to the restaurant crew.
The coupon will be registered as "redeemed" within two minutes of tapping the "Redeem Now" button.
Do note that digital coupons are not available for use at iFly, Resort World Sentosa, and institutional stores. Redemption may only be made in-store and at Drive-Thrus, and is not valid at McCafe, via McDelivery, and Dessert Kiosks.
Happy National Breakfast Day everyone and thanks to McDonald's for sharing tips, info and a lovely breakfast with me! I'm gonna grab my free Egg McMuffin at a drive thru before heading to work tomorrow morning!
PS – My vintage dress and cherry earrings are from MyJotterBook 🙂