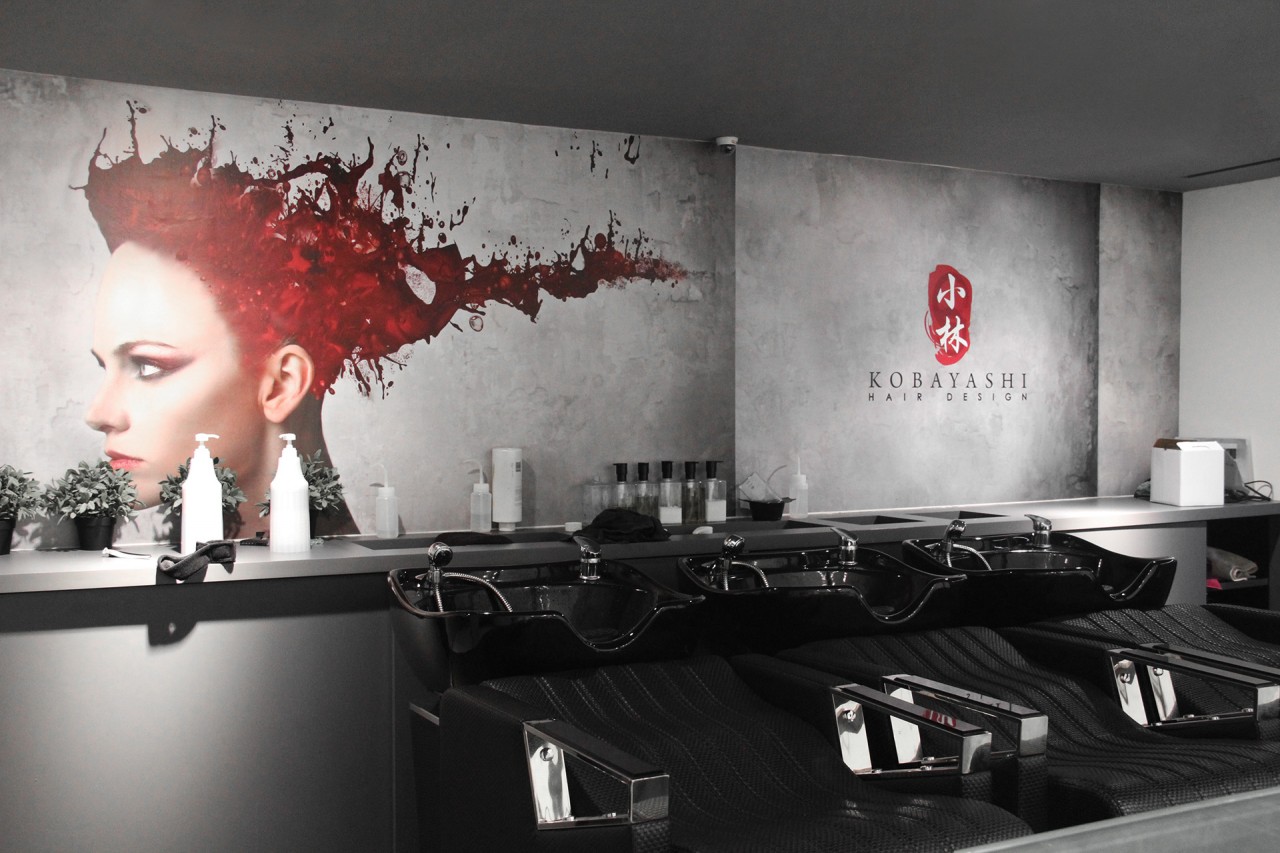 I'm currently in-between hair sponsors now so it's a great time for me to venture out of my comfort zone to try out new treatments, salons and stylist to see what suits me best. If you followed this blog or @renzze long enough, you'll know that I chopped off my super long locks last year and was sporting a rather short hairdo. Having my hair short gave me a chance to cut off all the dry ends and grow new healthy hair. My hair grows extremely fast and even with constant snipping, it's now grown past my shoulder. While having fast growing hair means I can try out different styles all the time, it also means that I have to dye my hair pretty frequently to keep it looking well maintained. Having to dye the hair every 2 months is detrimental to my hair texture so I'm pretty particular about having hair treatments whenever I can afford the time.
I have heard many raves about Mucota which is very popular in Japan and Korea so I booked an appointment at Kobayashi Hair Design at Far East Plaza. I went to their main branch on the 5th floor though they also have another branch on the 2nd floor.
Kobayashi is quite popular with many Japanese expats who are looking for a Japanese concept salon that uses quality products such as Mucota without paying the hefty prices that are normally associated with Japanese salons. In fact, the owner studied in Japan and speaks fluent Japanese! In fact, most of the services and promotions are stated both in English as well as Japanese.
My treatment appointment was with Creative Director Yumiko, who has been with Kobayashi Hair Design since they started and is highly sought after by many of their regulars.  She settled me comfortably in my chair and prepared drinks, snacks (the seaweed crackers are delish!) and magazines to relax me before she began.
Yumiko is very knowledgeable on all kinds of hair issues and could answer all my questions and concerns regarding Mucota. I couldn't wait to try the Scena treatment which is the best selling treatment in Japan and Korea. Mucota Scena Treatment is supposed to set the stage for hair stylist to perform miracles on damaged hair as it contains many ingredients naturally found in our hair that helps to restore the hair from both inside and outside.
This is how I look before I start my treatment.
See how frizzy and terribly dry my hair texture is?
Now, let me try to explain the treatment I went through the best I can without getting too technical.
There are 5 step (ABCDE) in this treatmentas depicted in the photo above. Mucota Scena Treatment focuses a lot on replenishing moisture and repairing the cell structure of your hair. Most famous US or Europe Hair Care brands tend to use oil for their treatments but oil based treatments is usually too heavy for our fine Asian hair and will weigh it down or not be able to absorb fully causing greasiness. Mucota Scena is made for Asian hair types with nano-sized CMC (Cell Membrane Complex), moisture, lipids and hair protein. The nano-sized CMC can penetrate the inner layers of the hair effectively thereby replenishing the lost CMC and restoring the hair internally.
Yumiko is friendly, experienced, knowledgeable and personable so it was pretty fun spending the afternoon with her chatting about all sorts of things while doing my treatment. I think it's important to be able to connect with your stylist so that you can effectively combat your hair issues without feeling shy or uncomfortable.
Yumiko gave me many advice on hair care at home and even taught me a technique to wash my hair in a quick but effective manner when I don't have the luxury of a long shower.
Here's my much smoother and shiny looking hair after the treatment!
All the credit goes to Yumiko of Kobayahi Hair Design and the fantastic Mucota treatment!
Seriously, the photos just speak for themselves. My hair before (on the left) vs my hair after the treatment on the right. It's so much smoother, shiny and healthy looking! My hair felt incredibly soft and it just falls through my fingers when I run them through my hair. *love*
Even when my hair was curled, you can see how much healthier and gorgeous it looks!
Good hair is one of the things that totally light me up. I had just recovered from a spate of illness and had a huge pimple on my chin but once I saw the wonder that the treatment did to my hair, all was forgotten! I think among all the beauty treatments that are out there, hair treatments are the easiest way to perk up how you look. Face and body treatments take much longer to show obvious changes. So if you are feeling down, or in need of a change, look to your hair stylist!
The strengthened hair is more resilient to external damages such as heat and UV. After doing this treatment, I can totally understand why it's so popular in Korea, Japan and Singapore. Unlike a lot of treatments that only makes the hair look and feel better for a day or two, the effects of this treatment can last about 3-4 weeks. To prolong the softness and shine, Mucota also created a full range of home care products to complement the treatment.
The most highly rave ones by Yumiko as well as having won various awards from female magazines are the leave-in treatments.
I haven't really tried most of the home care so I can't review the effectiveness. But I will be bringing these two travel size Mucota shampoo and conditioner on my upcoming trip to test them out. One of the ingredients is Lychee which is one of my favorite fruits!
I couldn't keep my hands off my nice soft hair and my family and friends noticed that my hair looks really healthy as well!
If you haven't been taking care of your hair, you can try Mucota Scena treatment to give your hair the care it needs. Yumiko recommends it to be done once a month since the effect lasts 3 to 4 weeks.
Kobayashi Hair Design
Far East Plaza #05-42 and #02-26
14 Scotts Road
Singapore 228213
Tel: 6737 4463 (#05-42)
Tel: 6836 5606 (#02-26)
Please also note that the opening hours have now been changed to 1130am till 830pm!
*****
*****
*****
*****
*****
Outfit of the Day
A casual outfit for running errands, getting my hair treatment at Kobayashi and then simple dinner.
Top and Shorts: Ching
Necklace and Bag: Hermes
Heels: Pazzion