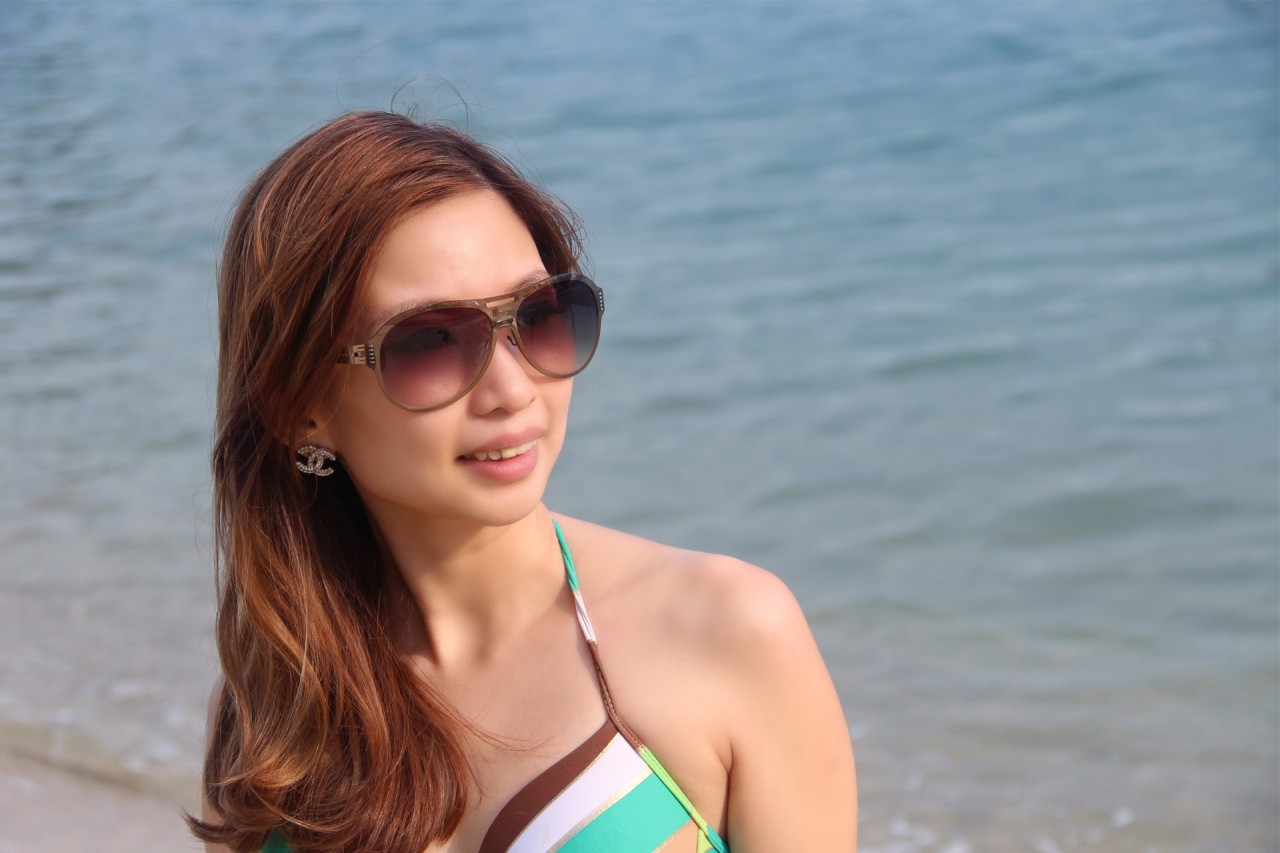 Okay I admit, I might have stretched the truth about "around the world" but I did wear my Glossi eyewear every single day for close to an entire month and it has followed me to Brunei which was the only trip I took out of Singapore in the last 30 days. I tried to take daily outfits with my Glossi but that didn't pan out because there were somedays where life overwhelms (especially on days when I am working) and I didn't have time to take photos. But I wanted to do a general consolidation of the outfits that I did manage to remember to take photos of and share them with you. As you can tell I'm really please with my Glossi eyewear cause they match everything!
Be prepared for a photo bonanza! Some you might have seen before and some new ones.
Glossi with my casual floral dress and trucker hat. I wore this to collect my Glossi prescriptive Eyewear followed by an special 4D experience opening launch in Sentosa.
Glossi with my fail safe white shirt and denim jeans combi. I had on this outfit when I attended the recent Eco-Challenge Craft Workshop organized by OMY.sg and Panasonic.
Glossi with a yellow dress that I wore to my Godson Lysander's 1st month celebration party.
Glossi with work wear for mid-day coffee/hot chocolate runs. I need liquid fuel.
Glossi with polka dot dresses for geeky dates and when I'm behind the computer screen.
Glossi with sports top and shorts traveling to the heart of nature in Brunei.
Glossi can even be spotted with a life vest on a long boat in Brunei's pristine rainforest.
Glossi went snorkeling and speed boating with me in the South China Sea.
Glossi with my horse riding outfit in Brunei.
Glossi with my vintage 1960s dress on a Sunday brunch date.
Glossi with a floral and lace Japanese dress when I sent JW off at the airport as he bravely went to serve our country's efforts in Afghanistan.
Glossi with a bright pink pleated dress for a friend's birthday party and to shoot an advertorial with the new Escada Perfume.
Glossi with my makeup free face and a tube dress as I make my way to shoot a variety program for Channel U. I love how it makes me look so stylish even though its 7am and I barely got out of bed.
Glossi with a simple dress for meetup with girlfriends and bringing my grandparents for their checkup at General Hospital.
Glossi with a green top and skorts as I try to further my cause in being eco-friendly and spread awareness.
Glossi with my special occasion date dress as I went for pre-dinner drinks to soak in the sunset followed by a fine dining experience.
Glossi with me at the beach with my dogs, shielding my eyes from the harsh sunlight.
Glossi in my green outfit set as I paid a visit to my Godsons Leonidas and Lysander followed by a food tasting event.
As you can see, my Glossi Eyewear helps each of my outfit to look even better and I could go on showing you the rest of my outfits but you already got the idea. Since tomorrow marks the last day of my "One month with Glossi" Challenge, you can expect a little something special in my post. Look out for it and please continue to vote daily for me for the Singapore Blog Awards 2013. I'm in the running for Best Vlog, Glossi Best Modelling Blog, Panasonic Best Beauty Blog andPanasonic Eco-Friendly Blog.