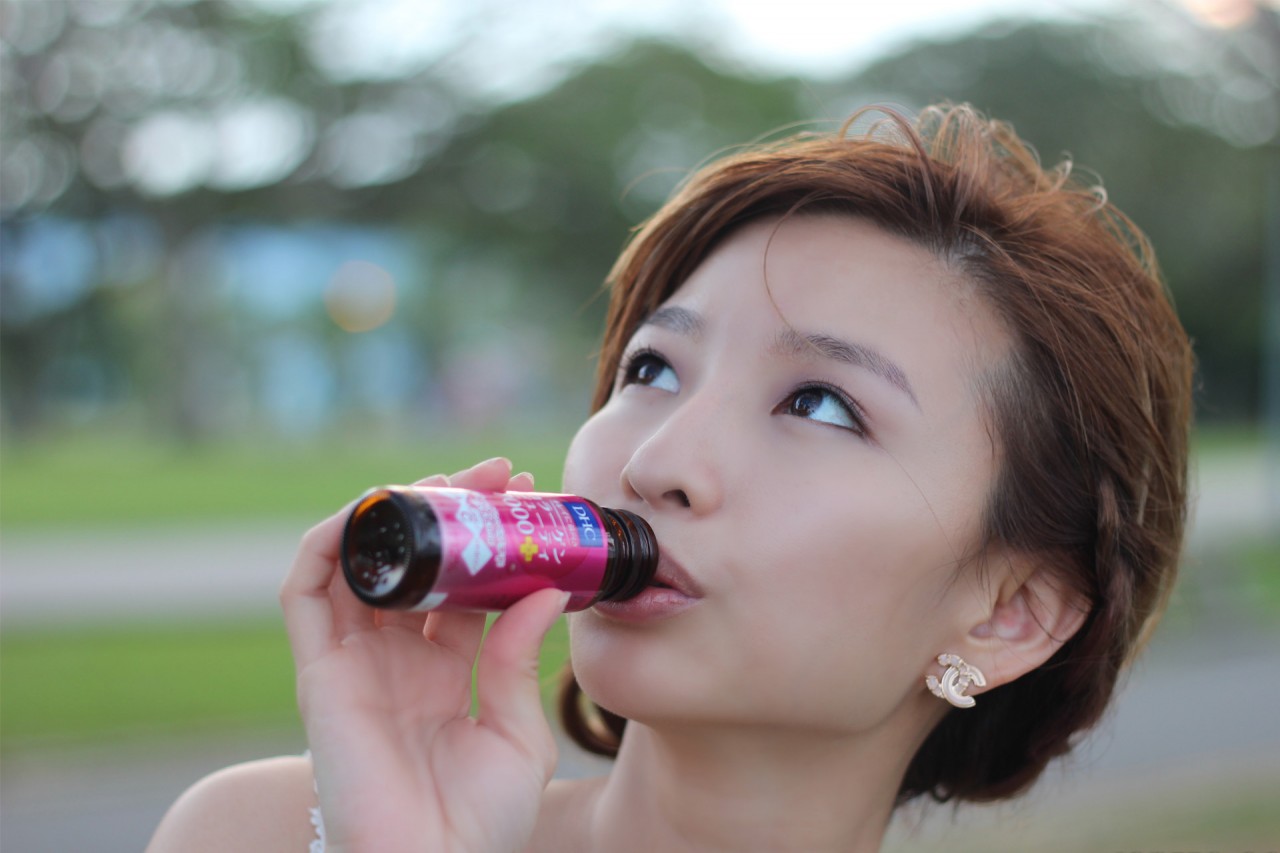 Last month, at the DHC event I attended, they gave away cute Fukubukuro (福袋 ) which means everyone walks away with an unknown unique set of products from DHC.
I thought it was a real fun way to give out goodies because there in nothing in DHC that I wouldn't like anyways.
I unpacked my little cloth bundle to find DHC collagen drink as well as DHC newest skincare offering, their Kakon Juka skincare range. I will be reviewing the Kakon Juka skincare range on Watsons beautyplayground so look out for it!
Truth be told, I'm already a big fan to DHC 7,000mg collagen drink even before DHC was launched in Watsons. I love the berry taste of this drink and it's effects on making my skin, brighter, clearer and more elastic.
I don't take collagen drinks, powder or pills all the time. But every once in awhile when I feel that my skin seem to be getting dull and haggard, I'll try to kick start my internal skincare with a 3 months collagen program.
I usually start the first 2 weeks of my 3 months (12 weeks) collagen program with one bottle of DHC collagen drink every single day. My skin is at its dullest when I want to start my collagen program so I need a high level of collagen (7,000mg) every day to force my skin into a renewal cycle.
After the first 2 weeks, I can already see a stark difference in the radiant level of my skin. Thus, for the next 8 weeks, I will take the DHC collagen drink only once in 2 or 3 days. In those in between days when I don't drink the collagen drink, I maintain it by adding some DHC collagen powder (5,000) into my drinks of food or by taking the DHC collagen pills.
When I reach the final 2 weeks of my 3 months collagen program, I'll just rely solely on the DHC collagen powder or pills. If you want you can continue to maintain with DHC collagen products but usually I will stop so that I can test other products without the aid of  DHC collagen in other for me to see if the other products I review are working. When my skin gets dull again or if I don't have beauty products I need to review, I'll go right back to my DHC collagen program!
Try it and let me know if it works as well for you. But don't forget that your topical skincare is also important!
All DHC products can by found in any Watsons store.
*****
*****
*****
*****
*****
Outfit of the day
Dress: Liz Lisa
Earrings and ballet flats: Chanel