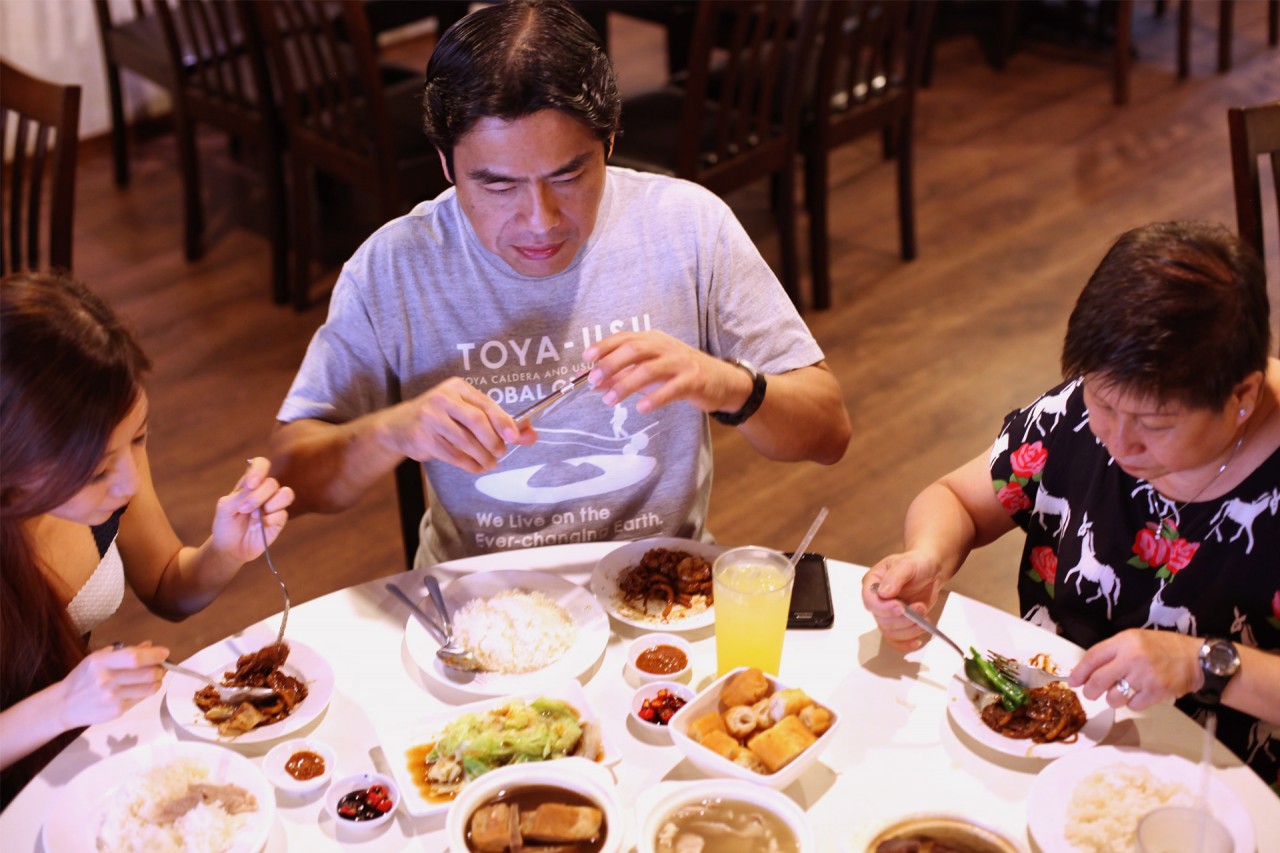 My family loves having a good Bak Kut Teh 肉骨茶 brunch over the weekend and I can't believe we never explored B.K.T by Kong Kee at Far East Square till recently. There are two types of Bak Kut Teh, the light peppery Teochew style and the Hokkien herbal Klang style. At B.K.T by Kong Kee, they offer both choices. In fact, they even offer a less known version of Bak Kut Teh from Malaysia known as Dry Bak Kut Teh. It's the first time I've came across a shop that offer all 3 styles.
My parents (being fans of Bak Kut Teh)  were really excited to give all the 3 types a go.
These days the afternoon can be maddening hot and my parents loved that the restaurant is air-conditioned so we can enjoy our hot piping soups in a cool environment. Just the short walk to the restaurant and my mum was already feeling the heat!
I had been away on travels for a month and this meal was almost like a "Welcome Home" celebration so besides the 3 types of Bak Kut Teh, we decided to try some of their other dishes as well. The menu here is really intensive.
Teochew Style Bak Kut Teh
We love both the Hokkien Klang style Bak Kut Teh as well as the Teochew style Bak Kut Teh. Personally, I fell in love with the Klang style Bak Kut Teh here. In fact, we ate so quickly, it wasn't almost till the end of the meal that I realised that I forgot to snap an individual photo of the Klang Bak Kut Teh. The photo of that is probably in my dad's phone though. He was so happy with the meal he snapped lots of photos so he could recommend the place to his friends and colleagues.
Just to prove my point, here are the many times he was caught trying to snap photos of the food throughout our meal.
Anyways, back to the food. Just by looking at these series of food, you can see where I get my gluttonous genes from.
They offer free refills of the Bak Kut Teh soups but do note their refills are the peppery Bak Kut Teh broth so if you order the herbal Klang version the subsequent refills will dilute the herbal taste.
Dry Bak Kut Teh
Of the 3 types of Bak Kut Teh offered, this was our least favourite. To be fair, the only fan of dry style Bak Kut Teh was my mum so this was ordered for her.
Pig Trotters
Also for my mum. I liked that this version also has a lot of lean meat as well. I know my mum loves the fatty goodness but this healthier cut is better for her health and it's just as tasty.
Stir-Fry Hong Kong Kai Lan with Garlic
Well cooked and seasoned so the vegetables had the right amount of crunchiness.
Stir-Fry Lettuce
This dish doesn't look like much but I'm a huge fan of Stir-Fry Lettuce and I finished this plate of vegetables on my own.
Salted Egg Prawns
B.K.T by Hong Kee also has a sister restaurant called Kong Kee Seafood Restaurant located at Geylang Lor 31. Since they also had a "Zi Char" menu at this restaurant, we ordered their Salted Egg Prawns (my dad's favourite) and it was pretty good!
Traditional KL Hokkien Noodles
Given the name of the shop, I'll expect the most standout dish to be their Bak Kut Teh but their KL Hokkien Noodles gives it a tough competition. This was so delicious it disappeared in an instant. The noodles had the perfect wok-hei paired which was further enhanced with the dark sauce and crispy lard.
Order the KL Hokkien Noodles early as it takes awhile to fry.
I was trying to take a shot of all our food and I didn't even manage to capture it before the main portion of the KL Hokkien Noodles vanished into our tummies. The photo above was taken less than 3 minutes before the photo below.
There was so much food yet we finished them all! Stuffed but totally happy.
They even sell their spices so you could buy it home to cook.
A family that eats together stays together and I will always try to bring my family to new food places whenever I come across one that I think they would like. These days (due to work and travelling), I have not been spending as much time with my parents as before so these brunches are precious moments.

I had so much fun exploring the different food options at Far East Square. You can read about my recommendations for food at " 5 Places to eat at Far East Square" and read my detail review of "JIN Fine Dining" for more options. And as promised I'm gonna do a GIVEAWAY to my readers.
Simply tell me who you would like to bring to Far East Square for a meal and email the answer to renzze@gmail.com. Do remember to also include your name, address and contact number in that email. I'll be picking 2 lucky winners to walk away with $50 Far East Square Dining Vouchers each on the 10th of May 2015.
Thanks for reading,