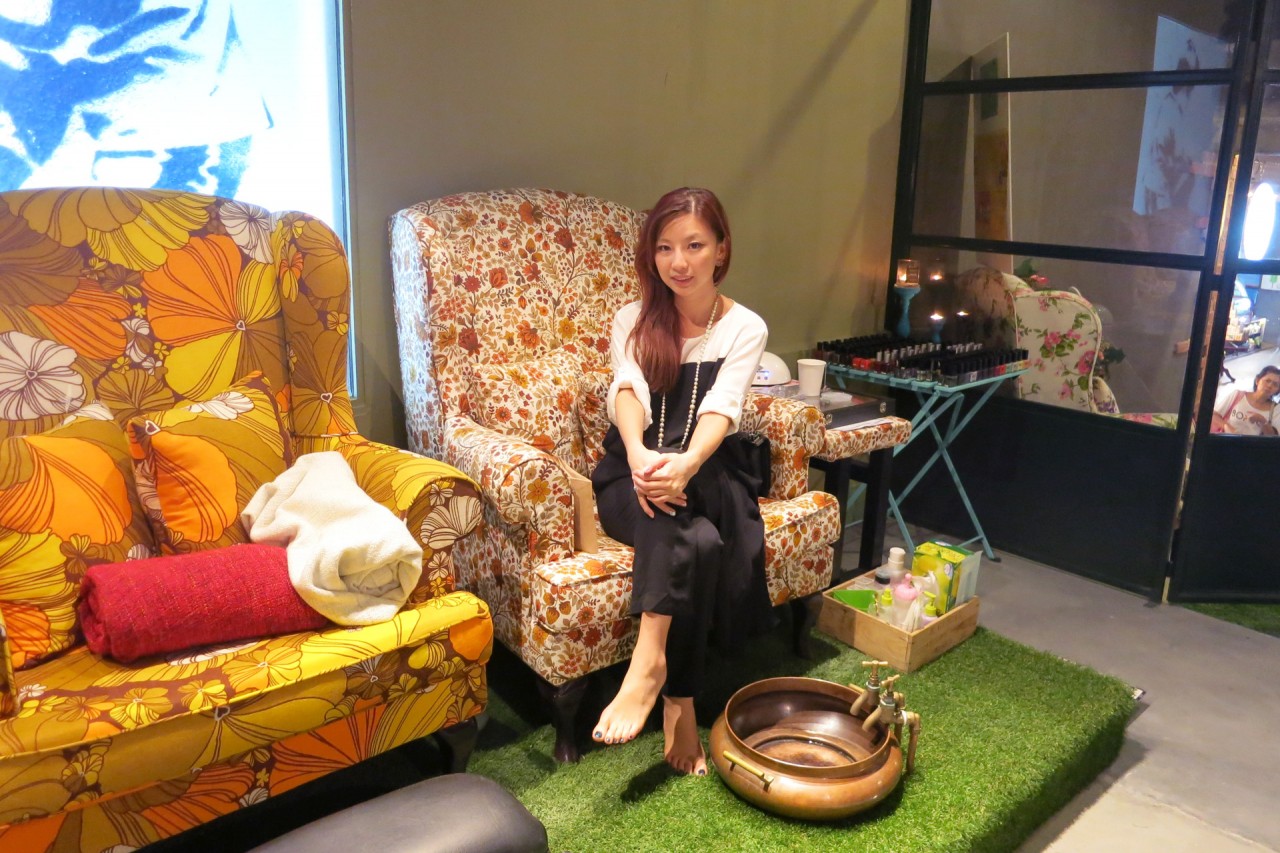 Tucked away in a little corner of the hippy and trendy Pasarbella Market at Grandstand is Auum – The Honest Nail Spa. Auum was named as a wordplay from the sound Om or Aum. Known as the sound of peace that embodies the entire universe, Auum hopes that their customers would feel the same universal peace when they step foot into Auum.
I love the electric mix of patterns, prints and colours all seem to work together to give us a comfortable cozy "indie" vibe. The devil is in the details and Auum has lots of that for you to ponder on and admire while you get your nails done.
.
What makes Auum worthy of a visit however, is not just the decor. This unique nail spa has taken it upon themselves to do no harm. Looking at the ingredients, nail polishes can be a pretty toxic beauty product. Auum believes that given the modern technology and understanding that we possess, we can make a choice to maintain beautiful nails while ensuring minimal or no harm to them or to our bodies.
Most nail polishes contain 3 big toxins that are extremely harmful. These are Dibutyl Phthalate (DBP), Formaldehyde and Toluene. Dibutyl Phthalate (DBP) are more commonly known as plasticisers which help fix the colour onto your nail and prevents cracks and chips. Formaldehyde is added to make the polish tough and resistant while Toluene is a solvent that makes the polish easy to apply. These are the same chemicals might cause headache, problems to your nervous system and are linked to the causes of cancer and birth defects.
Having them on the nails is bad enough but some worry that it might even enter the nail bed and be absorbed into the blood stream over time.
As vain as I might be in the pursuit of beauty, I really don't want to take unnecessary risks. Now, with Auum, I can be reassured that they would only use "3 Free" or " 5 Free" nail polishes and products.
You already know "3 Free" means the removal of the 3 big toxins but some polish brands go a step further by also eliminating two extra ingredients. Those labeled "5 Free" are also free from Formaldehyde Resin (a derivative of Formaldehyde that is a common allergen) and Camphor (ingesting a large dose can be poisonous and cause seizures).
Surprisingly, even though Auum uses only "3 or 5 Free" nail polishes, there was still a whole lot of colours for me to choose from. Auum is vegan friendly and is a great alternative for expectant mums and children who don't want to give up having pretty nails.
Every single item used for my manicure and pedicure were also sterile and disposable. You get your own buffer and don't share any of it with another customer.
I had a lovely relaxing and pampering time at Auum and I must mention that they did a wonderful job of removing my callous.
I had a drink and a snack while they worked on my feet and nails.
I decided to do gel polish for my fingernails and normal polish for my feet.
The simple but sparkly design is perfect for me as I had a whole list of varying events with varying themes to match and I couldn't afford focus on having just one bold design.
Auum had some really pretty nail wraps that I'll love to try on next time.
Before I left, Auum prepared a little home maintenance pack for my nails.
This thoughtful pack contains nail file, buffer, cuticle oil, scrubs, pusher and pre-soak removal pads. It is given to all their customers so they can maintain their nails better at home and can even remove their own nail polishes if they don't have time to head down to Auum for a soak off session. It's sweet and absolutely brilliant.
If you would also like to get some honest to goodness nail services, please visit Auum.
Auum
PasarBella @ The Grandstand Bukit Timah Singapore, 
200 Turf Club Road Singapore 287994
Telephone : 6463 9713
Email : zi@auum.com
Facebook : www.facebook.com/auumsg
Instagram : instagram.com/auumsg
Open Mondays to Sundays
10.00am – 7.00pm
Last appointment at 6.30pm