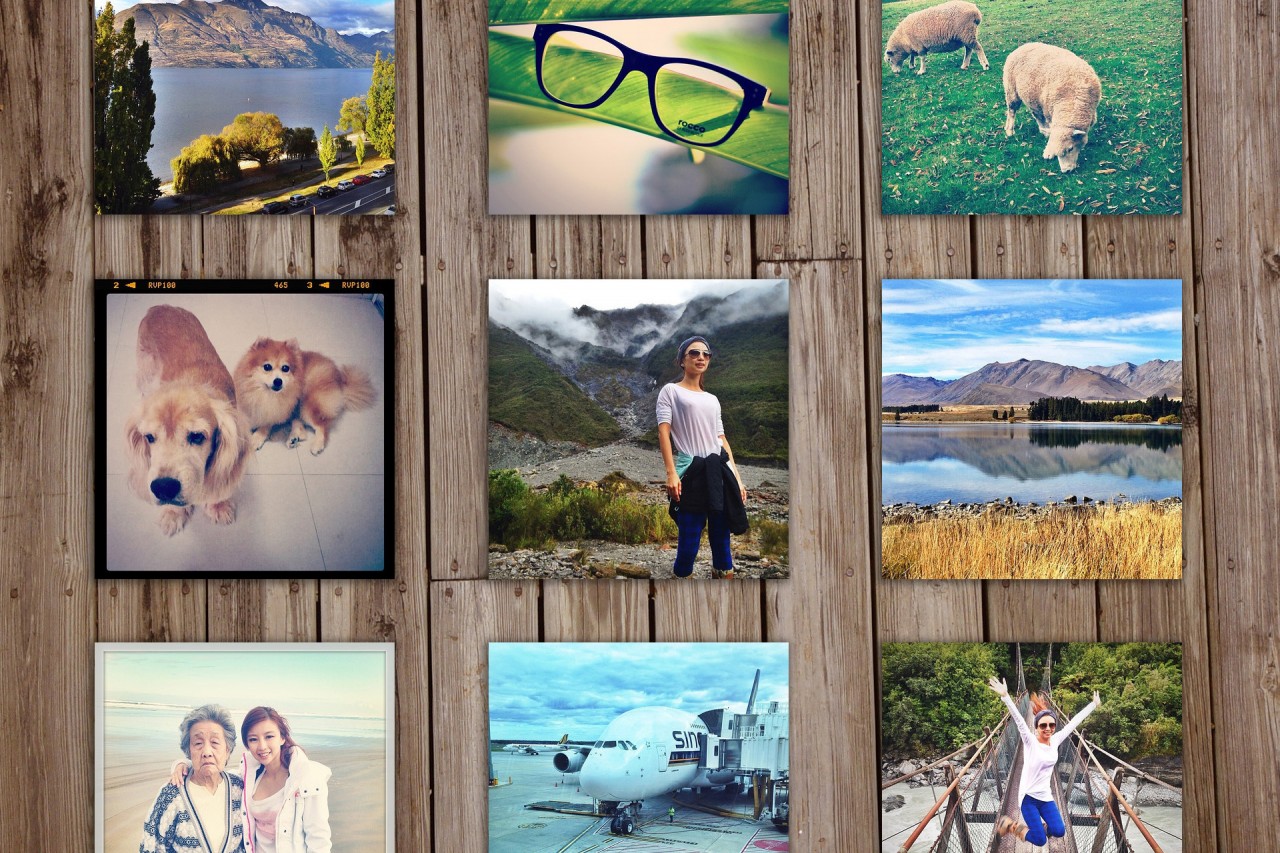 I've been travelling so much these days that I'm more away than I am around. I'm feeling totally blessed that I have the opportunity to take time off to pursue my dreams and my flashback posts are a great way to constantly remind me to be grateful. Let's take a look at what I did and where I went in April!
On April's fool I was scheduled to fly from Singapore to Christchurch. I was really touched when friends and family came together to have lunch together and send me off at the airport. It almost feels like a reunion dinner. I didn't say anything to anyone that day but 1st April is also the birth date of my recently deceased grandfather and I was feeling a little emo. But when you are surrounded by so many people who love and care for you, it's hard not to keep your spirits lifted.
One of my favourite spots in the whole of New Zealand has to be Lake Tekapo. The photo above is taken with my iPhone with #noedit and #nofilter. New Zealand is so picture perfect, it doesn't need any help to make each shot postcard worthy.
Run 77 is my to-go place for breakfast (lunch and tea) whenever I stay at Lake Tekapo.
The first time I bungeed was about 10 years ago. I was young, reckless and foolhardy. In those days, bungee wasn't really advertised nor was it safe. They didn't help you to take a photo and you'll be glad if you survived the jump. The origin of the sport is right here on this bridge in New Zealand and they still do jumps here. I'm really proud MM took the leap of faith and conquered his fears.
Waking up to this view everyday when I was in Queenstown was just splendid. What more can I ask for?
Did the valley hike towards the glaciers at Fox Glaciers to get a glimpse of what I would be climbing on the next day.
I had a hearty breakfast to fuel up before my helicopter ride up to do some ice hiking on the glaciers.
Cheap thrill! But I couldn't resist doing a jump shot on this wobbly suspension bridge!
MM was super sweet and made me steak and noodles after my hot springs soak at Franz Joseph.
It's the first time I've tasted Feijoa fruit and it tastes pretty good. Kinda tastes like a cross between pineapple and guava.
I had gorgeous weather while going island hopping at the Bay of Islands.
I finally met up with my family in New Zealand and here I am at 90 Miles beach with my grandmother.
Can you spot me standing on the edge of this cliff at Cape Reinga? MM was literally shouting from miles away for me to come back cause he was afraid I'll slip and fall into the abyss.
I sent my grandma to her Tai Chi session then decided to head over to One Tree Hill to run so I could train for my Run 350 marathon.
It was quite a surreal experience for me to be jogging alongside grazing sheep at One Tree Hill, Auckland.
My godpa is an awesome chef. I had so much western meals in New Zealand that I was craving for Singapore food. Godpa immediately whipped up this delicious plate of home cooked Char Kuey Tiao! After living in New Zealand for so long, he's mastered replicating Singapore cuisine in his kitchen so he could satisfy his own cravings.
My next trip was to Melbourne and I was glad to learn that with the Singapore passport, you can skip the normal custom queue and use the electronic SMARTGATE. How efficient!
I was away from my furkids for so long, I was getting a little home sick.
As it turns out, Raphael was coincidentally in Melbourne as well. I had a lovely time catching up with both Clara and him over lunch while getting my cravings for corn fritters and good coffee fixed.
I had the most awe inspiring session with Ken learning all about heirloom coffees. He's definitely the master and if you want to get a superb cup of coffee in Melbourne you need to head over to Oak Room.
I'm definitely more of a dog person but I really bonded with Clara's cat, Mochi.
Bestie Clara and I! I miss her so.
Clara and David are so great together and I enjoyed my time with them. I'm sorry I couldn't stay longer but I'll try to make it back to Melbourne soon!
Waiting for my flight back to Singapore at the Melbourne Airport.
Ran my Rocco by Rodenstock contest on Instagram. Did you find Rocco? If you did, I might see you at the Ziggy Party on the 29th May!
Mirror shot with my yoga buddy and good friend, Regina. It's so good to be home and do hot yoga again at Updog Studio.
Went on Nestle Fitnesse cereal for a healthier lifestyle! I'll be sharing my experiences soon.
My dearest friend, Sushi, bought me all these groceries to help me to kick start my Nestle Fitness cereal and balance diet program.
Did the RUN 350 marathon with Jun Wei! It was a rainy morning but we had fun!
Such a treat to have early morning breakfast with  Sushi, my godsons and Jun Wei after our run.
Night yoga classes at Updog Studios aids me in releasing the tensions of the day and helps me to sleep better at night.
I finally found time to catch up with Bernice, Kelvin and their 3 kids! It was a extremely meaty dinner at Arbite.
That sums up my busy April 2014. Thanks for reading!