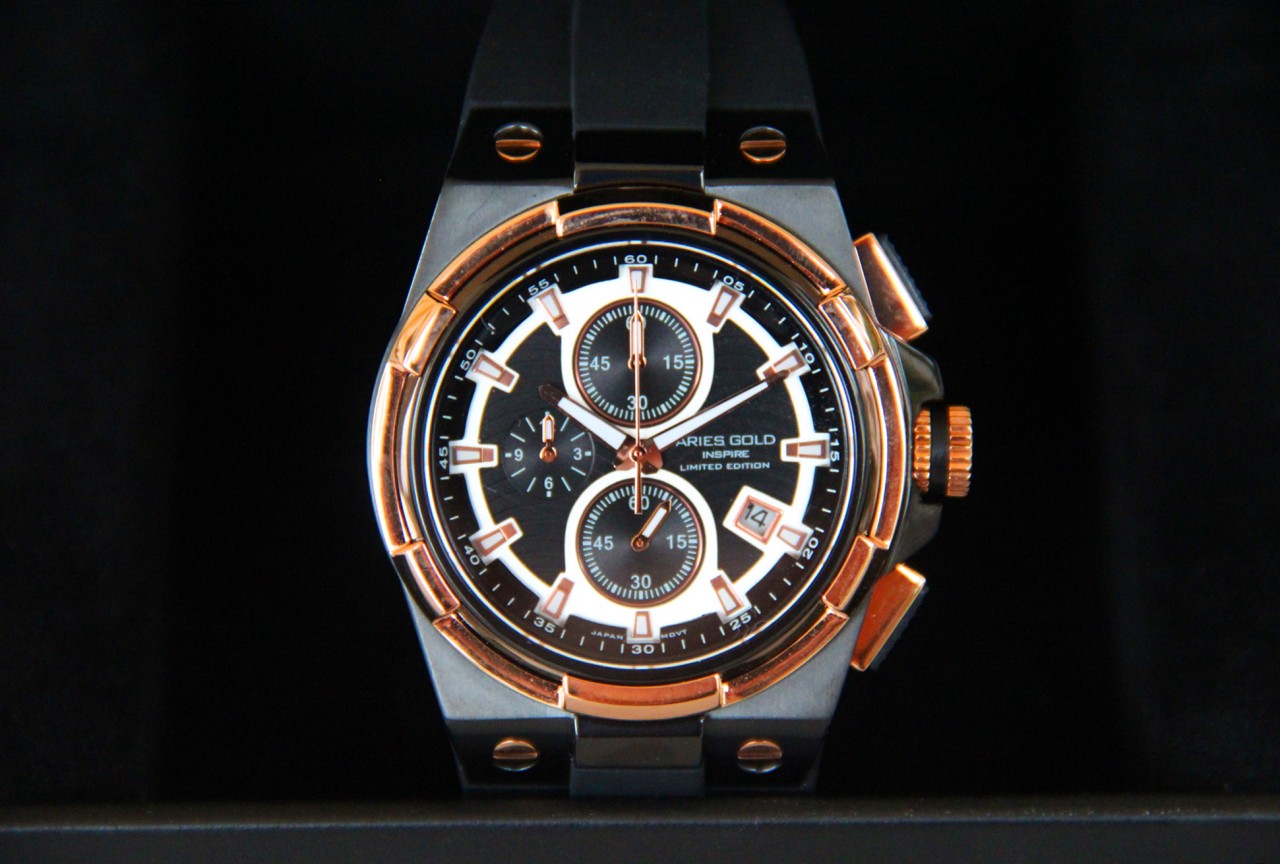 Recently, I got better acquainted with a watch company that has a long history of making premium watches; built to last several generations. Since 1928, Aries Gold has been dedicated to the art of crafting impressive time pieces. It is a Swiss brand that is registered in 42 countries worldwide and focuses on design, quality and durability.
While looking through their 2012 and 2013 collection of watches, I learnt more about their design inspirations and how Aries Gold was one of the first brands to take the plunge in building their own in-house facility capable of testing scratch resistance, water resistance and impact resistance. I love their latest collection which is the "Inspire" range as it focuses on endurance, precision and functionality without losing the sense of luxury.
Although Aries Gold carries both female and male watch designs, I felt inclined more towards their masculine range. For quite awhile now, a lot of females are abandoning dainty watches in favor of mens' timepieces and I am a huge fan of that unisex trend. When it comes to timepieces, mens' watches tend to show more personality and are oversized enough to be worn as a statement piece as well.
As displayed by many stars such as Kate Moss, Victoria Beckham, Madonna and Naomi Campbell, oversize watches gives a more casual style to your outfits and shows how you like to take charge of your accessories.
Even though I was down with flu and fever that day, I had such a happy time checking out the various time pieces. Here are two of the newest ones in their collection.
Aries Gold watches have a strictly no China movement so you can be assured that you won't be buying a mass market made in china product. In fact, every piece is produced in limited quantities and they do not reproduce the designs in order to maintain the watch exclusiveness. 95% of Aries Gold watches uses scratch-proof sapphire crystal which means that you don't have to be extremely careful about knocking or hitting it when you go about your daily activities. Only a diamond is capable of scratching the sapphire crystal surface.
After countless of difficult selections (the other top contender is the watch on the first photo in this post), I finally narrowed my ideal watch to be the Aries Gold Inspire BOS10-010G-Rose. It's one of those watches that men fall in love over the sporty classic look and at the same time it makes an awesome arm-swag for women. Great choice if you are one of those who like sharing watches with your other half.
I'm so pleased with my choice and it has become one of my favorite oversize watches in my collection. This flashy "piece of art" helps me keep my ultra feminine outfits a little more interesting and I've received compliments from both male and female onlookers on my watch! The hubs stole my watch to wear and while it became a statement piece of accessory on me, this piece looks really classic and exudes a sense of power and elegance on him.
Other than how aesthetically wonderful the watch looks, it's the mechanical aspects that have drawn me to it. Hailing from the Rally collection of the Inspire range, this watch brings with it cutting edge technology  inspired by the passion for endurance and precision as seen in many motor sports. It has a chronograph movement with date, scratch-proof sapphire crystal, solid stainless steel case, high grade silicon strap and is 100m water resistant. I generally have a strong preference for my chunky watches to have metal straps or silicon straps instead of leather or rubber. Silicon or metal straps allows watches to have a slight slack when worn loosely so it behaves almost like a chunky bracelet.
As you can see on the back of the watch, there is a etch of a cool race car as well! This watch is a limited edition and only 100 pieces was crafted so I'm extremely lucky to own the 64th piece.
To top it all off, Aries Gold has a 10 Years Warranty on movement parts for all their watches! It is probably one of the longest warranties you can find for watches these days. Usually you get a one year warranty or if you are lucky, a three year one. But Aries Gold holds the quality of their watches in highest regards which explains their confidence in giving a whooping 10 year warranty.
It's so easy to match this watch and I wear it pretty frequently even though I don't always remember to take "outfit of the day" shots. I'm sharing with you 2 recent outfits I wore together with my Aries Gold watch but I'm sure you can imagine how the possibilites are endless with such a lovely design.
I find that pairing oversize watches with pretty summer dresses helps to offset the masculinity of the watch. I had also paired the watch with a white denim maxi dress and it pulled the whole look together.
Hat: Japan
Earrings: Chanel
Dress: Snidel
Lace crop top: Liz Lisa
Cat Clutch: myjotterbook
Watch: Aries Gold Inspire BOS10-010G-Rose
Heels: Christian Louboutin
With such designs and style you'll think that Aries Gold Watches are extremely pricey right? Well, most of their watches are actually in the S$199 to S$380 range. The one I'm sporting is a limited edition so it's priced slightly higher at S$571. Now you can get a chance to own an Aries Gold Watch. Look out for the details at the end of this post.
The first look I shared had a more classic feel but to show you how versatile this watch is, I've paired it in another summery and flowery combination.
The Aries Gold watch helps to balance my feminine florals to give my look a more sporty vibe.
Cap: Gift from Sushi
Floral romper: Dazzlin
  Bag: Hermes
Sunglasses : Glossi (also a super versatile piece)
Watch:  Aries Gold Inspire BOS10-010G-Rose
Wedges: Louis Vuitton
Now, as promised, I'll share with you how you can win yourself a luxury Aries Gold watch. 
There are  the 2 of Aries Watches you can choose from should you be the lucky winner.
Inspire G700 – Marine Master worth S$285
– Swiss GMT Movement
– Solid Stainless Steel
– Sapphire Crystals
– 200 M Water Resistant
– In Yellow, Green & Red
– 10 Years Warranty
Enchant L500 – Bedazzled worth S$328.
– Swiss Movement
– Solid Stainless Steel
– 44 Swarovski Crystals
– Domed Sapphire Crystals
– 50 M Water Resistant
– In Rose Gold White Dial or Rose Gold Purple Dial or Silver & Gold
– 10 Years Warranty
I will be loading up one of my outfit photo on the Aries Gold Watch Facebook Page, Renzze Facebook Page as well as on my Instagram (@renzze). All you have to do is like the photo (like all three posts if possible) to show your support. If Louis could participate he would too! Look how good the watch looks even on him!
3. Comment on the photo (mine again, pls) why you "Like" the picture.
The winner will be chosen from the picture with the highest number of 'likes'. 
So if I win the contest, you win too! 
So do share the contest if you are interested! Winner will be contacted via Facebook.
To find out more about Aries Gold watches and where to find them visit:
Instagram: @ariesgoldwatches
Twitter: @ariesgoldwatch