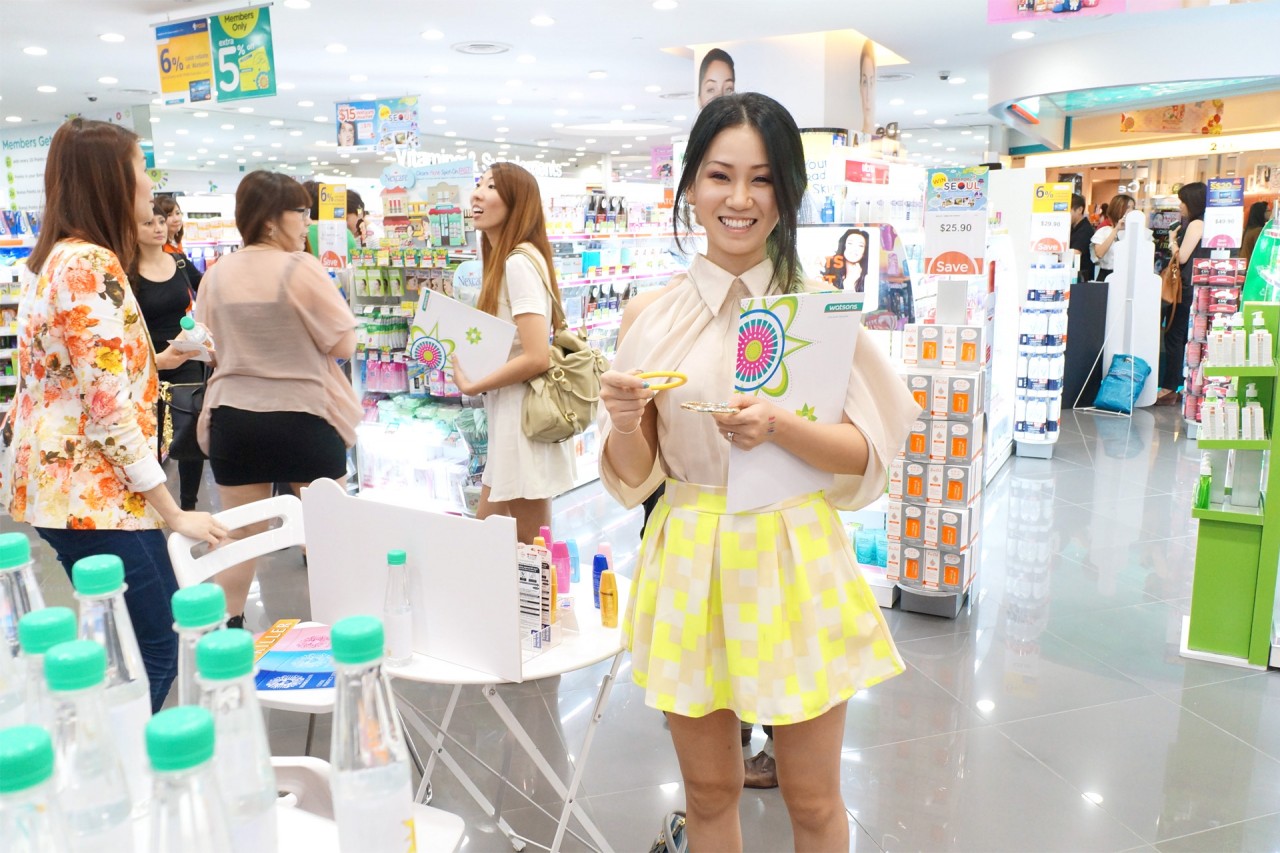 I was invited to Watsons' Firsts Party to celebrate and commemorate the first birthday of its revamped flagship store at Takashimaya Shopping Centre. Other than Watsons' first-ever closed-door VIP sale, we were introduced to some exclusive and widely-anticipated brands and products that Watsons has just brought in.

In line with the brand's promise to deliver the latest health and beauty trends, Watsons will once again be introducing a plethora of on-trend beauty brands and products from around the world. As a Watsons ambassador, I got an early introduction to some of these new brands and products at their media presentation.
I'll briefly tell you about the various new brands you can expect at Watsons this season but in-depth reviews of the various brands and products will be in separate posts as I need time to try them out properly.
Under the Cosmetics range:
One of the most exciting new brand is Collection Cosmetics from UK. Collection is renowned for fun, fashionable and affordable makeup. Creating a cache for colour, the brand lives up to its sassy strapline 'Work the Colour' by presenting individuals with a wide array of the brightest and most wearable colours in vibrant and innovative packaging at unbeatable prices. For Watsons' Firsts, the brand showcased its gel liners and lip products.
I am totally in love with their colour pout lip stain. They work like marker pens for your lips and doesn't smudge!
Another exclusive cosmetic brand to Watsons is Brigitte. This brand aims to help ordinary girls transform into 'Kawaii' goddesses in just a few simple steps. Ideal for confident, sassy women who are constantly on-the-go, Brigitte has a wide array of natural and unique makeup that are classy, romantic yet stylish. For Watsons' Firsts, the brand launched its Romantic Prologue range of eyes, cheek and face products.
I'll be looking forward to test out their cosmetic rage for the eyes because I simply adore the eyes of the Brigitte models!
Under the Masstige Skincare range :
SunKiller carries a wide range of sunscreen products that meet various customers' needs – from sporty and active individuals who desire high sun protection to individuals with dry skin, and even offering sun-protecting items for babies. For Watsons' Firsts, the brand introduced its latest range of waterproof UV-blocking products suitable for daily use
On the initial testing of Sunkiller sunscreens, I immediately fell in love with the texture and feel. I'll definitely be trying one of these out for a more detailed review in the near future so look out for it!
A consumer favourite and award-winning brand of facial, eye and body care products, Bio-essence has always been at the forefront of innovation in developing effective new products that serves consumers' needs of achieving and maintaining gorgeous, healthy skin.
For Watsons' Firsts, the brand debuted Bio-essence Bio Water Power Protect Cooling Sunscreen SPF 56 (For Face), the brand's latest addition to its Sun Protection Series.
I was quite amazed with the Bi0-essence Sleeping Beauty Mask.
Using a specially researched technology (or sorcery) the applied gel-like mask will turn into water droplets after applying to enhance hydration!
I'll probably try this out after my Laniege Sleeping Pack runs out.
Under Derma Range:
New products under Derma range is always my favourites because I love dermatological brands that will usually work wonders with my sensitive skin.
An exclusive brand to look out for is Dr. Vincent. A cosmetic surgeon since 1992, Dr Vincent Auchane has done in-depth research into the scientific knowledge of the skin, studying the skin profile of various individuals and its capacity for regeneration. Born out of the latest technologies relating to formulations, his skincare line has undoubted efficacy.
For Watsons' Firsts, the brand introduced its signature range of serums infused with grapevine blossom cells. Since this brand only brings in limited quantities of their products each time, I recommend that you grab it once you them on the shelves. I'm having problems deciding which range I want to try first!
 BeautyBiotics is the sister company of SkinBiotics.
BeautyBiotics is a dermatological cosmetics brand that incorporates NANO skincare science into its products for improved penetration efficiency and immediate visible results. For Watsons' Firsts, the brand launched its range of Dream Cream products for a more radiant and youthful appearance.
The dream cream is not officially out on the shelves yet so I'm going to start testing their UV White Sunscreen + Whitening Mineral Powder instead. With an SPF 50 PA+++, this seems like a strong contender to be my favourite sunscreen.
Under the health and supplement range, SkinBiotics presented a new product.
We've all heard of Skinbiotics and if you haven't check out my post on it! SkinBiotics is a revolutionary nutri-beauty system personalized to individual skin conditions' needs. SkinBiotics' range of products are recognized for its effectiveness and excellence not only by consumers but also by scientists, aestheticians and dermatologists for its anti-aging and beauty benefits. For Watsons' Firsts, the brand introduced its latest innovation, the EVEN+WHITER skin booster.
Under the Hair Care Range:
An established hair expert, Laboratoires Kéranove launched the first transversal range of shampoos, hair care and colouring products containing processed natural extracts to treat both scalp and hair. For Watsons' Firsts, the brand showcased a wide variety of multipurpose hair care and colour lines specially developed to cater to individuals' various hair needs.
There was even an expert on site to show the current state of your scalp and to recommend the right hair care you need.
The last range is also the most interesting one – Beauty Gadgets.
An internationally recognized beauty equipment manufacturer in the application of ultrasound technology, Hwang Sun Enterprise has been manufacturing ISO-certified and FDA-approved beauty equipment for over 20 years across six continents. For Watsons' Firsts, the brand launched SoniSpa Ultrasonic facial and body gadgets.
The demonstration of both the SoniSpa Ultrasonic Deep Facial Spatula as well as SoniSpa Ultrasound Body Slim Massager – Red Light, has gotten me totally intrigued. Retailing at SGD299 each, they may be great gadgets to test out on my next splurge.
I had a great time checking out all the exciting new ranges while catching up with my fellow bloggers. All the photos here were taken using a combination of my SD card with Clara's camera and I've got to say her camera makes people look much whiter and fairer! Makes me tempted to get a camera that has a beauty function.
I'll be testing out some of the products mentioned in this post and reviews should be on my blog in Dec and Jan since I usually test beauty products for at least 2 to 3 weeks each time to see the effectiveness.
*****
*****
*****
*****
*****
Outfit of the day
If you find this outfit familiar it's because I went to the FiDe Fashion Week on the same day after the Watsons Firsts event.
Hat: Forever 21
Earrings: Chanel
Jumpsuit: Korean
Maxi Twilly Scarf: Hermes
Bag: Herms
Cuff: Hermes
Gold Studded Wedges: Gucci