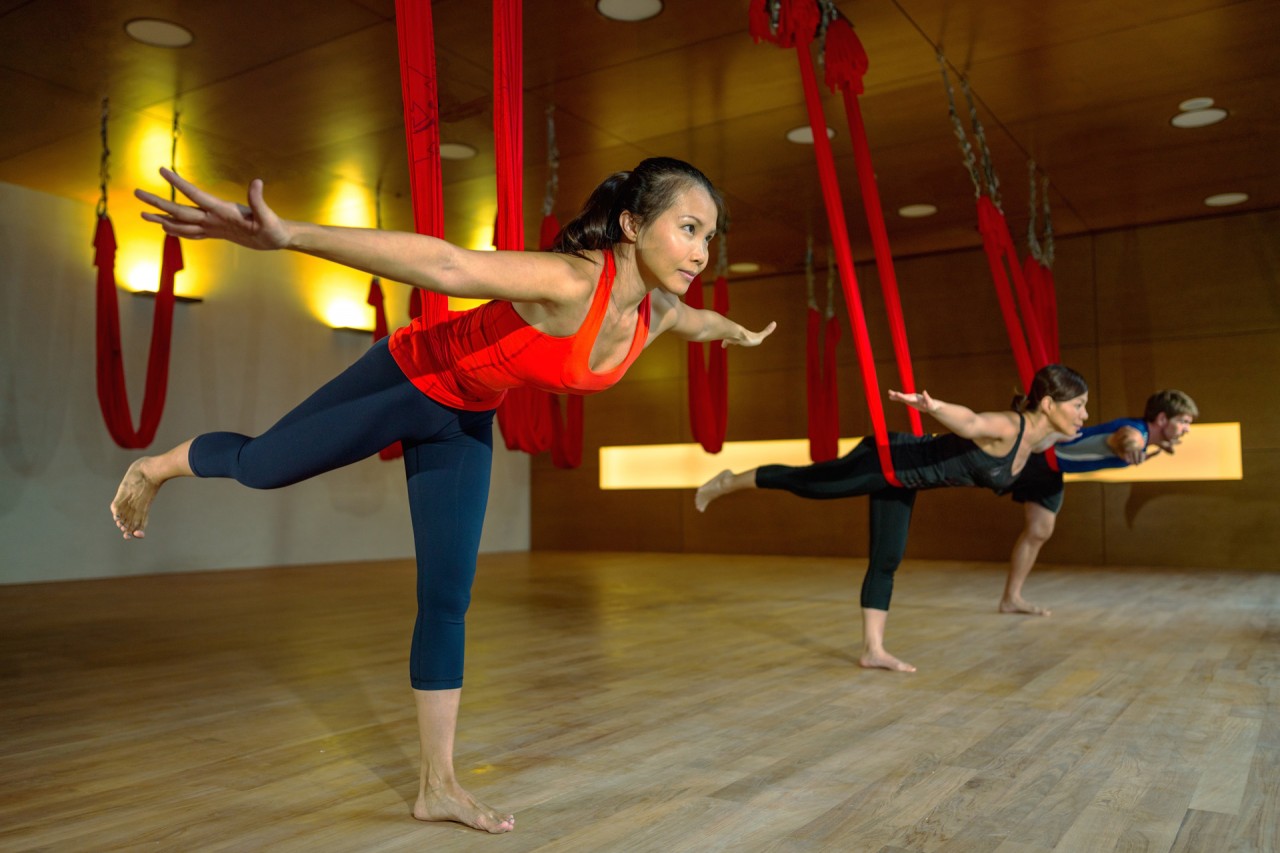 As we come to the last week of 2013, I'm sure many of us are starting to review our previous resolutions and making new ones for the new year. In my list, fitness is still on the list of ongoing accomplishments I hope to achieve. For those hoping to jumpstart their new year with a new gym, you can check out Virgin Active. One of the newest state of the art gyms in town that will make fitness a much easier goal.
Virgin Active is the leading global health and fitness club operator in UK so naturally I expected them to have world class facilities. What I didn't expect was that the gym was also fun, friendly and smart. Yes, smart. For the first time in Asia, all the gym equipment at Virgin Active has the ARTIS line of Android powered fitness equipment from Technogym. Each piece of ARTIS equipment is designed for connectivity, allowing members to access to their own personalised training programs, training data record, web pages bookmarks, apps and social networks. Taking a relaxing jog on the treadmill while Skype-ing or FaceBook-ing is now possible.
If you opt for it, you can even harness the cloud technology that Virgin Active has to help you to track your workouts whenever you check into the gym. It feels a little like having "Big Brother" around but works well for those who needs a little push to reach their fitness goals.
Sprawling 33,000 square feet across three levels, Virgin Active Raffles Place is one of the biggest fitness clubs in Singapore and they have an incredible range of gym equipment. Other than the usual equipment, they have power plates for an intense effective workout and also offer a freestyle cross-fit training zone that is loaded with suspension ropes, kettlebells and other funky functional items to help you achieve your goals.
Wherever I went in Virgin Active, I was met with warm and genuine service from the staff. Unlike most big and intimidating gyms, they have a holistic approach that caters to all ages of all fitness levels. Most interestingly, they have flexible memberships that require no long term commitment.
If you love spin classes, then you have to check out Virgin Active's Spin class studio!
The classes are brought to a new high with exhilarating music and immersive digital landscapes that interact to the beat of the music. And if you prefer a more lonesome experience, there are some bikes stationed outside the studio for individual sessions.
You can even select nature trails with gorgeous scenery if upbeat music while cycling is not your cup of tea. I've never tried spin classes before but after looking at what Virgin Active has, it makes me want to give it a go!
With 150 classes offered in a week, you are bound to find something that excites you. Other than the usual classes, they offer innovative fitness classes such as V-Punch, Zuu, Kinesis, Power Plate and Anti-gravity yoga. Since I was there that day, I tried out their anti-gravity yoga class.
It was pretty fun and incredibly relaxing moving gracefully in the air while being suspended on silk hammocks.
If you are wondering why we are dressed more or less the same, it's because Virgin Active spoils their members with choices. They not only provides towels but also your workout attire (minus shoes of course). If you still prefer to wear your own personal gym clothes instead, they even have an add on service to allow you to leave your smelly gym clothes to them for washing so you will always have your own set of clean workout attire ready for you at the gym. Awesome!
As part of the hassle-free experience, all members will have an RFID membership card or bracelet that allows them to access their locker and make cashless payment for food and drinks at the cafe. In the locker rooms, there are mobile charging facilities, hair dryers, rain showers, complimentary Molton Brown amenities and even an ironing board.
After your workout, you can proceed to the Relax and Recovery Zone featuring foot baths, steam rooms, ice rooms, experience showers and complimentary use of bath robes.
My favourite part of the Relax and Recovery area is a salt room with ionised salt that aids in skin rejuvenation.
For the busy ones that need a break from the action, they even have sleep pods that are specially designed to lower blood pressure and ease back tension. These pods also have ambient sounds that help you to doze off and subtle vibration that gently wakes you up after your power nap.
I ended my day at Virgin Active with a delicious and nutritious meal at the cafe. You can just charge everything to your account and pay every fortnight. Super convenient.
They don't believe in pressuring anyone to sign up so feel free to visit them and check them out. I would sign up for them in a heartbeat if they were located nearer to my home so let's keep fingers crossed that they will be expanding real soon.
Virgin Active Raffles Place
 1Raffles Place, Level 6, Tower 2
One Raffles Place
Singapore 048616
Tel: 69087878
Website: virginactive.com.sg