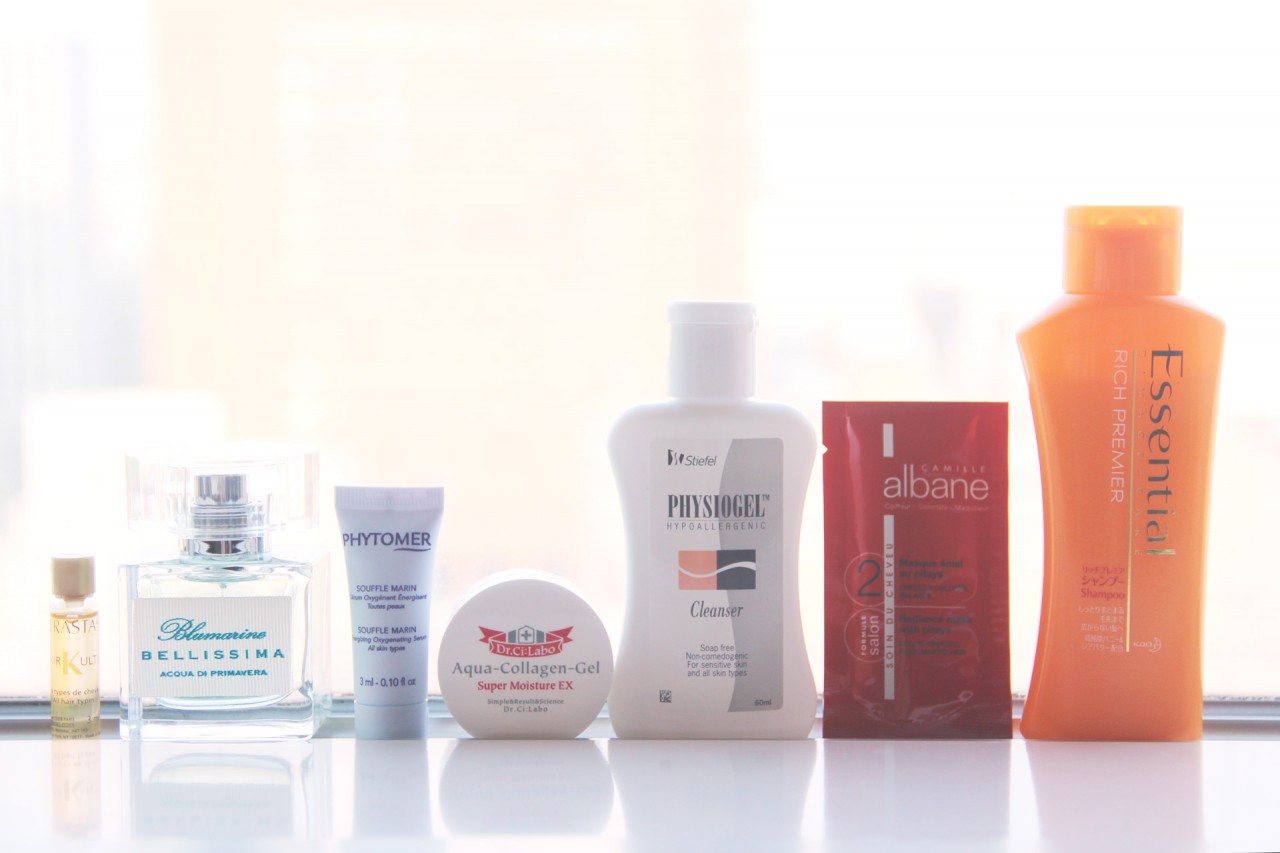 It's time for yet another Vanity Trove review! If you haven't followed me on Vanity Trove yet, please do as I'll be updating these reviews there!
For this Vanity Trove, the samples were rather tiny compare to the last Vanity Trove that was packed with full size bottles.
I love Kérastase products but I've never tried Elixir K Ultime Oleo-Complex before. The Elixir Ultime series consists of 4 oils:
Pracaxi Oil: Originating from the Amazonian regions, Pracaxi oil is known for its benefits on skin. This oil is a powerful cocktail of emollient and active anti-oxidant ingredients to bring shine, nourishment and condition to the hair.
Argan Oil: One of the rarest oils in the world, Argan oil originates from Morocco. It is prized for its reparative and regenerative properties. It helps to restore the vibrancy and strength of the hair.
Maize Oil: A Kérastase heritage oil, Maize oil was the star ingredient in Kérastase's first ever hair mask "Masque Maîs". Rich in vitamins A, E and Omega 6, this oil offers the hair advanced emollient and active anti-oxidant ingredients for shine, suppleness and protection.
Camellia Oil: Drawn from camellia flowers from Central and Eastern Asia, Camellia oil is the most fragrant and luxurious of the oils. It is also a source of Vitamin F, fatty acids, Omegas 3 & 6. This oil helps to smooth the hair fibre, giving shine and suppleness.
This product is also free of silicones. It sounds fantastic but doesn't come cheap so being able to sample it via Vanity Trove before doing a full size purchase was very useful. The hair oil works great to prevent frizz and to sooth the hair but I didn't have enough in the sample to try it out as a pre-cleanse oil. I'll probably only get this if my hair is seriously damage and I'm prepared to splurge.
The Phytomer Souffle Marin is an energising oxygenating serum that claims to be able to deliver an oxygen boost to your face. I was drawn to it because this was known to be formulated with marine extracts that will help protect my skin against environmental pollution and free radical damage. I love the lightweight texture and how silky and easy it is to apply. It works great on its own in our humid Singapore climate and because it's so light, it's easy to layer another moisturizer on it if you travel to a drier climate.
Camille Albane Radiance Mask with Pitaya is a hair mask that I would probably never hear of if not because of Vanity Trove. A french brand that hails from Paris, this hair mask gives radiance to color-treated or highlighted hair. I think it worked pretty well on my colored hair though I'm not sure where you can buy a full size version from this brand.
I'm really into exploring good quality moisturizing skin cleaners for body because I'm always too lazy to apply body lotion. Physiogel cleanser is soap-free, non-comedogenic and great for sensitive skin. It's so mild that you can use it on your face or even with babies. My Mr. Mystery Man is the sort of tough guy that uses only soap and water for his skin care regime so by substituting this into his shower, it is the perfect all-in-one formula to assure that he's using the right products that is suitable for his face as well. If you want a even more moisturizing experience with this, you can use a damp cloth to just wipe it off after massaging it all over your face and body instead of rinsing it off with water.
I also opted to try out Bellissima Eau de Parfum from celebrated Italian designers Blumarine. This floral-musk concept incorporates dew drops, ginger, grapefruit and orange in top notes. A romantic, floral heart introduces a bouquet of peony and passionflower, while base notes seduce you with sandalwood, musk, cashmere and vanilla blossom. A casual girly scent, it's quite romantic.
Dr Ci: Labo is a popular label from Japan crafted by dermatologists. It is actually not my first time testing out this gel but I heard that they changed the formulation and I wanted to try it again. This gel is touted as the best all-in-one solution for skincare. Six-steps of skin treatment process (Toner, Milky lotion, Beauty essence, Facial mask, Facial cream, and Makeup base) are covered with the application of this gel after washing morning and night!  It contains contains 'Collagen HC Nano Capsules' that penetrate deeper into the skin to improve the skin's condition, The gel texture absorbs quickly and there is no sticky feeling after. A complete time saver for people looking to hydrate their skin.
For this Vanity box, they included a random surprise for me and I ended up with Essential Damage Care shampoo. I guess it's still fun to get surprised once in awhile!
That rounds up my review on my latest Vanity Trove. Hope you like it and don't forget to log into Vanity Trove if you want to check out reviews of any beauty product.