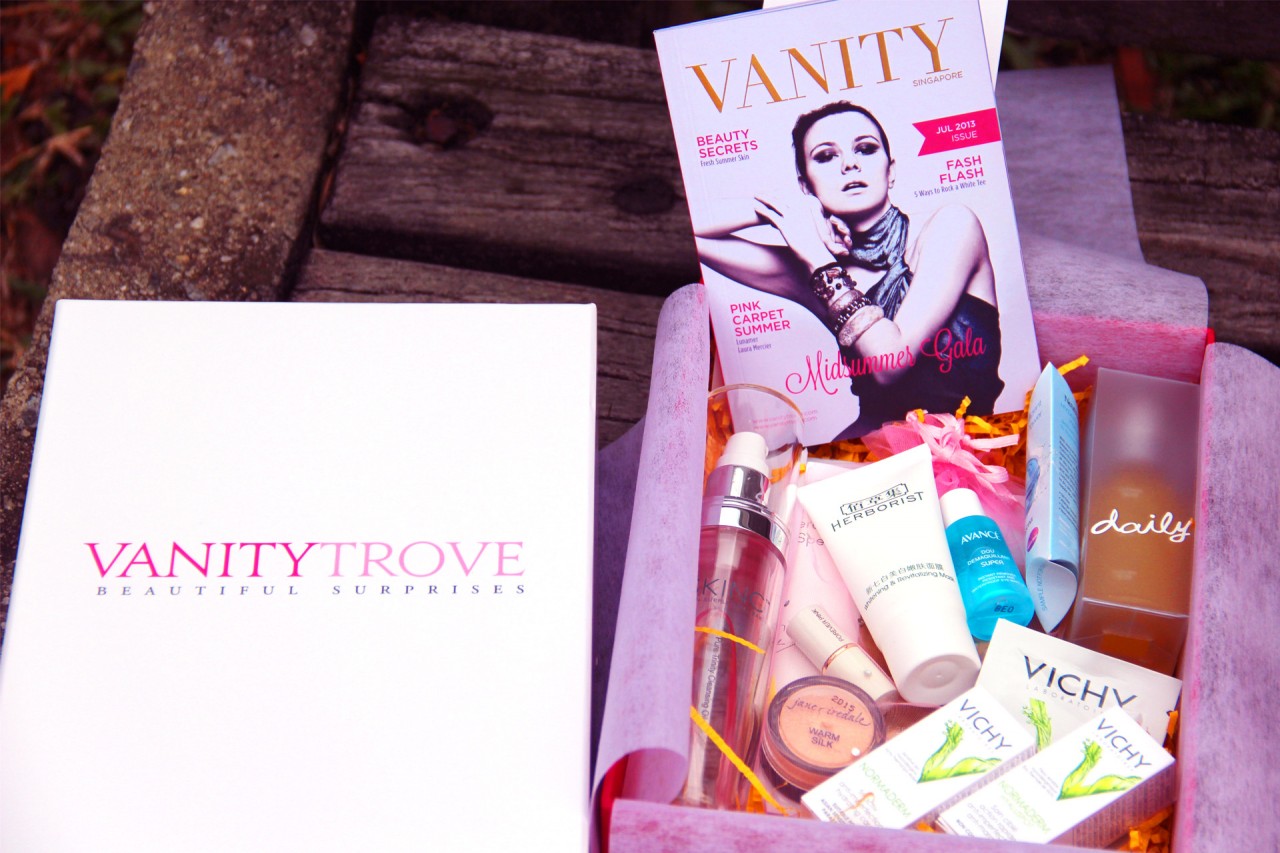 I've got some exciting news to announce about the new Vanity Trove but before I get into that, let me share with you the July's Vanity Trove which is the last of the surprise troves you'll see.
I was quite excited about July's Vanity Trove because there were quite a few brands that I personally liked and some that I've been wanting to try.
Neutrogena Hydro Boost Water Gel works great for Singapore's humid weather especially for those who feel that creams are just too heavy.
Avance Dou Demaquillant Super Eye Makeup Remover was something I always wanted to try but I had given this sample away to my colleague who was even more excited about it as she was on the prowl for a good waterproof eye makeup remover.
I've previously tried Vichy Normaderm series of skincare and I love the refreshing smell. It works great for those with oily to combination skin and it's one of those products that are equally effective both for men and women.
Herborist Whitening & Revitalizing Mask is a wash off mask utilizing the ingredients and concepts as prescribed in traditional chinese medicine. Using pearl powder and 7 whitening herbs including white peony root, white ampelopsis root and bletilla orchid root, this mask is a cocktail of herbs to aid whitening and revitalizing of your skin.
Skin Inc Pure Trinity Cleansing Oil is really pretty in its transparent bottle. You can see the 3 distinct colors of liquids inside and would need to shake it up well before use. I was shocked that they gave this full size sample which is worth S$72.76! For those who are fans of Skin Inc, the July Vanity Trove was an awesome surprise.
Another awesome full size product is My Daily Dose Regulate Vitamin C which is worth S$136! The floating particles are so pretty to look at. I love the quick to absorb texture as well.
It's the first time I've heard of D'GLAMOURIC Trinity Series Masque but I know that there are a lot of beauty experts out there that swears by Sheep Placenta. I've yet to try this mask personally as I'm not sure if it is suitable for my skin type.
Now for my favourite of the lot, Jane Iredale. I've been a huge fan of this brand as far back as I can remember and I'm glad they are finally in Singapore. The BB cream gives full coverage so a teeny weeny drop is more than enough. The Amazing Base Loose Powder is super fine and blends in flawlessly into your skin.
Their Just Kissed Lip & Cheek Stain and Lip Drink smells awesome! Super good for my constantly dry and cracked lips too!
I was really happy with the samples (if you can consider full size bottles as samples) found in the July Vanity Trove but there were even more great stuff coming from Vanity Trove and I'm delighted to share them with you.
Vanity Trove has always worked on a concept of sending surprise samples to their subscribers so that you could try out something new each time and even went through several successful collaborations with other brands. But with constant feedback about women wanting samples that actually suit their needs and skin type, Vanity Trove has made a drastic change to their original concept and is no longer a surprise trove. I'm actually really impressed that they were able to move forward with the needs of their subscribers and abandon their original idea. This shows a lot of flexibility and that the company is truly listening to the feedback of its supporters (which is a rare trait these days).
I attended the launch of their new Vanity Trove concept and I think it's extremely exciting. For one I really love their new Vanity Trove packaging. It really is a lot more elegant and sophisticated looking compared to the old version.
So how do you customize your very own trove? It's so simple, just head over to Vanity Trove Website to sign up an account.
You can input your beauty profile stating what's your exact skin type, hair type, body type and even eyes. Don't worry, most of the information is kept away from the public eyes, unless you post up a screenshot like I did.
With this info, the system at Vanity Trove is able to shortlist the samples that are best suited for you. The customization doesn't stop there. You still get to pick 6 different samples from a super long list to be put into your very own Vanity Trove.
Checkout and simply wait for the customized Vanity Trove to arrive at your doorstep. I'm in love with how this system lets you take everything into your own hands so that you will only receive products that you want to try and that are suitable for you.
VanityTrove will be introducing new phase of beauty discovery whereby you will be plugged into the latest happenings of people you follow on VanityTrove. Read up on their latest reviews, brand likes and product likes, products they wish for.  Be sure to also follow people of your interest to know what is up with their beauty regime! It will be just like Facebook but for Beauty.
Please join and follow my profile on Vanity Trove as well.
I can't wait to review my own customised trove next!
*****
*****
*****
*****
*****
Outfit of The Day
Hair Band: Korea
Earrings and Watch: Chanel
Cuff: Hermes
Top and Shorts: Ching
Bag: Celine
Shoes: Tory Burch