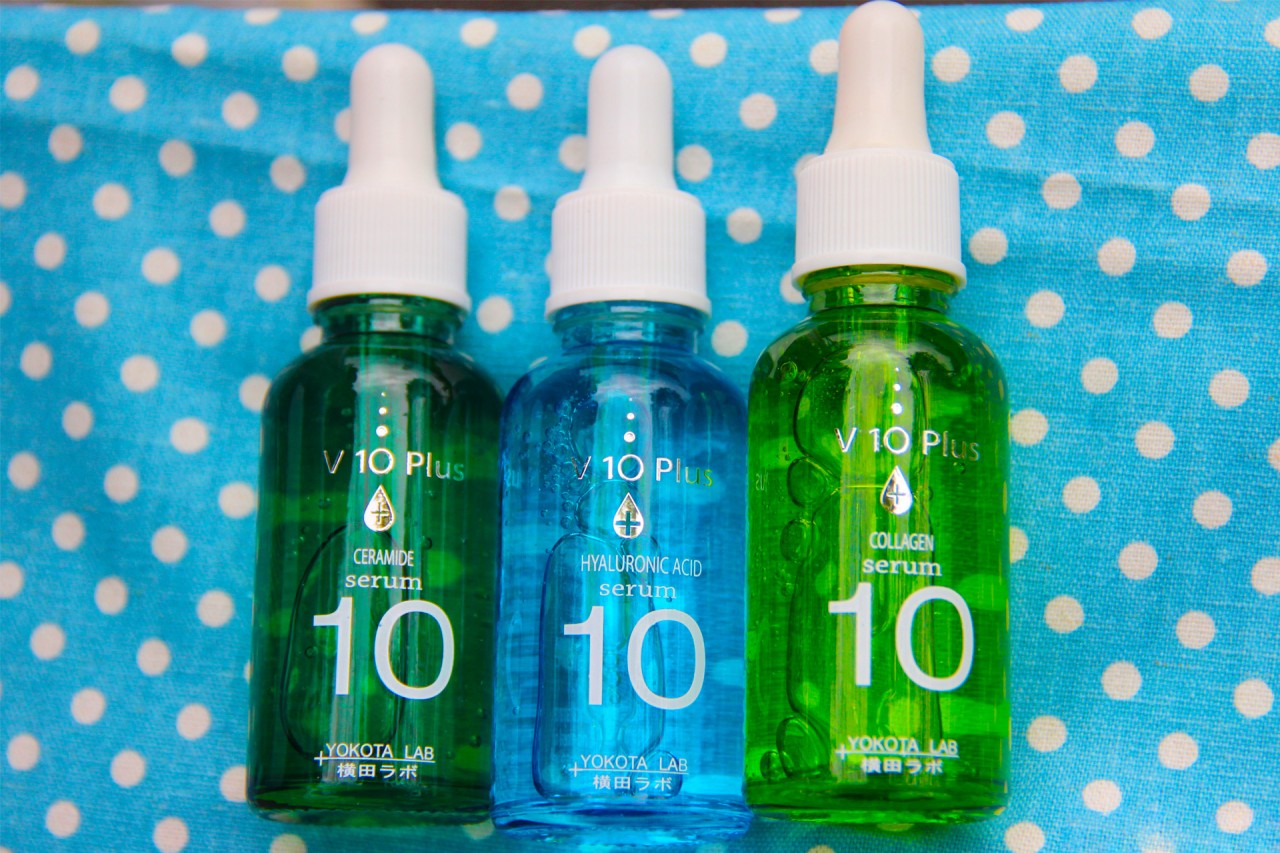 Some time back, I was given a chance to try out V 10 Plus serums. I've long heard the many positive results people have gotten from their serums and was keen to try them out for myself. Their most notable client is none other than, Singaporean Hollywood Star, Fann Wong who has been using V 10 for quite awhile.
V 10 started from, Aichi, in Toyota City of Japan and aims to give beautiful skin is everyone' by using 10 serums to cater to different skin needs. Over the years, V 10 improved and enhanced their formula to create V10 Plus. The results have been incredible and V10 Plus is now distributed in Europe, Russia, Japan, Hongkong, Singapore, Malaysia, Brunei, and Indonesia.
What does V 10 Plus stand for?
The letter "V" means Variety.
The number "10" refers to the 10 concepts of our skin care range which are namely:
1. NO PARABEN
2. NO ARTIFICIAL COLOUR
3. NO MINERAL OIL
4. NO CHEMICAL FRAGRANCE
5. WATER-BASED
6. CUSTOMIZED SERUMS FOR 10 SKIN PROBLEMS
7. DERMATOLOGIST – TESTED
8. VISIBLE RESULTS IN JUST 10 DAYS
9. COLOR THERAPY FROM COLORFUL BOTTLES
10. MADE IN JAPAN
And the word "PLUS" means that you can add our serums to your current skin care regimen.
Using a V10 Plus consultation sheet, I worked out which of the serums would be best for my current skin requirements.  My main concerns were aimed at hydration and anti-aging thus the most suitable serums for me were V10 Plus Ceramide Serum, V 10 Plus Collagen Serum and V 10 Plus Hyaluronic Acid Serum. I took my time to try out the various serums under various circumstances over the last 2 months and am finally able to give my thumbs up as well as review for the brand. It really does work at giving me softer, well hydrated and firmer skin.
I vary the uses between the serums depending on my skin condition on a day to day basis. Usually I would use the V 10 Plus Ceramide Serum in my morning routine and the V 10 Plus Collagen Serum in my night routine. The V 10 Plus Hyaluronic Acid Serum is swapped in whenever I feel that my skin feels dryer (especially on hazy days) or when I'm going to be on a flight (cabin air is super drying for my skin).
The serums are used after my usual cleanser routine and before applying my moisturizer.
Ceramide is composed of sphingosine and a fatty acid. They are found in high concentrations within the cell membrane of the skin and acts like a glue to keep the cells in order.  Ceramides also hold onto water molecules, helping to attract and retain moisture in the skin. However, ceramide levels decrease as age and by age 60, we would have lost so much ceramide that the upper layer of the skin is 30% thinner.
On days where I have to work in an air-conditioned environment all day, V 10 Plus Ceramide Serum works wonders to help my skin from feeling dry or rough. It fills in the damaged horny layer and enforces the barrier function of skin. This serum works great for those who have sensitive skin such as mine to reduce redness and itching. V 10 PLUS Ceramide serum uses vegetable Ceramide, which is extracted from rice polishings.  I usually see Ceramide as an ingredient in more expensive up market creams but they don't penetrate as well as the V10 Plus version which allows the goodness to absorb very easily into the skin.
Collagen is a protein present in all the body's organs and tissues. It provides the matrix that sustains the body's structure. Collagen's main function is to sustain tendons, skin and cartilage. It provides integrity, firmness and elasticity to their structures. Maximizing collagen levels will keep skin supple so it's no wonder this little V 10 Plus Collagen Serum makes my skin feel so supple and soft when I wake up in the morning.
V 10 PLUS Collagen Serum uses marine collagen derived from fresh sea bream's scale. It contains more amino acids and its molecule is smaller than the pig's and cow's collagen, so it has more penetration power. Also, as it contains marine elastin, you can regain soft skin with this combination. Great for those who have fine wrinkles or who want to maintain their collagen levels as they move into their 30s and 40s.
Naturally found in the body, hyaluronic acid secures moisture and creates fullness—youthful skin naturally abounds with hyaluronic acid.  Topically applied, hyaluronic acid forms an air permeable layer and penetrates into the dermis, thus boosting the elasticity and hydration of the skin.  The protective barrier on the skin locks in moisture, which gives the skin a youthful appearance. As we age, skin moisture can drop significantly, which creates aging like effects on skin appearance as it loses its elasticity. Thus hyaluronic acid can play a critical role in skin health with its unique ability to hold in moisture (1000 ml of water per gram of hyaluronic acid).
V 10 Plus Hyaluronic Acid Serum is also a "smart nutrient" as it can adjust its moisture absorption rate based on the humidity—relative to the season and the climate. Additionally, it protects the skin from UVB rays and aids in preventing sunspots. It's no wonder that this V10 Plus Hyaluronic Acid Serum is their best seller. V 10 PLUS serum has a high reputation of permeability, because it contains lysolecithin (phosphatide), which speeds up the penetration into the skin, as it is the main component of cell membrane.
All 3 serums have worked tremendously well in the last 2 months to help boost my hydration levels and strengthen my skin against the effects of aging. It did not cause any irritation on my sensitive skin and the absorption of this lightweight serums is fantastic. Although it states visible results in just 10 days, it was a little different for me. I could feel my skin being more supple in just one application but could only visibly note the better hydrated skin only after about 20 days of continuous usage. Nevertheless, it does work.
Each time I only use about 2 drops and it absorbs quickly into my skin, leaving no trace of stickiness at all.
I love how the product addresses different needs and concerns and I'm now eager to try out the other V 10 Plus serums to see if it works on my other skin issues as well.
V 10 Plus is $128 and readers can try V10Plus samples at Honeyzcube.com and get them from stores listed on http://www.v10plus.co.jp/store-locations
*****
*****
*****
*****
Outfit of the day
I've gotten quite a few request about showcasing my bicycle but I never got a chance to use it recently or take photos of my outfits because of the terrible haze that has engulfed Singapore. Taking a chance a the nice little break of good weather we have had the past 2 days, here are some photos of my beloved bicycle that was bought for me in a 2nd hand deal.
Hat: Japan
Dress: Dustbunny Vintage
Shoes: Marc by Marc Jacobs
Bicycle: Wonderful 2nd hand find
Basket: Korea
Leather saddle bag: Joydivison Vintage