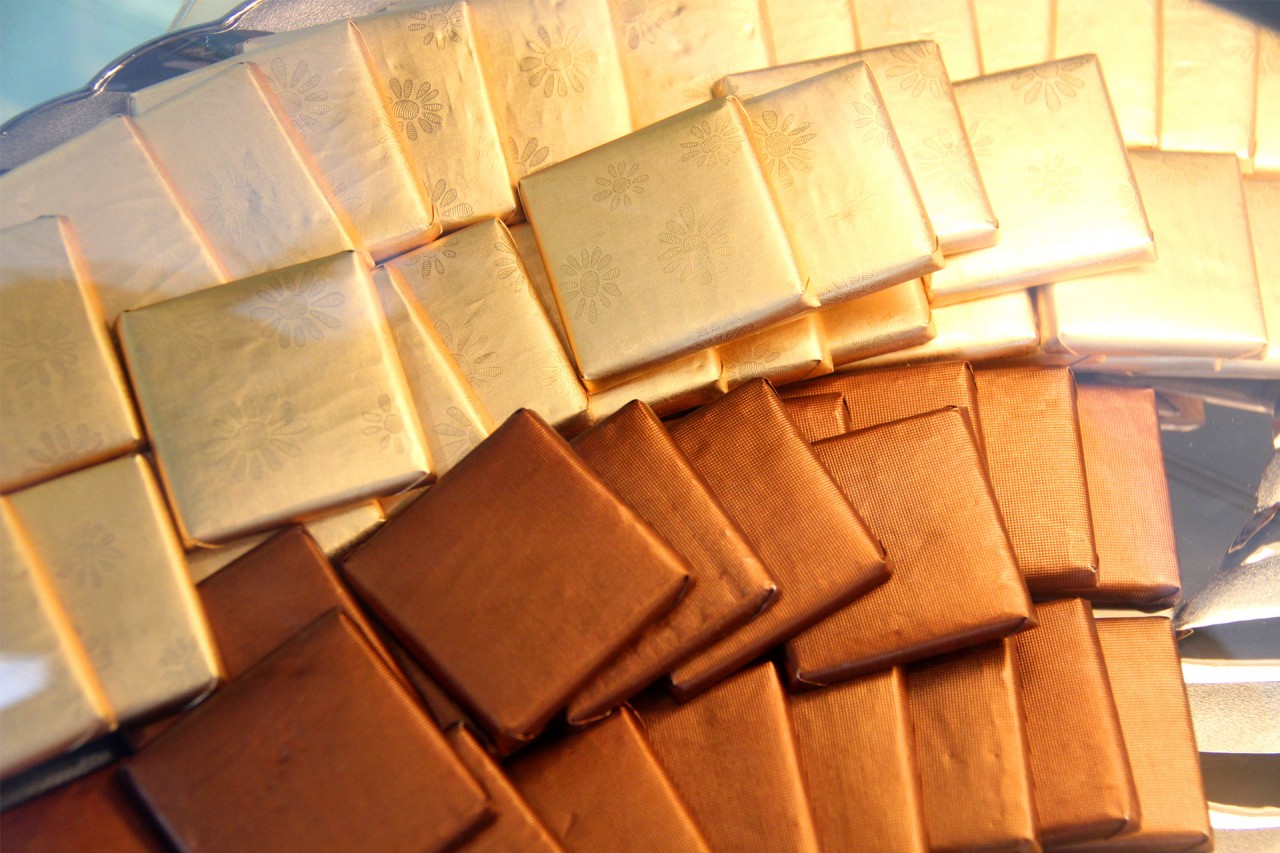 I've been pretty tied up the last few days so I haven't gotten round to blogging, checking emails and replying to comments. But I will eventually get to it. Thank you for your patience in advance 🙂
I'm sure most of you have heard of Savour 2013 – A unique annual gourmet festival in Singapore showcasing only the very best food & drinks. While there were many awesome gourmet displays, one of my most interesting highlights of my trip to Savour 2013 is with sweets and chocolatier, Fadina, who can be found in the Lifestyle section of the event.
I 'm gonna show you how Fadina opened my eyes to a whole new world of exotic desserts, chocolates and foodstuffs from the Middle East.
Fadina's booth looked absolutely captivating with throes and throes of precious little colorful pieces of sweets and chocolates waiting to be discovered.
I met up with Dina Shahab who is the brains and muscle behind Fadina. Dina is half-Lebanese and it all started when she saw a lacking in the assortment of chocolates and unique middle eastern desserts in this side of the world. This propelled her to set up Fadina to share her passion and expose the culture of sweets and gifts of the Middle East to Asia.
What impressed me greatly was the enormous variety of sweets, chocolates and desserts that Fadina carries. There were so many, it wasn't even remotely possible for me to taste every single one of them that day even if I only took a small bite of each one. Dina told me that she used to work in the Middle East, planning for royal wedding parties and they had to have an incredible variety of sweets and chocolates for these occasions. When she travelled to the East Asia however, she found that there was a great demand for choices by many hotels but a clear lack of options so Fadina was born.
It's actually quite impossible to tell you in detail about the numerous combinations and flavors of sweets. However, I can tell you about some of varying types of sweets and chocolates that Fadina sells.
Lets start with the Nougats.  Nougat is a variety of similar traditional confectioneries made with sugar and/or honey, roasted nuts (almonds, walnuts, pistachios, hazelnuts, macadamia nuts), whipped egg whites, and sometimes chopped candied fruit. I love nougats and the ones that I'm used to are usually bought in Australia, France or Italy. Fadina's range of Middle Eastern nougats definitely far exceeds the flavors that I've ever come across.
Fadina's nougats are not as sweet as the Australian ones and are usually paired with more gourmet quality combinations other than just nuts. Of course there is the usual nut-based nougats for the less adventurous  but for the foodies,  now you have dozen of other choices. I found the exotic floral ones such as the pretty rose petal nougats/melbans quite unique.
A more interesting and less common type of sweet is Malban. I've actually never tried Melban (which is an common arabic sweet) before until I got to know about Fadina.  Malban resembles fruit jelly, except it is traditionally made with grape molasses, thickened with starch and flavored with rose water, mastic or orange blossom and stuffed with pistachios. Fadina's malban come in as many varieties as the nougats and you can find interesting melbans covered with amardeen (apricot paste) or flower petals or crushed nuts or chocolate, etc.
Next comes chocolates!
Dina was very generous and she offered me a whole assortment of chocolates to try.
There were milk chocolates, dark chocolates, white chocolates which were combined with a thousand different fillings such as orange, caramel, nougat, almond, macadamia nut, ginger, peanut, coconut, turkish delight, strawberry, coffee, caramel, and even black pepper. I felt that I just stepped into Willy Wonka's world. But that's not all, what I find most amazing is that the flavor in each individual chocolate combination is beautifully balanced which is a mark of a good chocolatier.
I later found out that every single recipe for the sweets, chocolates and desserts have been created by Dina herself. Talk about talent! *wonderstruck*
While I tried many and had many favorites, I recall fondly that the strawberry cheesecake chocolate ranked pretty high on the list.
 I wasn't the least bit surprise to note that the strawberry cheesecake chocolate happens to be one of their best selling chocolate.
I also came across 2 other very interesting chocolates that rank pretty high on my must-try list.
The dark chocolate covered coffee beans that brings forth a burst of powerful caffine fix with every bite.
And this chocolate covered lemon and orange peel which forms this unique citrus based chocolate bullet.
Pick out your faves and Fadina will lovingly add crystals and other embellishments on the plain jewel color wrappers before packaging it into a gorgeous gourmet surprise. It's so pretty and elegant without the usual logos that chocolate wrappers have! No wonder Fadina chocolates and sweets can be found in many luxury hotels.
For those special occasions in your life, Fadina also carries Almond Dragées in a multitude of  beautiful colors.
These pretty dragées are often used as wedding favors. The "bitter" almonds and the "sweet" sugar symbolizes the bitterness of life and sweetness of love.
 The treats are often packaged in groups of five to represent happiness, health, longevity, wealth, and fertility.
I personally love it because they look so pretty and tastes so good.
Did you know that M & Ms are a modified form of dragée? The traditional dragées uses almonds but there are many variations.
For variation, Fadina carries lovely pastel peanut dragées too!
And if you are looking for a very special gift, you can even customize printing of messages and photos on the dragées. How about telling Mom how much you love her on Mother's day, printing your baby's name and birthday or even sending a "Will you marry me?" dragées as a way to pop the question?
I guess I cannot attempt to share with you treats and delights from the middle east without introducing the famous Baklava. This is a rich, sweet pastry made of layers of phyllo pastry filled with chopped nuts and sweetened with syrup or honey, originating from the cuisines of the former Ottoman Empire.
I had tried Baklavas before and found them to be way too sweet for me so I was very hesitant about trying Fadina's baklavas. After one bite and I was hooked! Fadina's version has the sweetness toned down to suit the local tastebuds and it was perfect.  Dina understands that people are more health conscious these days so Fadina's recipe subsitutes the ghee in baklavas with french butter. They even have "diet" versions for those who prefer even less sugar and butter in their baklavas.  Fadina has most certainly changed my mindset about this dessert and I am pretty sure I will drop by her store at Takashimaya to pick some baklavas up the next time I'm in the area.
It's a long post and I really wasn't kidding you when I told you at the beginning of this post that Fadina has a huge selection of sweets, desserts and chocolates. To spread the passion and culture of  the middle east even more, Fadina doesn't just stop at sweets, nut brittles and chocolates.
They bring in beautiful dates that will make awesome gifts especially during the Ramadan period. Many businesses seek these out for gifts and it seems that there is a growing trend of non-muslims that enjoys dates as well.
Fadina developed their own original freshly baked cookie recipes. I like the lavender cookies but found their bestselling cheese cookies too be too overpowering for me.
Complimenting their sweets, they also offer a huge array of floral tea selection that offers health benefits to regular tea drinkers.
Another part of my eye-opening experience is trying out arabic blonde coffee for the first time. This coffee is very different from the usual coffee that I'm used to. For starters, its not dark but a very pale blonde color. The coffee is very light, only slightly bitter and has hints of spices. There is no need to add any cream or sugar as it goes very well with the sweets which counteracts the slight bitterness. Gorgeous pairing!
Fadina's concept is about bringing the touch of middle east into your lives and you can even purchase the very exotic and luxurious looking plates, display, trinkets, containers, pitchers, cups and coffee pots from them. They make such lovely gifts too.
Many thanks to the very beautiful Dina for opening my eyes and leading me into a whole new level of experience with Middle Eastern sweets, chocolate and culture. I'm wow-ed over with her talent and passion.
Step into a world of exotic middle east culture with high quality sweets, chocolate and desserts that have little or no preservatives and flavorings.
Fadina
Ngee Ann City Tower A
Basement 2,
Takashimaya Shopping Center
391A Orchard Road
Singapore 238873
Tel : 6732 1032