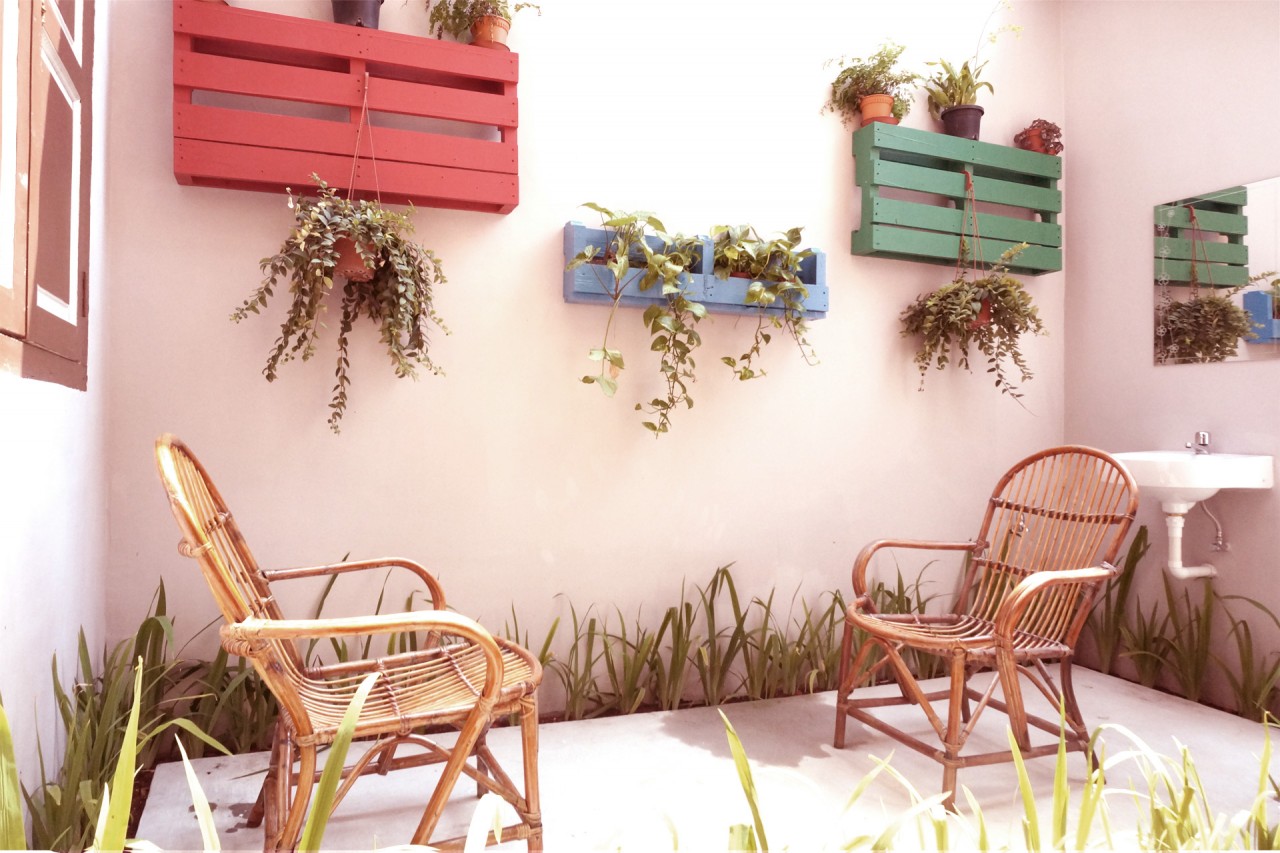 If you have been on my Instagram (@renzze) you'll know that I went for a lovely trip to Penang with Ai , Sau Jun, Valyn and Willy in April and have been meaning to share about the lovely place we stayed at. However, since I have been traveling non-stop, it's been a little hard for me to organise my photos and thus, you are only reading about it now. Before I continue, I'll like to thank  Ai  and Valyn for generously sharing some of their photos with me. Most of the photos you see in this post are mine but there are a couple that are not watermarked, and these photos are posted courtesy of these two ladies. Do click on their names to see their blogs as well.
Due to work commitments, we couldn't catch the morning flight with Ai so Sau Jun and I took the later flight and arrived into Penang about 9pm. Catching a cab and finding Lebuh Clarke in the heart of Penang was easy enough. It was night time so I couldn't tell much about the outside of Spices Home but I felt comfortable the moment I stepped in.
After putting down our bags and arranging our sleeping accommodations, it was time to head out for supper!
The good thing about living in Spices Home is it is located  smacked in the heart of Georgetown where heritage and yummy food all co-exist within walking distance.
After my "light" supper of Wanton noodles, we went for Soya Bean Drink. Located at the corner of Lebuh Kimberley, this tasty soya milk stall uses `gula melaka' (coconut sugar) which makes their soya milk even more flavourful.
While I was in Penang, we went for soya milk and "tau huay" (soya bean curd) at this stall so often that the owner of the stall recognised us. In fact, I think there were quite a number of stall around Kimberly Street that started to find our faces familiar.
With a separate raffia string, the soya milk store owner deftly wrapped up our order for take away.
It was only the next morning, that I could full check out the surroundings of the accommodation. The whole row of shophouses has been restored into 7 lovely heritage homes. Spices home is probably your best bet of staying in Penang while experiencing the comforts of a home.
All of the 7 heritage houses have been restored with its original wood and floor boards. Each house is about 1400 sq.ft, has a king size bed, 2 single beds and a sofa bed to accommodate 6 persons, comfortably. Perfect for families or groups of friends.
Penang is a rather hot city with temperatures soaring about what we are used to in Singapore (yes, it's that hot!). Thankfully, despite it's rustic exterior, Spices Home is fully air conditioned! In fact, Spices Homes has all the modern comforts including wi-fi, washer, dryer and even a full kitchen with all the cooking utensils and dishes.
On the first floor, other than the living room that has a sofa bed, flat screen TV and a lovely dinning table. Spices Home also has a mini courtyard next to their open kitchen.
I love the cane chair and little colourful planter boxes they put up and the open courtyard is where we enjoyed these glorious durians (kindly gifted to us by Pattie) without stinking up the rest of the house.
The home has one shower room (with heater) and two toilets (one upstairs and one downstairs).

Heading up the wooden stairs to the 2nd level would lead you to our sleeping quarter.
The whole place is so spacious and clean! Lots of fluffy pillows and towels for each of us.
Spices Home has a good security system and even provides daily continental breakfast and hot beverages. The place only opened for booking on 1st April so we were very lucky to be able to be their first guests.
Another super awesome incentive to stay at Spices Home is that the famous Lebuh Clarke Koay Teow Soup stall which is literally just opposite the entrance to our accommodation.
It is so yummy and so convenient, you can have breakfast there everyday if you are too lazy to go anywhere else.
The noodles are very soft and the meat balls just exquisite. Every different type of meat ball tastes different and the most unique one was the ginger beef ball.
There are too many good food to recommend you within walking distance of the accommodation that I can't fit it all into one post so you'll just have to wait for my other Penang posts.
If you are looking for a cosy place to stay near good food in Penang, please check out Spices Home. Currently they are having a Special Pre-opening Promotion. Their regular price is Rm800 per home for 4 persons on weekdays but with the promo price, you'll get 50% OFF  so you only need to pay RM400 per night net for 4 persons on weekdays.
Each additional person at RM60 per night and each home accommodates maximum 6 persons.
Weekend rate : Friday & Saturday additional RM50.00 per house
Peak rates : Public Holidays & School Holidays additional RM50.00 per house
Book Now with Promo code – OPCL
*Terms and Conditions apply
Address : SPICES Homes 2-14, Lebuh Clarke, George Town, Penang 10050, Malaysia
Bookings & enquiries – please email them at : homes@staysyok.com for more details!
While I personally stayed at their Spices Home, the same people also run a pretty cool hostel which I'll share more with you next time!
Thanks for reading.