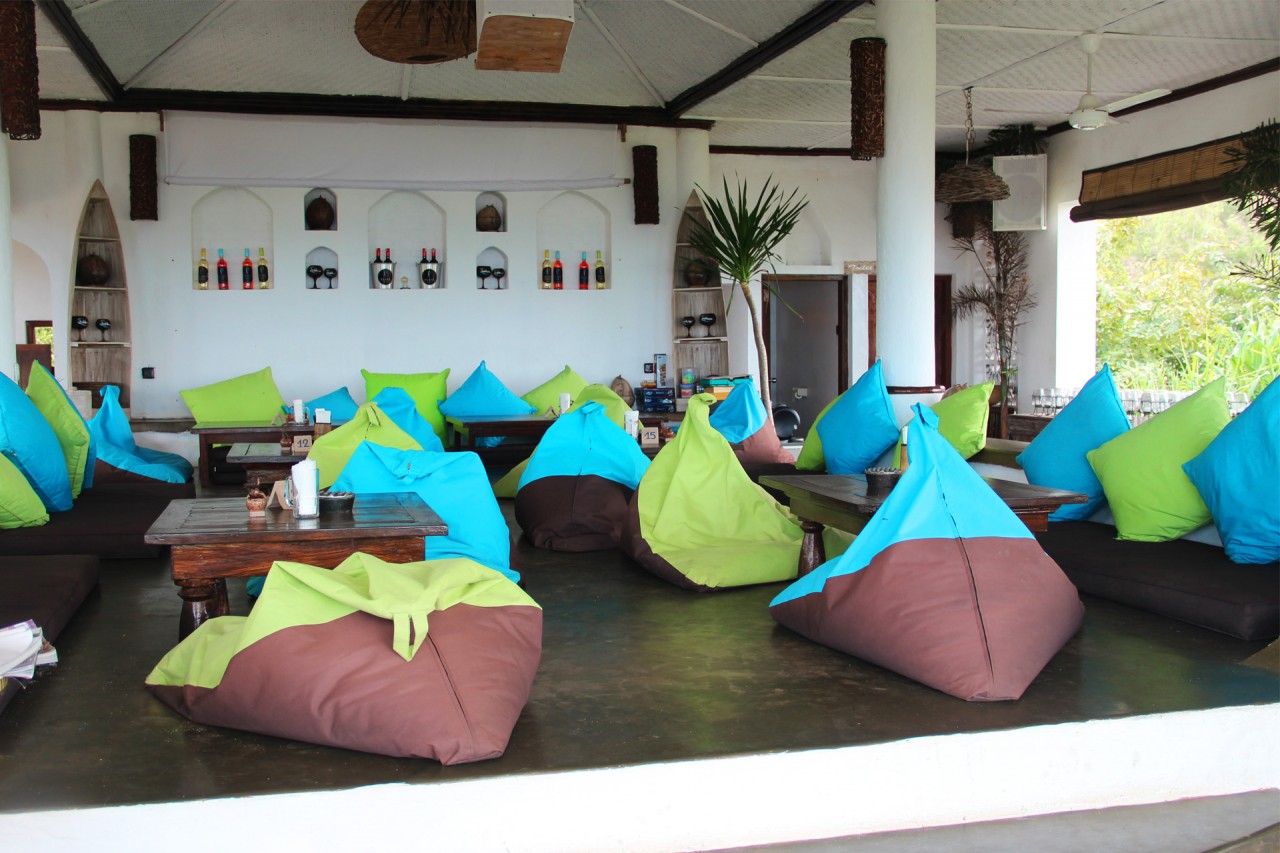 One of my more memorable dining destinations in Lombok was at a beautiful restaurant located on the hilltop of Kuta, overlooking the bays of Southern Lombok. 
Greeted with blooms of bougainvillea, you slip off your slippers and footwear before ascending a flight of stairs to the restaurant.
Run by a Frenchman, Priss,  it is one of the few restaurants in Lombok that has exceptional service with English speaking staff and we all know what a difference good service can make in enhancing the total experience of a place. Priss used to run restaurants in Bali and his ability to speak fluent Indonesian is key to managing this restaurant so well.
With an impressive view of the surrounding Kuta Beach in the distance, the blue and white themed restaurant and the unobstructed views reminds me a little of rooftop cafes in Santorini.
There is a wide selection for both food and drinks on the menu. Lots of interesting cocktails and mixers to start the holiday rolling. For those who are looking to chill, don't miss out on their sunset drinks session that runs from 5pm to 7pm.
If you are not into alcoholic drinks, I highly recommend the chocolate coconut shake or mocha coconut shake. I fell in love with the creamy and comforting consistency that leaves you with the sweetness of coconut after every sip. I'm craving for that same taste as I type this out.
Effort is put into the plating of each dish and I really like the unique shapes and textures of their plates and bowls. Each one is an unusual piece on its own yet they come together beautifully in theme. Ashtari offers healthy and vibrant Mediterranean, Indian inspired specialties.  They use fresh ingredients and simple compositions to showcase the vegetables and fruits on your plate! All their breads, foccacias and cakes are also baked fresh daily. 

My 2nd must try dish is the corn fritters. Crispy batter with sweet corn and a chilli dip, I could have easily devoured double portions of this.
For the mains, I tried the chicken with noodles, beef burger and the seafood fried rice. They were all pretty good as well though not spectacular in anyway. You'll be glad to know the ingredients are mostly natural grown from reputable local producers.
Four of us ordered 3 desserts to share but I ended up polishing off the entire banana Nutella crepes on my own. I found the banana cake texture to be delightfully soft and moist and it went well with the chocolate ice-cream.
Ashtari is one of the places I enjoyed hanging out at and would give it another visit when I do go back to Lombok again.
I'll also be keen to check out the yoga classes they hold 3 times a day in their estate.
Ashtari is located just off Kuta beach, up the road on your way to Mawun and Selong-Belanak. You can call them at +62-877-6549-7625 or email them at contact@ashtarilombok.com for more info.
Thanks for reading.