When is the last time you went to the zoo? I've been there more often then most but it still makes me proud that Singapore has such a world class zoo. It also always brings us back to our younger days… going on school excursions or having the whole family together on a Sunday outing.
The first time I went to the zoo… my whole extended family went. I was still in kindergarten or nursery and the zoo was an amazing wonderland. I had my Polaroid picture taken with our famous Ah Meng and went for the horse ride with my dad's Caucasian friend's little girl.
I also remembered another time when I was still in JC… I was a facilitator in a church camp and we brought the little kids to the zoo. That too was a fun filled day with cute excitable kids and one of my good friends, Gen. Yet another visit to the zoo just a few years back had me posing with goats and the giant tortoise! It's some place we rarely think of going but when we do go back.. every time it's a fun trip!
For this trip the weather was pretty humid and we didn't catch any of the animal shows. The most memorable animals for me was the white tigers… giraffes… horses… the sweet 16 birthday polar bear and of course… the swinging Orang Utans. If you are planning to take a trip… bring lots of water… a fan and some mosquito repellent. I had about 3 – 4 bites on my back and a couple more on my legs when I was strolling near the critter lodge. Food-wise there is KFC and Ben & Jerry's there. How I miss the old A & W!
I brought along the new sugar -free chupa chups strawberry lolly pop and it's really nice… not to sweet and tooth friendly! It did make me look and feel like a kid though! A little off topic but do you guys think I would look nice in short hair or keep my long hair? Click on the thumbnails to see a bigger pic.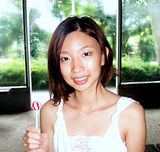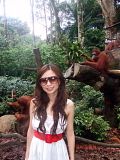 Here are the zoo pics! Give it a little time to load.