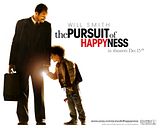 Click on picture to save wallpaper.
This movie gets a five star from me! It's the sort of movies both guys and chicks would enjoy and relate to. I've always viewed Will Smith as a action flick sorta guy but he really nailed the emotional scenes in this movie. I guess that why he got nominated for best actor.
The movie is based on a true story which gets plus points from me. The film casts Hollywood mega star Will Smith as Chris Gardner, a single father who went through a period of homelessness in the early '80s after switching careers from medical-supply salesman to stockbroker. Will looks terrible in the show to keep in sync with the role. Smith's own son Jaden was cast as Gardner's five-year-old boy Christopher, who sleeps alongside his father in various shelters and even a public restroom during their time on the streets. Jaden is very cute and charismatic…. I think we are gonna be seeing a new fresh prince in the near future.
What really captures me in this show is the upward struggle to survive in reality. We may not be in the same situation as him but we can still relate to the episodes in his life. Like when his boss borrows 5 bucks from him when he hasn't have any left to spare or like when he has to lug that heavy bone density scanners around.
Go catch this! You won't regret!
[rate 5]