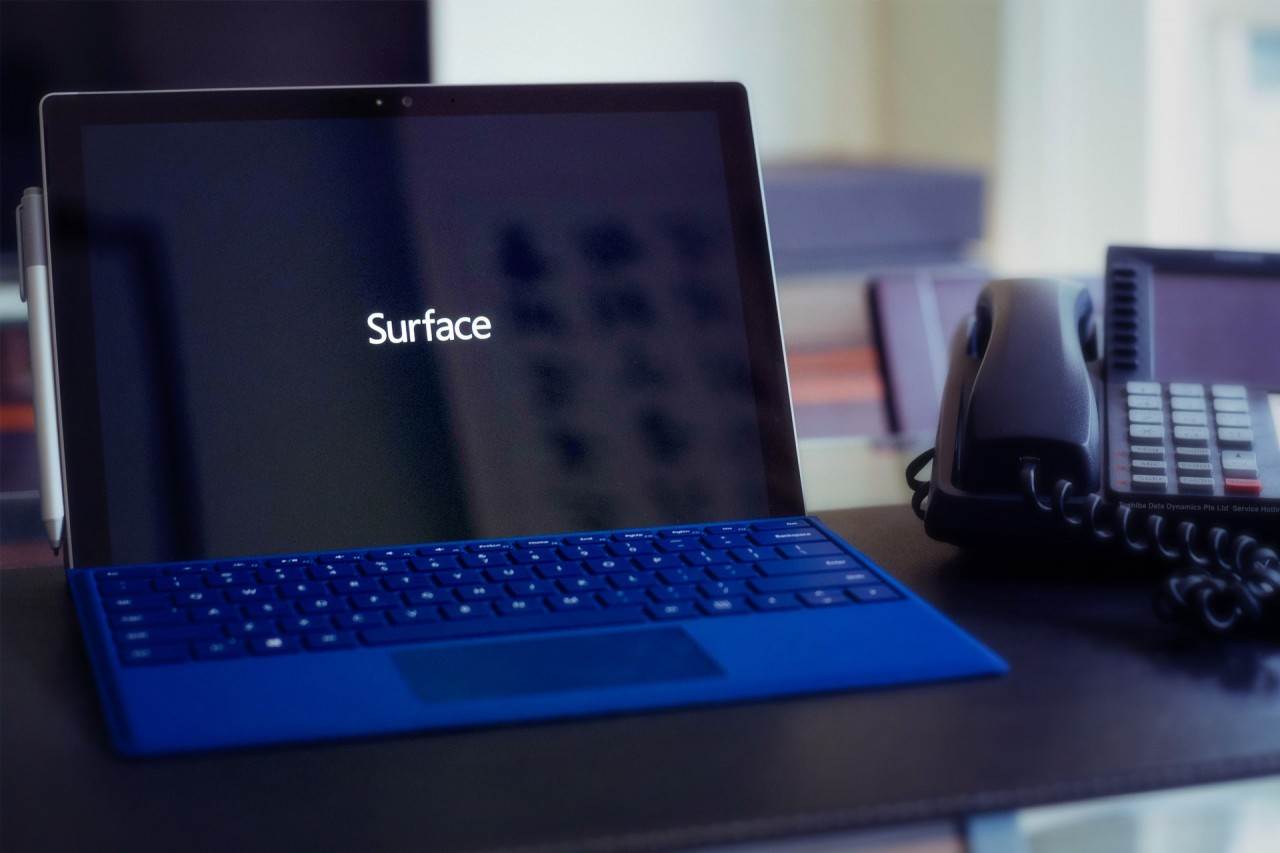 Hello everyone! This is Jono. You may have seen my recent post covering the Surface Pro 4 launch event. Today, I bring you something special.
After the event in November, I mentioned that I was convinced to get a set and promised to write a review base on my experience. However, it took quite a while and finally during the New Year I got my unit thanks to the cooperative staff at MSFT.
The hybrid that causes a stir
When I posted up a photo of my set, it caused a stir Many friends have known me to be a mac user and faithful. As expected, evangelists on both side started to passionate defend their favourite system.
So that the readers are aware, the last Microsoft OS I used was Windows XP and I have not owned a single Windows device since 2008. Only recently did I revert to Windows for my office needs while using my Macbook for photography and video editing. Therefore, I am approaching this review from the perspective of an average joe, the business executive (who runs between meetings and countries) and a hobbyist photographer (who wants a portable unit to bring to shoots). Time to get the ball rolling.
Renzze trying out my Surface Pro 4
Technical specifications
Now for the most boring part first. Inside, this generation of Surface Pro uses intel latest sixth generation processors that promises a better battery life with it. The unit I've been using retails at SGD$3,399 and has an Intel Core i7 processor, 16GB of RAM, and 512GB SSD.
The new Microsoft Surface Pro 4 is 7% thinner compared to the precious Surface Pro 3 model. The i7 unit is 8.4 millimetres thick and is about 2% lighter weight wise. This difference is noticeable when you lift up the unit and carry it around.
With the 12.3" pixelsense display, Microsoft upped the Surface Pro's resolution to 267 ppi which edges its closest rival the iPad Pro (264 ppi) and Macbook Air (128 ppi for the 13"). It has an 8 mp rear and 5mp front camera.
For an extra $199 SGD, you get the Surface Pro 4 Type cover (in black, blue and bright blue) which I would highly recommend to all. Ergonomically, I had good spacing between the keys which made it more natural to type without looking down like a desktop keyboard. The only quirk is a hollow mechanical sound which you hear when you furiously type off. The glass trackpad is the winner as it meant smoother and slicker scrolling with gestures without my previous annoyance of laggy, unresponsive trackpads. Surprisingly, I felt this was comparable to the Macbook's trackpad that I have gotten used to.
Average Joe
I haven't had any performance issues when using the Pro 4 in my daily commute, which consists of a lots of web browsing, email exchanges, streaming videos and the occasional gaming (Football Manager 15, etc). Windows 10 is swift and snappy surprisingly (took 6 seconds from boot to get to loading screen, <1s after password typing). For those who are lazy to type password, "Hello Windows"is a welcomed feature when it logs you in based on facial recognition.
In day to day real world use, you probably get a good 6 hours' usage before needing to charge the Surface Pro 4. One thing I adore about the Surface Pro 4 charger is that you have a small portable brick that has a USB port to charge your smartphone or device simultaneously.
Business Executive
As a business executive, replying to emails or accessing various desktop with the ability to collaborate on a document in real time is important. Although Microsoft's Office apps are available for iOS and Android, they are not robust as their desktop counterparts. For instance, when I need to drag the content or attachments of one email to another (without the latter seeing the original email command chain), I have to take about 3-4 steps to do so on my mobile with no guarantee of it sending out properly instead of one swipe across the desktop of my mouse.
The 5-megapixel front facing camera is bright enough for clients to see me when I am on Skype Webcam or Skype for Business. The microphone picks up my voice accurately with not much leak from background noise. You could safely skype with your earphones in Starbucks.
I am happy to say this unit will work for you if you are the executive that moves between places. It's light, nifty enough to fit on an airplane tray table with the keyboard (depending on the position). The only negative is there is no LTE support. 
The Photographer
There isn't a lot reviews out there about using the Surface Pro 4 for photography editing on the go or on site at a location so I thought I cover this aspect. The reason why I would recommend the Surface Pro 4 primarily over the iPad Pro is that you have full access with no compromise to full-fledged editing apps (Adobe Lightroom, Photoshop, etc). Although iOS apps are more touch friendly and pen friendly apps in its store, not everyone's workflow is going to make sense on sandboxed apps of iOS in situations where you need the horsepower.
The new 12.3" pixelsense screen is bright and crisp. Colour accuracy is great for creative professionals who are used to using the Wacom tablets and specially calibrated monitors. While the aspect ratio of 3:2 may not please all, you get a middle ground that is ideal for photo editing while writing notes down during your shots.
Using Adobe Lightroom the Surface Pen is pretty awesome. This is the MVP of touch accessories. Ergonomically, holding it is a joy when editing. It comes loaded with 1,024 levels or points of pressure sensitivity and because of this, The Surface Pen feels amazing and is incredibly responsive when I adjust various sliders within Lightroom or press to accurate clone out dust spots in my photo. The i7 unit I have took about the same time to export a full sized medium format DNG to JPEG compared to my 15" retina MBP.
If you really want something that can work as a laptop replacement between shoots, I suggest paying up the full price for the i7 models, going with a laptop with a dedicated graphics GPU such as the Macbook Pro or the Surface Book (which will be reviewed at a later date once available).
The Achilles Heel
As much as I love the Surface Pro 4 and it is starting to have its place in my day to day commute, there are some issues I have to mention upfront.
The Surface Pro 4 biggest let down is the software (Windows 10). Particularly, MSFT markets this as a tablet to replace your laptop. However, Windows 10 tablet mode is very poorly implemented. Although you can switch between tablet and desktop modes easily, I found myself leaving it in desktop mode with apps on full size most of the time. Pure tablet apps are still lacking for Windows as compared to iOS and Android. Insofar as to say, most of the apps I use on a daily basis are designed for the desktop environment (Adobe Lightroom, Microsoft Office, etc).
Another thing I am puzzled with is that with a better processor that is supposed to run less power, why I am having slightly less battery life than its predecessor or compared to the Macbook Airs out there?
The adjustable kickstand can be awkward to use on my lap
I have this bug where the cursor goes missing and I have to disconnect everything, restart my unit.
Conclusion
The Surface Pro 4 has taken the success of the Surface Pro 3, refined it by going further with the performance bumps and the right accessories to complement it. In reality, you can't really tell what is the difference between the various configuration unless you really push your machine in scenarios which I mentioned above. That said, this laptop/tablet hybrid combination is enough to replace the desktop or laptop of the average joe to executives on the go. However, power hungry professionals will have to opt for the highest specification Surface Pro 4, a more powerful dedicate graphics laptop or keep their desktop still as there are quirks to the Surface Pro 4. Overall, I would say the Surface Pro 4 gives you a comfortable and portable solution regardless of which option you choose.
P.S: This whole entire review was written and edited with the Surface Pro 4!