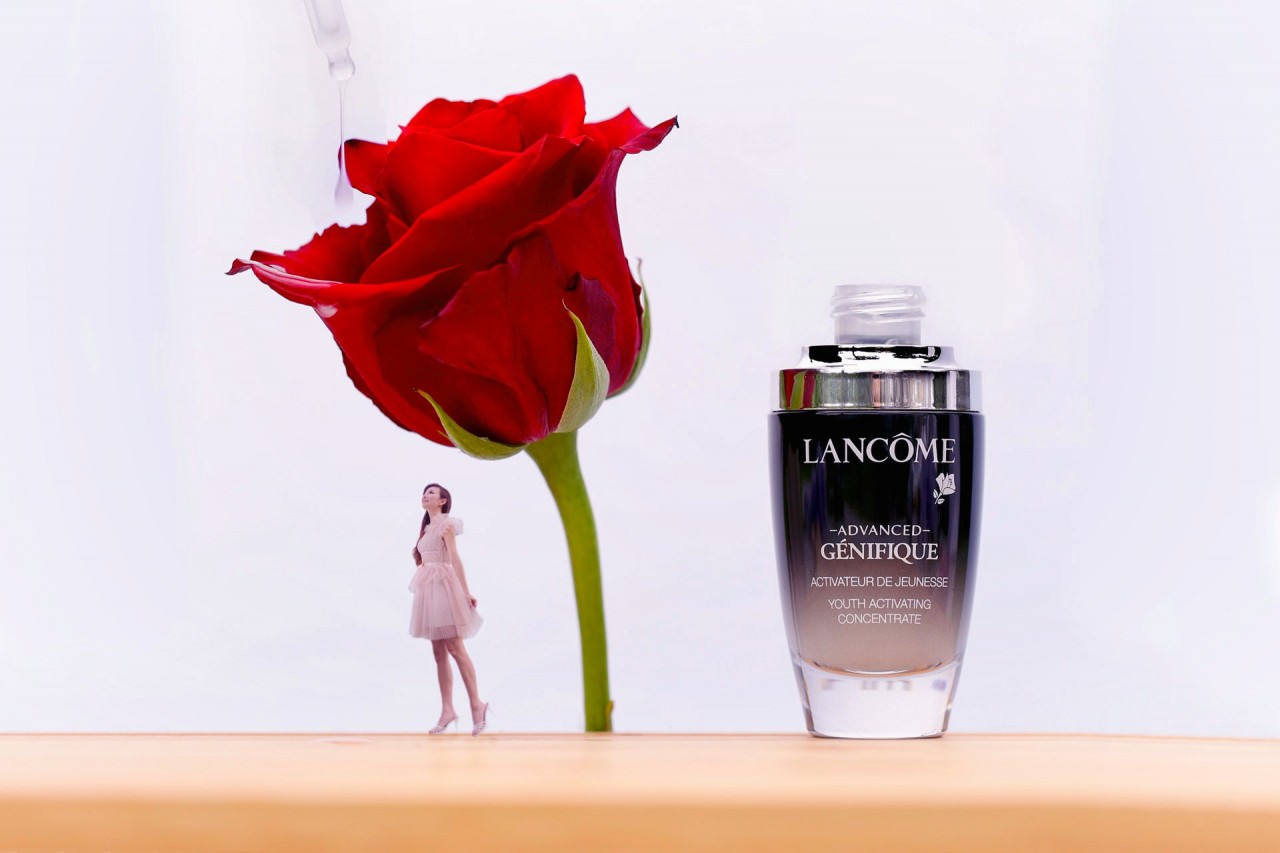 For the last 80 years, Lancôme has been a trusted brand for women all around the world and one of their most impressive anti-aging ranges is none other than the Advanced Génifique. With 150 international awards, it's an understatement to proclaim this incredible Youth Activating Concentrate a success in every sense of the word. After testing out the entire Lancôme Advanced Génifique range (from face serum to eye serum to eye cream), I clearly understand the whole excitement over this iconic range and why four bottles are sold every minute! Regardless of your age, all women desire beauty and happiness. If it can possibly come in a bottle, then it's definitely worth that extra luxury.
The science behind this little black bottle is a complete breakthrough for the beauty and anti-aging industry. Using transcriptomics, which studies gene expression, along with proteomics, which demonstrates their activity via skin protein synthesis, Lancôme was able to identify the signature proteins of young skin. In simpler terms, Lancôme is able to better understand the mechanisms and biological functions essential for the skin's youth that allows them to create a line that achieves even more effectiveness in repairing and activating the signs that characterise youthful skin.
I was inspired by Lancôme's goal of creating a "Youthful Aura" for all skin types when I conceptualized this set of photographs for this post. Ask most photographers and they will attest that light is probably one of the most important aspect in creating beautiful pictures. In the same light (pun intended), Lancôme Advanced Génifique recognises that understanding and harnessing the power of light allows the skin to look its' best and helps create that undeniable "Youthful Aura". The radiance and visible luminosity of the skin is the result of a complex interplay between light and the different skin tissue structures. It is the effect of surface reflection and backscattered inner light that gives us the youthful glow we all seek. Age, fatigue and dryness are all causes of the diminishing backscattering of inner light, which Lancôme Advanced Génifique hopes to restore and reactivate our skin luminosity.
Lancôme Advanced Génifique Youth Activating Concentrate
I started off by incorporating the Lancôme Advanced Génifique Youth Activating Concentrate nightly after the cleansing step of my current skincare routine. A little goes a long way and one drop of this non-sticky serum was all it took each time. I love the exclusive self-loading dropper that makes application even easier. The serum soaks easily and quickly into skin, targeting the 10 key signs of youth: texture, resiliency, elasticity, firmness, sagginess, fine lines, wrinkles, radiance, even skin tone, and clarity.
Clinical results after 8 weeks of self-assessments on 34 women shows:
– Texture +57%
– Resiliency +49%
– Elasticity +50%
– Firmness +49%
– Sagginess +46%
– Fine lines +42%
– Wrinkles +46%
– Radiance +52%
– Clarity +47%
– Even skintone +42%
Noticeable results can be seen in just 7 days. Of course, I am not able to give such a precise assessment of the improvements but it's not hard to notice the increase in radiance and moisture within a week. The texture of my skin is smoother with a more luminous and even skintone. There is no need to change your current skincare products at all as Lancôme Advanced Génifique is a transversal product that can be used in any skincare routine and with any existing skincare products. In fact, it will help to boost the efficacy of your other skincare products by up to 3 times. Don't forget to work the serum all over your face and even around the neck area till it is fully absorbed before layering on your other skincare products.
In the last couple of days, I started to incorporate the serum in my day routine as well and found that it has an added effect of making my tinted moisturiser glide on even easier and more evenly. I don't use heavy makeup or foundation, which is why I need to rely on good skin care products and routines to ensure that my skin stays bright and youthful. The price point might be a little steep but count on me to pay for good skin care over good makeup products. As an added bonus, I was glad to learn that this range is formulated without any use of parabens, sulfates or phthalates.
Lancôme Advanced Génifique Eye Light Pearl
How many times have I heard the phrase "The eyes are the window to your soul". Yet when I was younger, eyes are the one area of my skincare routine that I always tend to neglect. Now that I'm in my 30s, I'm better informed and more proactive in my care towards protecting my skin's youthfulness. Due to my negligence, constant traveling, late nights and lack of hydration, I suffer from fine lines and puffy eyes. With the onset of aging, my eyes are looking even more tired and sleepy which causes me to have smaller looking eyes on some days. Big bright eyes always look more attractive and appealing. Thankfully, Lancôme Advanced Génifique Eye Light Pearl is engineered to target my issues.
What I love most about this eye-illuminating serum (other than that gorgeous velvety texture) is the unique rotating and massaging applicator that help to reach even the most inaccessible eye areas in the most delicate fashion. The massaging pearl, made of surgical steel, is also cool to the skin which helps to depuff the under eyes during application.
Lancôme Advanced Génifique Youth Activating Eye Concentrate
My new eye ritual starts with the Lancôme Advanced Génifique Eye Light Pearl and ends with the Lancôme Advanced Génifique Youth Activating Eye Concentrate. Recommended for those who don't sleep enough or those who wake up with visible signs of fatigue, this gel textured eye concentrate will help to re-energize the eye area and keep you looking fresher and more awake. Super quick to absorb, the most visible effect I saw with this eye cream was how much plumper and more moisturised the skin around my eye area became. I probably need to use it over a longer period of time to see if it prevents any new fine lines from forming. A tiny dab is all it takes for my entire eye and since I only use this as part of my night routine, this small jar is going to last me a long time.
A close girlfriend who has already re-purchased this product once told me how her concealer used to cake around her eyes (making her lines look even more obvious) until she switched her eye cream to this. A couple dabs of Lancôme Advanced Génifique Youth Activating Eye Concentrate before applying her concealer and everything would fall into place perfectly. Her concealer never cakes anymore and the moisture helps the skin around her eyes to look smoother and more dewy.
I will continue to use these products in pursuit of beauty and my own "Youthful Aura" inspired by the faces of Lancôme femininity: Kate Winslet, Lupita Nyong'o, Penélope Cruz and Lily Collins.
Reverse the signs of aging today and gain the secrets of youthfulness by adding one serum into your current skincare regime. To claim a free 7 days trial kit, simply visit www.lancomesg.com/advanced-genifique and if you want to find out more about the importance of using a serum in your skincare routine, this article by Daily Vanity is a good read.
This is an advertorial but my opinions on the product is still fair and honest. Maintaining the integrity of renzze.com and  creating a positive influence will always be my piority.