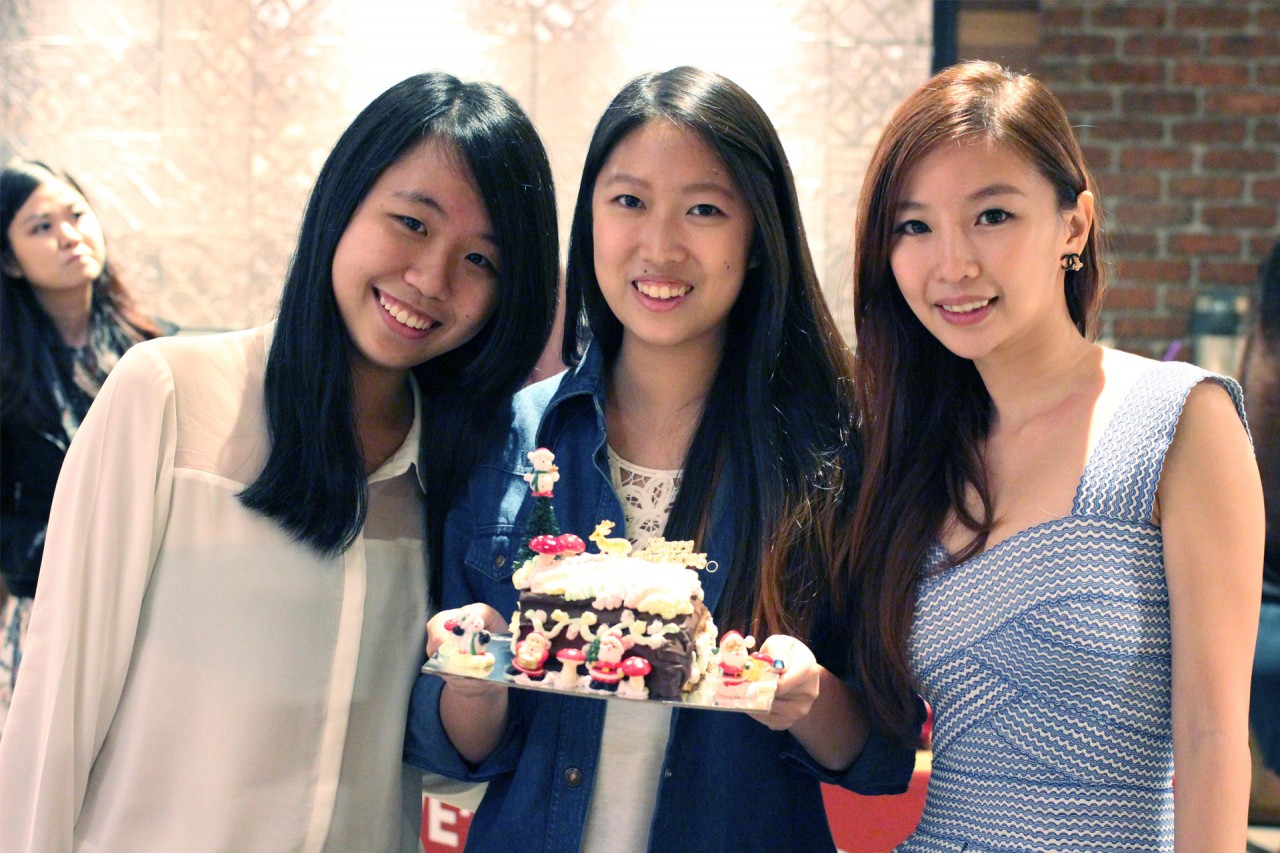 In a blink of an eye, the end year holiday season is here again. Recently, I was invited to begin my Christmas celebrations with The Coffee Bean & Tea Leaf.
I arrived at the Suntec store after work on a weekday. With the cool rainy weather, nostalgic christmas tunes in the background and all sorts of cakes and sweet treats laid out for us to try, it didn't take any effort at all to get into the spirit of Christmas.
The Christmas Chicago Cheesecake ( promotional price S$52 for whole cake) is a signature favourite. I've loved The Coffee Bean & Tea Leaf Chicago Cheesecake from the moment they opened their first stores on our sunny island years back and I still love it today.
Chocolate lovers will not be disappointed by their Peanut Butter and Dark Chocolate Log cake (promotional price S$40) but if you want something lighter and more refreshing you can try the Apple and Chantilly Log cake (promotional price S$40) instead.
Their cute mini Christmas Cupcakes and confectionary bites are perfect for festive parties. You can get a mixture of stollen, Fruitcake, Apple Cream Puff, Noisette or just a set of cupcakes. It comes in a pack of 20s (promotional price S$35), so you can be sure that there's a sweet treat for everyone. 
With something for everyone in mind, The Coffee Bean & Tea Leaf also made available many traditions christmas goodies such as the Christmas Stollen (promotional price S$29) and the Santa's Gingerbread House (promotional price S$35).  Personally, I think the Gingerbread house makes for a very eye-catching conversational dessert for Christmas dinners.
For those of you intending to order, do note that 3-4 working days is required (excluding the day of order, Saturdays, Sundays and Public Holidays) and the last order must be placed by 18 December 2014, 12 noon.
We were give a blind taste test to figure out which of the seasonal new drinks we liked and what ingredients were used. I loved the Dark Chocolate Peppermint Mocha best though the Dark Chocolate Hazelnut Truffle was a pretty good contender as well. The last drink was a vanilla based black tea which which I didn't really enjoy as much.
They sprung a surprise log cake decorating contest on us as part of the festivities. All of us were randomly broken up into teams of four and tasked to decorate a simple log cake using some pastel whipping cream within a time frame of 20mins. There wasn't much time to plan so everyone sprang into action doing the best they can.
I think everyone did a great job given the time restrictions.
My team wanted to go for a more girly wonderland feels and here's what we created together. Doesn't it remind you of rainbows and fluffy marshmellowy clouds.
After decorating, everyone was given a voting slip and asked to vote for their favourite cake! You can't vote for your own team.
My team mates and I didn't have much expectations though we had tons of fun decorating our cake.  All four of us (the fourth member Raphael is not pictured here) were truly amazed when they announced us as the winners. A big thank you for everyone who voted!
Each of us won a CBLT Coffee Machine which is just incredibly awesome because I've always wanted to try out making a cup of Chai latte using their machine.
Everyone was in high spirits that day; catching up with friends or messing around in the silliest ways at the photo booth. I took a couple of funny pictures with Raphael as well. I'll love to share those with you but the photo machine only printed out hard copies for us to take back and I've been traveling too much to find time to scan those photos.
Christmas gift hunters can check out the new selection of holiday merchandise that is currently in their stores and up on their website.
These makes such great gifts and I heard that quite a number of their gift sets have already been sold out so don't wait too long if you are intending to grab some.
Thank you The Coffee Bean & Tea Leaf for hosting such an enchanting party!
Thanks for reading and Happy Holidays everyone.