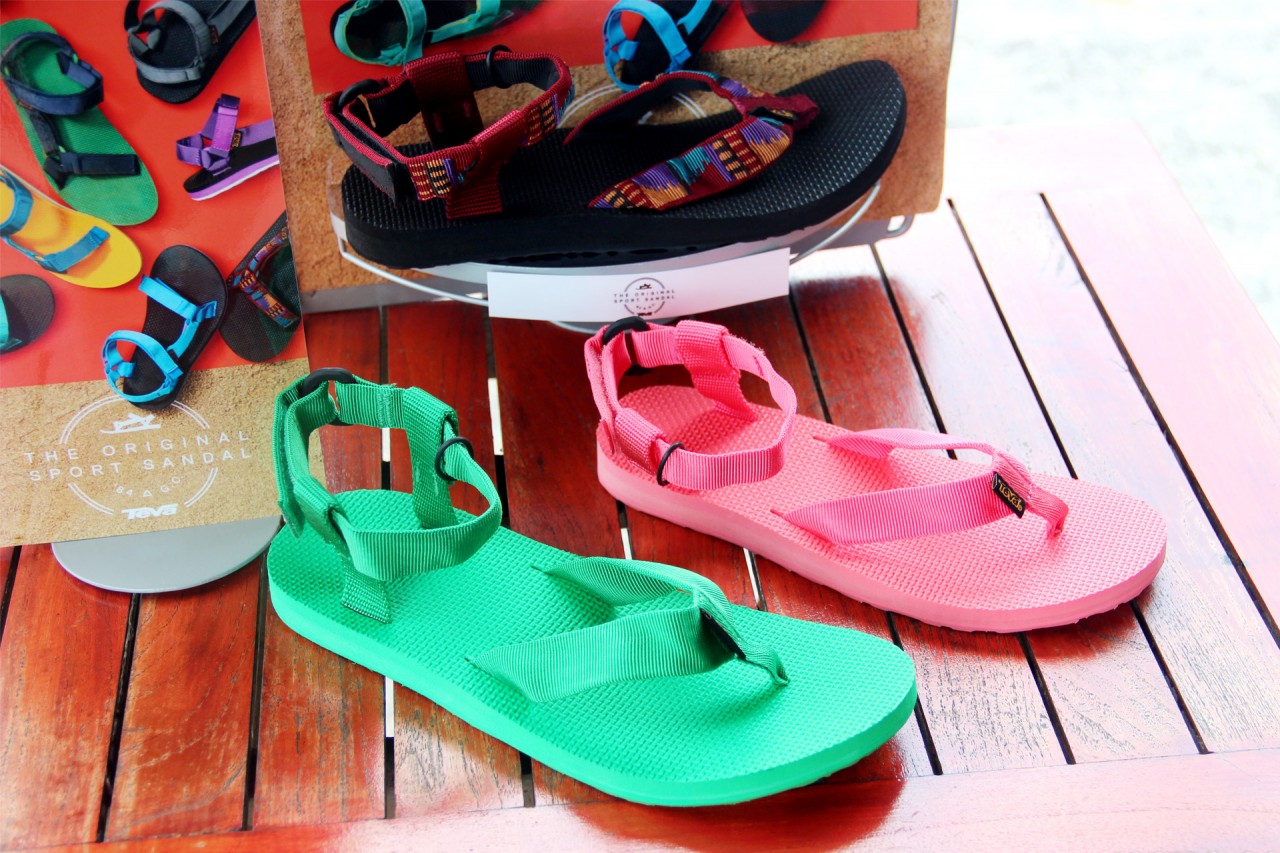 The first "brand name" sports sandals I owned in secondary school was a pair of black Teva sandals. It lasted me for about 5 years before I lost it in Bali. That's how durable I remembered Teva sandals to be. Simple looking but practical and long lasting.
Some of the most awesome creations began from the simplest of ideas and Teva embodies that. Invented in 1984 by a Grand Canyon river guide, it started with putting an old Velcro watch strap to a flip flop so that his customers will be more willing to embark on his tours more readily. It wasn't long before the "strap in and go" concept took off and today, the Teva Original stands for the same spontaneous, go-anywhere, do-anything mentality.
 Everything that Teva does, and everything they make is in service of the adventurous spirit, because Teva knows that unscripted moments are the ones that turn into the best memories. Earlier this year, for the "Teva 30th anniversary and the Original Sandals Launch", we were invited to celebrate that spirit.
I had a wonderful day with Teva, World of Sports, Rachie, Clare, Cheryl and my two dogs, Louis and Emmie.
Love all the vibrant colours avaliable but I'm secretly super happy to have gotten the bright blue ones cause those were my favourite.
First, we had yoga on the beach to help us to warm up our muscles.
The second part of the session was more interesting as we were going to do SUP (Stand Up Paddle Board) Yoga!
Rachie, Clare and I had to carry the SUP board out in the water, paddle out to a distance, throw out the anchor then get up on the board to prepare for the start of our yoga lesson.
I'm not exactly a stranger to yoga but doing it on the SUP with supper choppy waves gave it a new dimension. Simple poses became even more challenging and you'll have to engage your core all the time in order to maintain balance.
Working out our whole mid-section, we braved the waves to hold our positions without collapsing. Each of us needed to be completely focused at all times.
Once I got used to the rhythm of the waves, it was strangely calming. Consciously fixated on my breathing, I was able to let go of the fear of falling and concentrate on the present moment. It's a delightful experience to be outdoors, floating on water while looking far out into the horizon. SUP Yoga turned out to be quite the detox for my normally overly compressed mind.
Of course, adrenaline was still coursing through each of our bodies as the waves became strong and more erratic due to the changing tides. But falling into the water isn't too big a deal because you can just get up on your board and try again. It is exactly the same attitude in which we should face any type of obstacles in our life.
I've always loved new challenges and SUP Yoga really brings out the adventurous spirit that Teva wanted to share with us.
Of course, we weren't the only ones having fun.
My dogs, Louis and Emmie really enjoyed their time in the waters while watching us work our postures on the SUP.
Thank you World of Sports and Teva for the wonderful day of adventure celebrating Teva 30th anniversary and the Original Sandals.
PS – just when I thought that I had been really lucky to have not fallen into the water at all throughout my whole SUP yoga experience, I got distracted while I was on the SUP with my dogs.
A huge wave hit me when I least expected and toppled my whole board!
My first instinct was to grab on to my dogs to make sure the board doesn't hit them. In doing so I twisted my ankle but it wasn't too serious and I was fine after putting on some cold compression.
Life is full of unexpected surprises. You can plan and prepare every step but twists and turns will still happen and the best thing to do sometimes is to just go with the flow and enjoy the moment the best you can.
Thanks for reading.