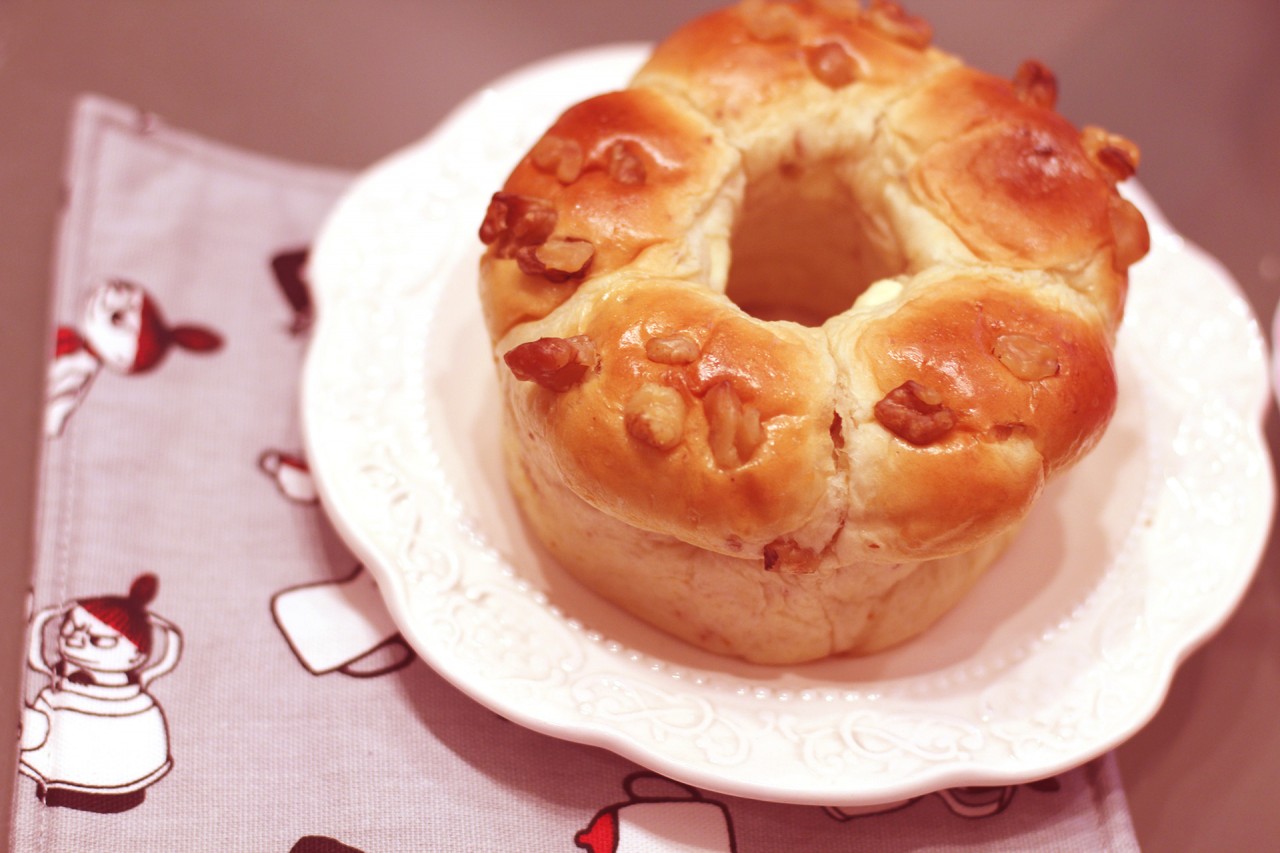 I shared with you about Swee Heng Bakery and celebrating Mother's Day with my family in my last post. In that same weekend, I also hosted a mini tea party with my sister at my place. It wasn't anything fancy but the delicious Swee Heng breads and cakes was well received by anyone who tried. My neighbours fell in love with the buns and said they will definitely check Swee Heng out to buy more.
The "Taiwanese Steam Buns"  (S$1.80 each) are really soft and spongy. Great for both young and old, it comes in four flavours – Black Sesame, Original, Mango and Chocolate. I need to buy this for my grandma to try once she comes back to Singapore.
(Above) Clockwise starting from left: Mushroom Chicken (S$1.60), Kaya Peanut (S$2.50 for 3), Blackberry Cream Cheese (S$1.60), Nyonya Curry and Egg (S$1.60) and Beetroot Custard (S$2.50 for 3).
(Above) Walnut Cheese (S$3.50)
Special thanks to Celeste for gifting me with the Moomin dish holders and the wooden butter knife you see in this post. Sending my love to Finland! I really appreciate the thought and as you can see, they've been put to good use!
Next up are some awesome cakes. Tea time is never complete without some yummy and creamy cakes.
(Above) Clockwise starting from top left: Mango Mousse (S$3.80), Tiramisu (S$3.80) and Durian (S$3.80).
(Above): Classic Banana Cake.
I love this "Durian Chiffon Roll" (S$5.80) which is one of Swee Heng's new products.
Just look at the delectable texture of the pulpy durian filling!
Swee Heng also has a good range of swiss roll cakes in various flavours.
(Above): Coffee Swiss Roll (S$4.80).
Since I invited my sister to tea, I simply must get the "Happy Rainbow" Cake for her. She's always telling me how she loves rainbow cakes and I haven't had time to bake another one for her.
Swee Heng's version of Rainbow Cake comes with a lovely chocolate topping instead of cream which adds a more gratifying taste to the cake.
I love how the colours go so well with my Rainbow Brite (My Little Pony) plush toy.
(Above) : Happy Rainbow (S$6.80).
And if all the enticing baked goods hasn't filled you belly yet, you can always rely on Swee Heng's soft buns which are soooooooo soft and fluffy! Although I displayed an assortment of buns, they usually come a half dozen packet with four flavours to choose from –  Charcoal Flaxseed (S$3 for 6), Multi-Grains (S$3 for 6 ), Whole meal (S$3 for 6) and Raisin (S$3 for 6).
I'm listing their new concept store address below but there's probably a Swee Heng Bakery near you if you want to give their breads and cakes a go. Just head over to their website to see which store is more convenient.
Swee Heng 1989 Classic
No. 1 Bukit Batok Central Link, West Mall, #01-03, 658713
Website: http://www.sweeheng.sg
I've been going makeup free on most days since I got back from my New Zealand and Australia holiday. I guess the heat in Singapore is just too much for me and I figured that anything I apply will melt off the moment I leave my home.
In fact, I haven't been inspired to dress up as much and I can usually be found in comfy shorts and singlets or open back tees that are perfect for the scorching weather.
Since it was a weekend celebration with my family, the respectful Asian values in me shouts that while I can ignore makeup (thankfully I do have eyelash extensions), I should still put on a nice dress and look presentable.
I love the simple cut of this Kate Spade dress with practical sizeable pockets, the blue and white floral motifs and the alluring bow designs at the back.
I paired with Embellish.sg's Didier Dubot Gold earrings and my Chanel pumps and I was good to go!

PS – If you noticed, I just changed my hair colour at Naoki Yoshihara by Ash salon and I'm loving it! More about it in another post.
Thanks for reading!