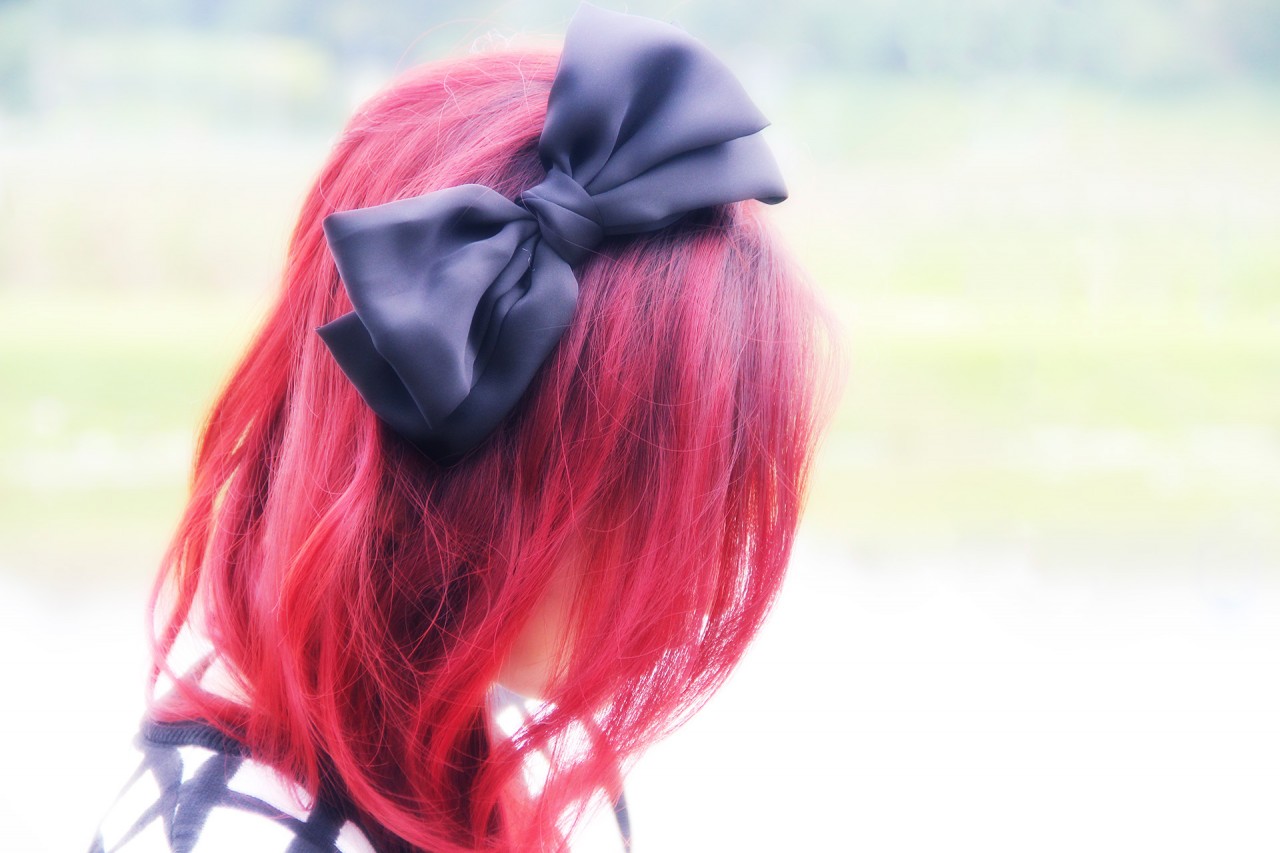 Thank you everyone for participating in my Taobao Giveaway. The response was overwhelming and I'm sorry if I couldn't answer to each and every email personally. I do hope that many of you had no problems making your first purchase on Taobao. I have had many requests to share more of my Taobao buys which I will be doing so in this post. My advice for those who are worried about quality is that don't go for the cheapest items if you want good quality. Instead go for mid-price items. It's really hard to expect the clothes quality to compare to the departmental store ones if you are only paying SGD6 for a dress. Usually, my clothes purchases are in the SGD20 range and I've gotten pretty high quality materials.
I came across this bow shaped contact lens holder and it was so pretty I couldn't resist buying a few for close friends.
Inside there is even a mirror, tweezer and contact lens sucker. Okay I'm not sure what you call it exactly cause I normally don't use the sucking thing. Regina tells me that she uses that because she wears hard contacts and those cannot be removed by hand.
Also, for those interested to know how I get my eyes to look bigger and more dolly on some days compared to others, I'm using Big Eyes 2. This is a bi-weekly disposable contact lens that was sponsored to me by Nanyang Optical after I won the Singapore Blog Awards last year. I'm not a consistent contact lens wearer and would switch to glasses for work or not wear any sort of contacts or eyewear at times. Luckily my eyesight isn't too bad.
Next up, is an outfit from Taobao.
Top: Taobao ( As seen here)
Skirt: Taobao
Watch: Cartier
Heels: Christian Louboutin
I really loved this skirt even though I don't normally wear midi skirts.
Here's how the skirt looked on the model from Taobao.
I think I bought a lot of black and/or white outfits from Taobao in my 3rd shipment.
Sweater Top: Taobao
Skirt: Taobao
Belt: Ching

Bag: Taobao
Bow Hairband: Taobao
Watch: Cartier
Heels: Dior
I was trying to go for a little more cutesy look with this getup. I simply love the 2D bag that looks incredibly 3D in the photos! In the photo below, you can see how paper thin the bag really is.
This bag is Taobao's inspired version of the original "Jump from Paper" series of bags.
Small items such as bow headbands are so incredibly cheap on taobao. I think this pretty "silk" bow headband was only SGD2!
I love large and pretty bows!
Below is another peek of my 2D bag in an outfit I wore to take my dogs for a walk before dinner by the river.
Top: Holister
Shorts: Taobao
Bag: Taobao
Watch: Cartier
Shoes: Korea
As you can tell from the 2nd photo of this casual outfit, the shorts is actually high waist. I love the stretch denim of this shorts.
The final outfit I'm going to share with you from my Taobao haul is this cute denim dress.
Dress: Taobao
Bandeau: Taobao
Watch: Cartier
Heels: Korean
The dress looks pretty simple from the front but I love the huge denim bow behind. I told you I had a weakness for bows!
I also bought a couple of tees for my Mystery Man but he's too shy to show off the happy purchases.
Now, it's time for me to announce the winners of my Taobao SEA Giveaway. Each of these winners will get RMB500 worth of credits to shop on Taobao!
1.  Caren Foo who intends to get some surprise gifts  for her boyfriends' family. I'm not going to share the exciting details here cause I don't want to spoil her surprise.
2. Rui Long who wants to get some household tools and decors for her home and can't wait to decorate her workspace with pretty yet affordable stuff from Taobao!
3. Deborah Anne Heng who is a volunteer and would like to win the Taobao SEA credits so that she can donate some new bed sheets and blankets to the old folks at Henderson home as the old people at the home often face problems with bed bugs and dust mites. I hope they will be happy with the new bed sheets and blankets!
4. Charmaine Chan who is a single mother and would like to have the credits to buy things for her five year old son. As a working mother, she always tries to make her dollars stretch to save more money for her son's future education and I think Taobao will be the place for her to get some value for money buys!
I had so much fun reading everyone varying reasons for wanting to shop on Taobao. Happy Shopping!