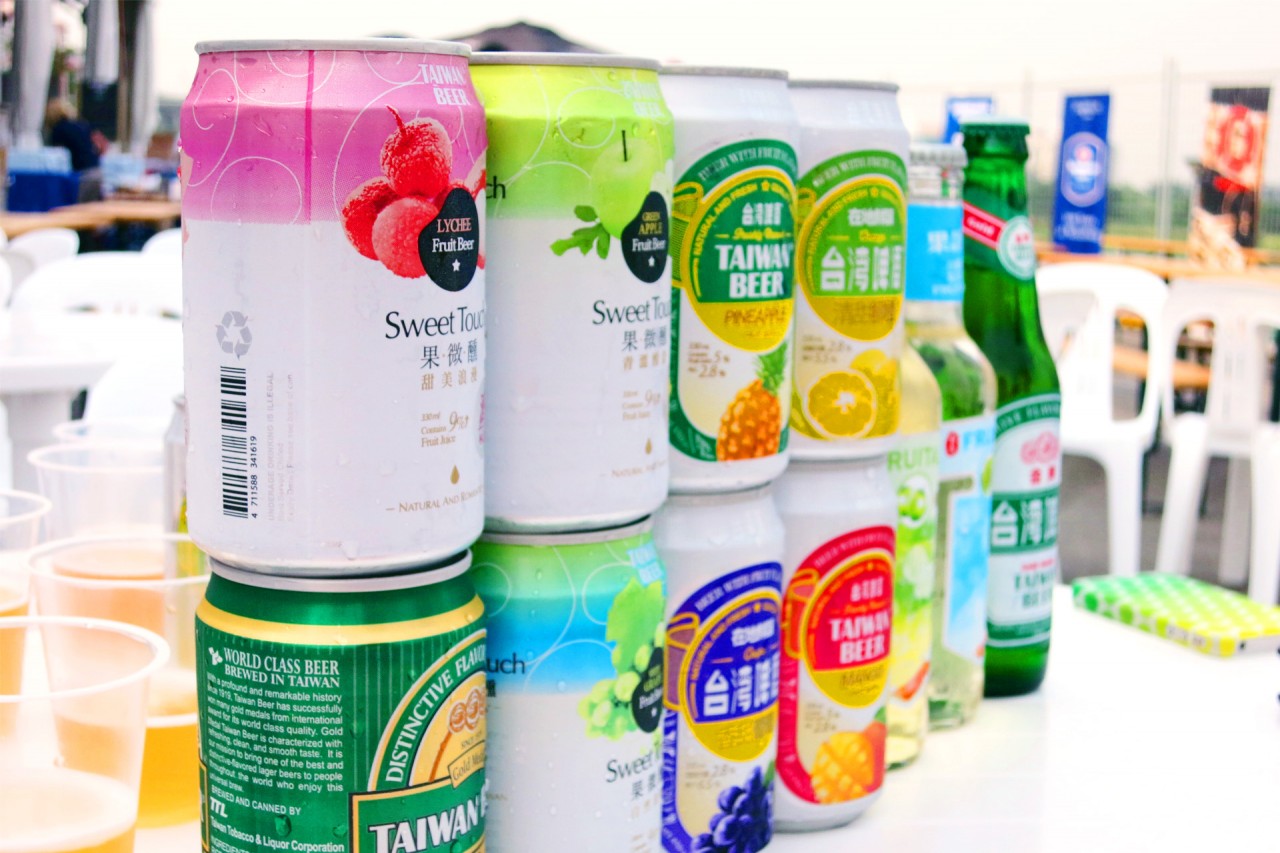 Most people wouldn't peg me for a beer drinker but I've long heard from many friends that I should give Taiwan Fruit Beers a go because they insist that I will fall in love with beer after. Opportunities comes in different forms and not long after, I was invited by Kaimay Trading Pte Ltd, the local distributer of Taiwan Beer to visit their booth at the Singapore Beerfest Asia 2013 as they will be launching 2 new flavors.
I met a whole bunch of fellow bloggers which really made the whole tasting experience a lot more fun. Beer and great company makes a perfect combination.
There was such a wide selection of fruit beers to try from and surprisingly, I really liked these beers. The Taiwan Fruit Beers each containing 5% of real fruit juice that helps to maintain the sweetness and fruity aromas. At a low alcohol content of 2.8%, it's no wonder that it's just as popular with women.
The picture above represents the full range of fruit beer you can find in Singapore. These fruit beers can be really addictive and like most of the people at the Singapore Beerfest Asia 2013, you can't just stop at one. However, I'm a lightweight drinker and have a very strict personal "Drink, Don't Drive" rule so I brought along my girlfriend, Melva, to do the heavy drinking for me. She is also one of those that told me how nice Taiwan Fruit Beers are even before this event. As for me, after sipping to taste every flavor, I only drank a total of about a half can of beer which is already unusual for me! This was of course, highly amusing for party queen Rachie. LOL.
Thankfully, Taiwan Beer had already prepared some cans for us to take home and I got to enjoy the fruit beer happily in the comforts of my own home without having to worry about driving after.
Most people are already familiar with the Sweet Touch series that comprises of White Grape, Lychee and Green Apple. The sweet touch series are extremely popular with females and I can understand why. I really love all 3 flavors as the taste is sweet but also very light and natural.
The other 2 fruit beer flavors that are slightly more popular with the men are Pineapple and Mango.
Finally, the latest 2 new flavors that were launched are the Grape and Orange.
Taiwan fruit beers were actually initiated by the Taiwanese government to help the Taiwanese Fruit producers but it has since been a worldwide hit. I think it's absolute genius how they use real fruit juice with their gold medal beer to counteract the usual bitter aftertaste that beers give.
If I had to pick my favorite Taiwan Fruit Beer, it'll go to the most recently launched Grape flavor (purple can) with Sweet Touch Lychee following as a close second.
I'm finally able to say that I've found a beer that I'll gladly order again and again! Taiwan beer can be found at most supermarkets and 7-11 stores.
*****
*****
*****
*****
*****
We were craving for even more sweets after Singaproe Beerfest Asia 2013 and Melva said she wanted to try Paddington House of Pancakes cause everyone she knows already went there without her. I love the pancakes there so I didn't mind going again!
Thank you Melva for the treat!  🙂
*****
*****
*****
*****
*****
Outfit of the day
Sunglasses: Glossi
Dress: Liz Lisa
Bracelet: Hermes
Earrings and Watch: Chanel
Bag: Korea
Heels: YSL