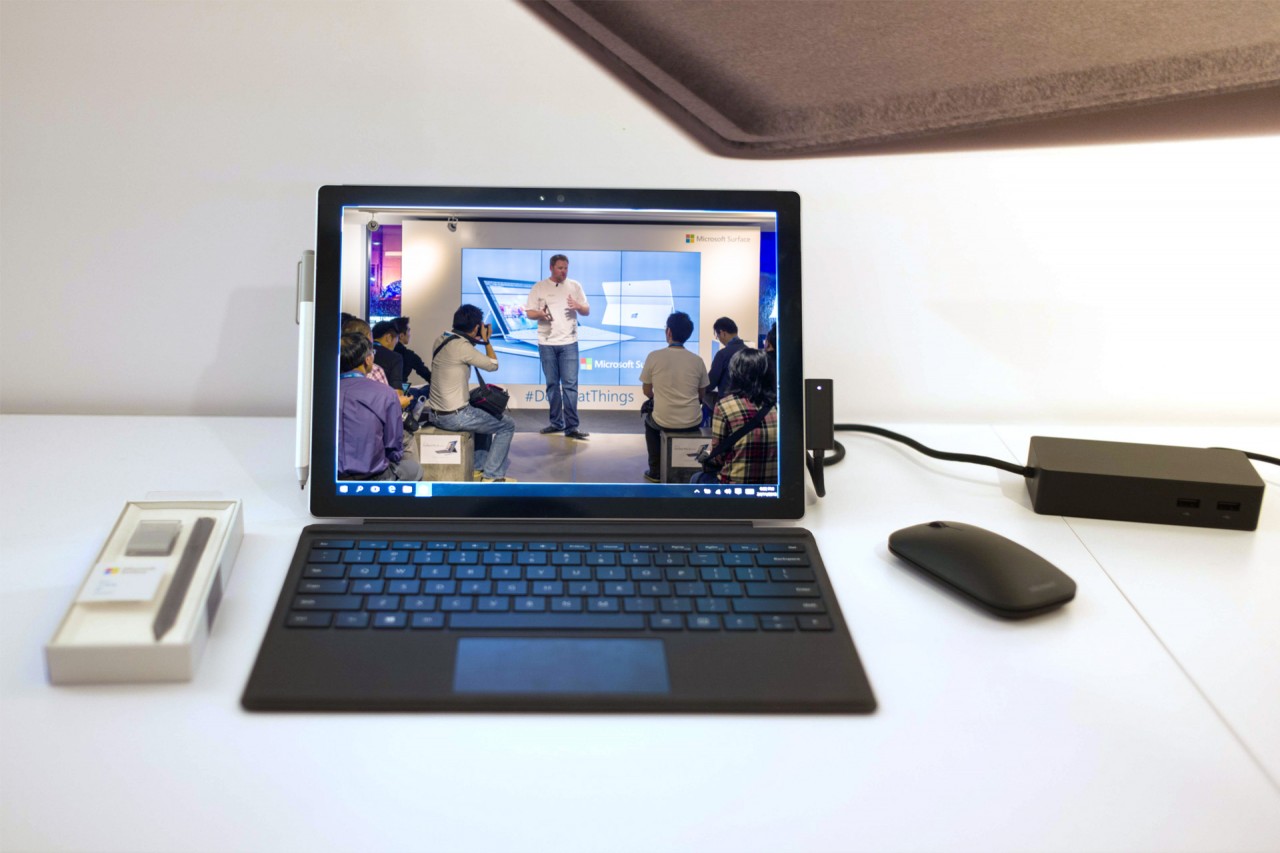 Guest writer (and possible new addition to the Renzze.com team) , Jonathan Liew, checks out the Microsoft Surface Pro 4 Launch event on behalf of renzze.com

I was invited by Karen to cover the Windows Surface Pro 4 Launch event on 24th November 2015 at Mad Museum. Naturally, I was excited because I wanted to get my hands on this latest reiteration of Windows Surface Pro line that has been raved about so much.
Initial Thoughts and Hands On Impression
The Surface Pro line is Microsoft (MSFT) vision of a futuristic machine, that combines great specifications into a portable hybrid solution, "a tablet that can replace your laptop". The Surface Pro 4 (SP4) improves and refines on the previous generation Surface Pro 3 (SP3).
On the surface, the SP4 looks entirely similar to the SP3 in terms of appearance. After all, it shares the same shape and design footprint. The differences however, lie in the overall weight and hardware. Upon lifting the unit up, the first thing I noticed was that it was lighter and thinner than the previous generation. The MSFT representative said the SP4 is about 5-7% thinner and 2-4% lighter depending on the model you select (the model on display was the i5, 256GB, 8GB ram unit).
The next thing I noted was the bright screen. MSFT touts this 12.3" screen as the pixelsense display. It has an advertised 9 hours of battery life with video usage.
The biggest improvement comes with the new type cover. It has a larger and new glass trackpad while the keyboard has more real estate making it well spaced out. Historically, I've disliked trackpad on laptops as it has always been a miserable experience (slow and laggy). This felt the opposite (smooth and responsive). However, you would have to fork out extra for this (it retails for SGD$199).
What left me most impressed was the new Surface Pen. Completely redesigned to fit more comfortably ergonomically, it comes loaded with 1,024 levels or points of pressure sensitivity. This is perfect for drawing or annotating with your preferred apps. You can swap out the pen tips to your preference, comfort or work use (2H, H HB, B) but this has to be purchased separately with the Surface Pen Kit (SGD$94).
Event End Note
When I left the event, my friend and myself were convinced to get one unit each. He purchased the i7 256 GB model while I opted for the highest specification i7, 512GB, 16GB ram. Unfortunately, the i7 units were delayed till mid-December and New Year's for mine respectively. The review will accompany this post shortly!
You can purchase the Surface Pro 4 from $1399 (m3, 4gb model) at local authorised retailers such Challenger, Courts, Harvey Norman and Newstead or online directly from the MSFT web portal.
 Yours truly,
Jono