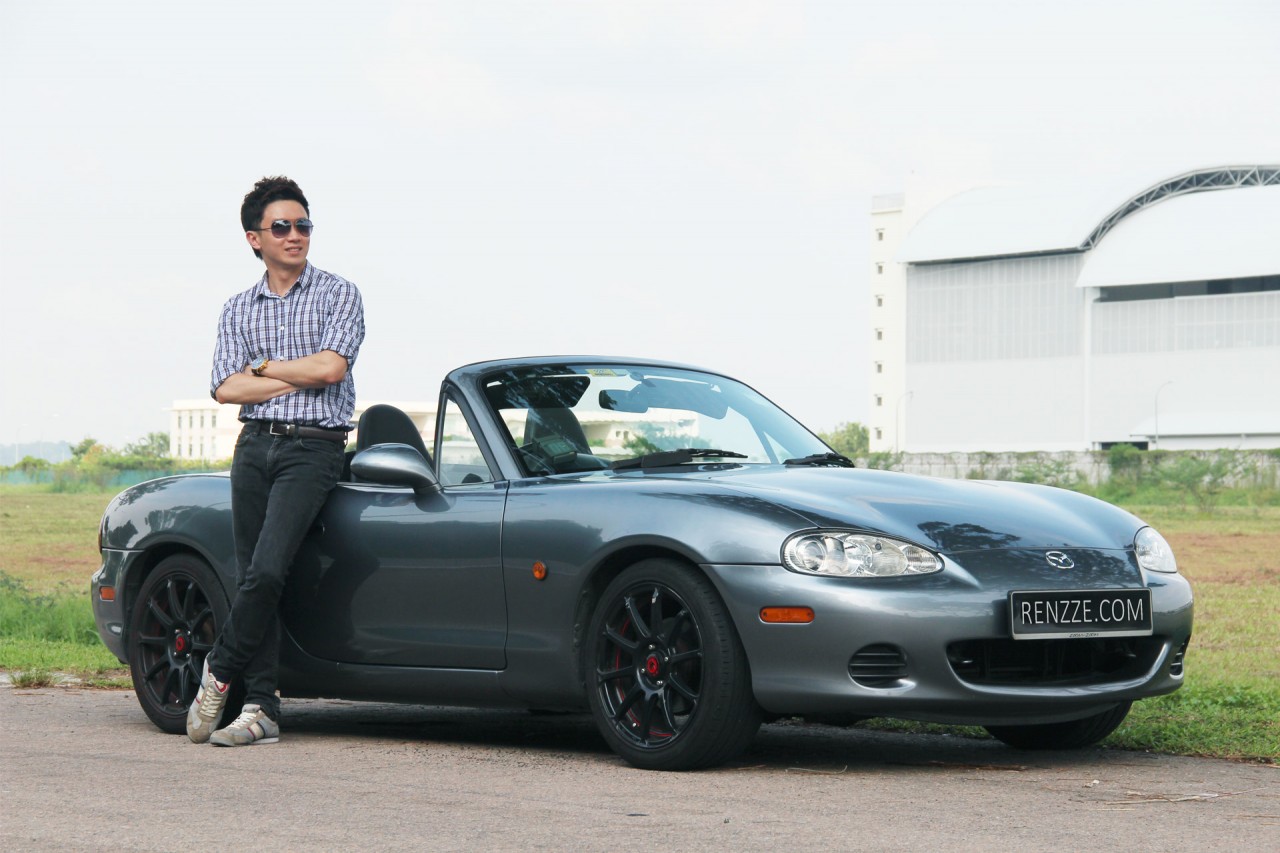 It has been a while since I bought my Miata in Singapore, in case you did not know, that is the common name used to call the Mazda MX-5. Ever since its introduction back in 1989, Mazda has came a long way in building its flagship convertible. As of date, there are 4 models, namely the first generation (NA), the second generation (NB), the third generation (NC), and the fourth generation that was unveiled recently (ND).
Each of the models has their own unique characteristics. For example, the NA model is equipped with distinct retractable headlamps which were never again introduced in the later models while the NB model has rather distinctive rear lights.
If you are wondering which generation does my Miata belong to, it belongs to the second generation NB model that was produced between 1998-2005. I specifically chose the NB model as it has many aspects that was significantly improved from the NA model and yet still managed to retain the original spirit of the Miata convertible. The NB is also a much rarer model spotted on Singapore roads and the uniqueness increases my attraction for it.
I could go on a neverending rant on the car and its capabilities but that's not the point of this post. Instead, I just wanted to share the photoshoot that was done with the Miata, Renzze and myself. Renzze has been the most supportive of my love of automobiles and I credit her as one of the bravest passengers I've had as well.  She doesn't ever question my driving capabilities and would simply trust me to take her safely on both long journeys to Kuala Lumpur as well as short frequent journeys to cafes or the gym.
Spot my little Domo-kun on the rear of my car!
The most recent 'dangerous' act I attempted with Renzze was to reverse the Miata under the undercarriage of a trailer.
We made the most informed decision we could prior to attempting the stunt but it's my responsibility to put a disclaimer that you should not replicate my stunt. It may cause you serious injuries if not carefully performed and that's not the intention of sharing these photos with you.
There was still a 'fistful of space' between my Miata and the trailer. It gives you an idea of how low and compact my little convertible is.
We had a special guest appearance (Donut!) on the shoot at Yishun Dam. Renzze loves her vanilla scented 'Donut' and requested for him to be included in the photoshoot. I was more than happy to oblige since it seems to compliment some of the pictures as well.
Driving a convertible in Singapore (especially under the blistering afternoon equatorial sun) with the top down requires both sense of foolhardiness as well as humor. Despite how comfortable I appear to be in the photos, I was in fact sweating profusely and couldn't wait for the photoshoot to end so that I could close my top and blast the air conditioner. Although, top down driving has to be regulated to cool days or nights, the whole experience of driving a convertible is still worth the laughs and memories shared.
The main reason why I'm dedicating today's post to my Miata is because I've just sold the car and will be looking forward to getting something slightly more practical. One that would fit a proper luggage bag into the boot and allows me to have more passengers.
If anyone has anything fun, reasonable, and inexpensive to recommend, do let me know! Otherwise, I hope that you have enjoyed the pictures as much as I have enjoyed the experience and I will be sure to bring more car posts to everyone!