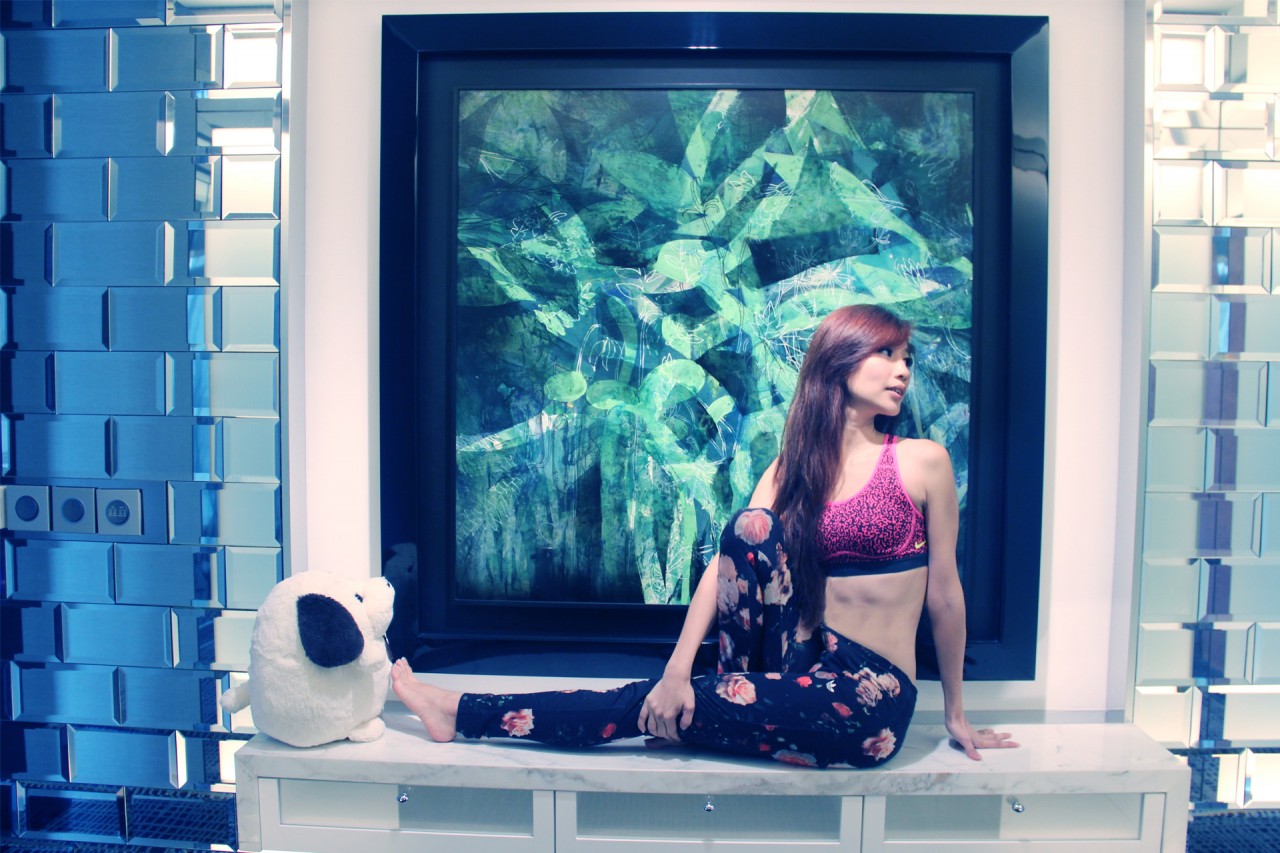 You might have read of my enchanting time at W Hotel, spending the day getting FIT under their new Tara Stiles programme. And if you haven't, you really should read my "Stay FIT with W Hotel and Tara Stiles Part 1" to hear about my experiences with my FIT gym personal training session as well as the lovely tailored massage I experienced at the AWAY Spa.
Of course, just like my title indicates, the spotlight of my stay goes to W Hotel's partnership with the industry's yoga rebel, Tara Stiles.
 FIT with Tara Stiles flips the traditional idea of fitness on its head with a non-traditional approach to working out while on the road.
Comprised of a curated in-room workout video designed for the needs of the W traveler, in-room tip cards with quick fixes to get camera-ready in a flash, and an exclusive series of intimate FIT with Tara Stiles packages available at some of the most glamorous W Retreats around the world, the programme allows guests to polish their body and mindset in a uniquely W way.
I adore the idea that an interactive yoga workout can be done anywhere and anytime. Tapped to create the exclusive in-room workouts for the FIT program, Stiles – founder and owner of Strala Yoga, the high-energy movement system that ignites freedom – locked herself in the suites of several W Hotels and imagined the needs of the W traveler. Her non-purist take on yoga offers a refreshing alternative to tradition and offers a modern spin on the beloved practice. The result is four exclusive workouts that will be printed on in-room tip cards and available via video in every W room and suite around the world.
Wasting no time, I watched Stiles's exclusive video and proceed to try out her four exclusive workouts in every part of the Extreme WOW suite.
The workouts include:
1. Need a Boost? Whether you want to kick-start your day or night, give your body an energetic lift with a quick yoga fix. Try dancer pose for an instant surge of vitality.
2. Feeling Jet-Lagged? Get relaxed and ready to rock straight from the runway with a quick yoga fix. Try pigeon pose to open your hips and soothe your back.
3. Big Night Out? Get amped for evening by adding a quick yoga fix to your primping routine. Try an easy side stretch to get you relaxed and ready for party-mode.
4. Need to Recover? Whether feeling tired or had one-too-many the night before, amp up energy with a quick yoga fix. Try an easy, seated twist for an instant boost.
As you can see from my series of #posewhenever , using Tara Stiles as a guide, you can get a good stretch and have fun while getting fit wherever and whenever.

The special Tara Stiles Lunch was delivered in-room with tasting portions of all the different choices on the menu.
Although I was feeling famished after my workout, I decided to head for a quick shower to freshen up before scrutinising the dishes set up for lunch.
As explained by the Chef, the recipes for these dishes were all taken from Tara Stiles and are made from simple but fresh ingredients.
Healthy Thousand Island Sandwich
Sweet and Savoury Spinach Salad 
Veggie Detox Soup 
Rice Noodles with Almond Cream Curry  (my personal favourite)
Portobello Burger Heaven 
Watermelon Mint Cooler
Pineapple Green Dream 
Coconut Mint Chocolate Ice Cream 
I spent the rest of my time unwinding and delving into deep reflections of my life as I enjoyed my stay in the suite.
Headed to the lovely private pool on my balcony for a dip once the rainy weather cleared.
Much love and thanks goes out to W Singapore and Aurore Veyrier for letting me enjoy a relaxing mid-week break in one of Singapore's most incredible hotel.
If you are looking for a more personalised, physically intensive experience, Stiles will host FIT with Tara Stiles Retreat packages at W Verbier (July 4-6th), W Vieques (August 29-31st), W Bali – Seminyak (September 12-14th) and W Maldives (December 1-4th). Each of the four retreat packages will customise an innovative itinerary unique to the destination, inclusive of daily sessions with Stiles and individual fitness consultations paired with a personalised workout regime. The FIT with Tara Stiles Retreat Packages will also include spa sessions combined with unprecedented experiences programmed by Stiles, together with each Retreat's Insider (W's take on the traditional concierge, connecting guests to what's new and next in the market). Packages are available now for purchase at www.whotels.com/fitwithtarastiles.
To learn more about FIT with Tara Stiles, please visit www.whotels.com/posewhenever. Follow @WHotels and @tarastiles on Twitter and Instagram using #PoseWhenever.
W SINGAPORE – SENTOSA COVE
21 Ocean Way Singapore 098374
T: +65 6808 7288
F: +65 6808 7289 
Vintage Wrap Dress: MyJotterBook
Heels: Korean
Thanks for reading!