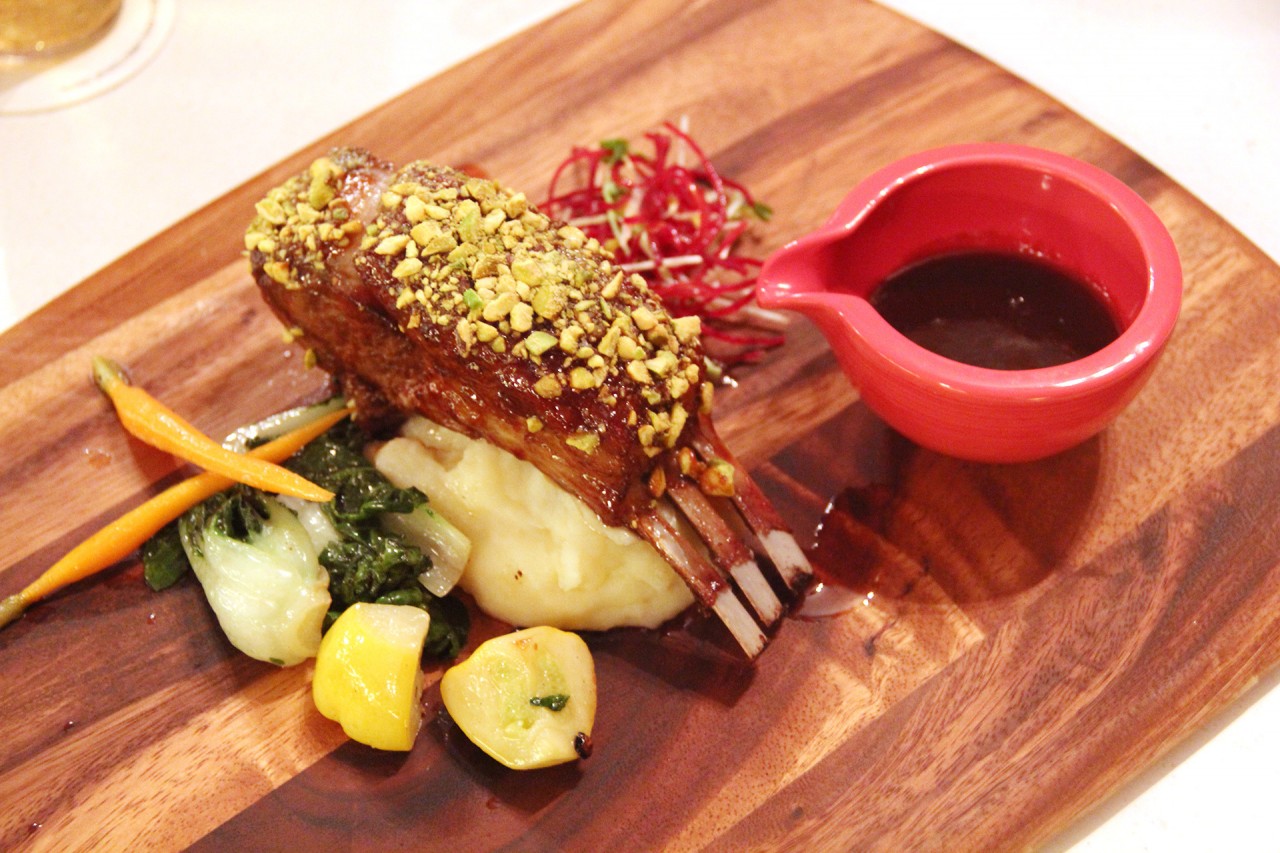 Mount Faber is one of Singapore's most iconic venues and a place that holds many dear memories for me. I've been there with my family, my friends and my love ones countless of times since I was a child and have seen the place evolved through the years. In the past, dining at Mount Faber meant an expensive night out and was reserved only for special occasions. But with the slew of new concepts and restaurants and Mount Faber, it's now friendlier and more accessible for casual dining. One of the newest in the mix is Spuds & Aprons.
A great place to chill at the end of the work day, Spuds & Aprons have a positively happy vibe about the place. Families, friends and lovers can be seen enjoying the food and the gorgeous view of the Singapore Cable Car line that runs all the way to Sentosa. You can choose to chill out at the air-conditioned Dining Room or relax at the alfresco garden. It was a cool night when I visited and chose to sit at the garden to enjoy the live band better.
I started with a lovely signature drink, the Spuds & Aprons Lychee Soda with Nata de Coco Jello (S$8) while Mystery Man (MM) wanted to chill with a simple bottle of Tiger beer (S$12). My soda was absolutely refreshing and it comes with quite a few flavours including Mango, Passionfruit, Wild Berries, Strawberries and Jackfruit.
Later on, I ordered a Dom Pedro (S$13) alcoholic smoothie which was delish! A mixture of whiskey, bailey, milk, cream, vanilla syrup and ice-cream, it's as sinful as it is titillating. Alcoholic smoothie lovers, be warned!
After a long day at work, the drink and the upbeat ambience immediately soothed my anxieties of the stressful workday away. Having all the huge heritage trees encapsulated within the restaurant is not only a unique way to preserve the natural beauty of Mount Faber but also serves as a beautiful reminder to  allow nature into our urbanite lives. The whole architecture of the platform was well conceived and I appreciated how they thought out of the box to create curves with the timber without using any nails.
The first dish, Wicked Fries and Gravy (S$8) came highly recommended to me. It's steakhouse cut spuds with 6 types of cheese and brown gravy. An excellent dish for sharing and a must-try for all cheese lovers. The chef felt that most cafes and restaurants these days tend to stick with safer choices like truffle fries or plain salted ones so he wanted to do something different and unique. It took a lot of research and tasting to finally find the right mix and proportions of cheeses for this dish.
I spent the night trying to figure out which cheeses were used and couldn't quite guess all 6 of them because they have been beautifully combined and blended to work as one distinctive taste. After a little digging from the kitchen, I learnt that the 6 cheeses used are mozzarella, cheddar, provolone, gruyere, emmental and parmesan.
For something healthier, there is the Crispy Whitebait Salad (S$12). The whitebait was fried till crispy then topped over fresh mushroom, seaweed, cucumber, asian salad before sprinkling toasted sesame seeds. The dressing was a delightful mix of wasabi and yuzu. A delicate asian salad to whet your appetite!
The first main dish that arrived was the Tobiko Crusted Cod Filet (S$28). Popular with most ladies and fish lovers, this Atlantic cod filled with Omega 3 goodness is oven roasted then topped with Tobiko and served with green tea soba noodles and aged Ponzu sauce. I loved the combination of flavours and the asian touch to the dish.
My favourite dish that night is the Grilled Char Siew Lamb Rack (S$38). I'm usually not a big fan of lamb dishes because it's hard to find good variations of it in Singapore. However, this Murray Bridge lamb rack marinated in Char Siew seasoning blew my mind away. It was perfectly grilled but still tender and moist while the crushed pistachio nuts on the top gave it that extra texture. The additional Hoisen sauce, local veggies and creamy mash was also a nice touch.
Another must try dish is the Crispy Pork Belly (S$26). It's slow cooked till tender before the chef torches the skin to produce gorgeous crisp crackling. The pineapple pickle was also really good.
Finally we come to desserts. I picked 2 of the must-try desserts and I certainly wasn't disappointed.
The Chempedak Bread and Butter Pudding (S$10) was glorious fusion of east and west. The baked croissant paired with creamy custard and chempadak  was served with a scoop of vanilla ice-cream.
If you could only choose one dessert to order, the most recommend one will be the ever-popular Jar of Happiness (S$10).  Aptly named, the mason jar is filled with shortbread biscuits, almond flakes, mixed berries strawberries, Ben & Jerry's ice-cream and topped with warm berry compote. If you have a bigger group (suggested to have 4 or more) you can even consider the 16 scoop version called Mountain of Happiness(S$48). I was told that if you (just one pax) are able to finish up the Mountain of Happiness within 15 minutes, it's on the house! What's more, you'll receive an apron and have your name up on their wall of fame.
If you are lucky, you might even spot staff wearing some quirky aprons. Keep your eyes peeled because each apron signifies a special flash promotion! I hope I'll get "Life is uncertain, eat desserts first" the next time I visit.
For those who want to try Spuds & Aprons, don't miss out on the Singapore Cable Car 40th Anniversary Promotion. You get a free dessert with every $40 spent from 1st March to 4th May 2014.
As if my night couldn't get any better, right after I took this photo with the large bells, a little girl playing nearby came up to me and said "You are really pretty!". Super sweet and unexpected. I was both delighted and embarrassed with her candid confession but it made me blush with happiness like a new bride.
This Easter, have an eggie-good-time with your family and friends at Mount Faber's new dining spot, Spuds & Aprons. Here's a sneak peek of the exciting Easter activities planned:
1. ALL-YOU-CAN-EAT EASTER BUFFET BRUNCH (20 April 2014, from 11.00am to 2:30pm)
Tuck into a delectable and sumptuous array of salmon sashimi, scallops, crabs, mussels, beef striploin, lamb, barbequed chicken, eggs cooked to your liking – fried, scrambled, omelette-style, classic hot-cross buns and more! This buffet brunch is at $55++ for adult and $18++ for child (age 3 to 12).
2. EGG-SIGHTING CONTEST (19 to 27 April 2014, all-day event)
Stand to win $100 dining voucher! Calling all Spuds & Aprons diners to flex your eye power and guess the right number of Easter eggs in the jar to win. Oh yes, it is less competitive outside meal times.
3. BUNNY AWARENESS PROGRAMME (20 April 2014, from 11:00am to 2:30pm)
What's Easter without bunny friends? Get to meet rabbits and learn to how to love and care for them the right way at the awareness and adoption drive by the House Rabbit Society of Singapore.
4. EASTER EGG HUNT (20 April 2014, from 12.45pm to 1.30pm)
Grab your Easter baskets… It's hunting time! Hunt for Easter eggs at Spuds & Aprons and exchange them up for delightful prizes. Our egg-stensive prizes include Easter chocolate eggs, complimentary Ben & Jerry's ice-cream sandwich and more!
5. ROVING MAGICIAN (20 April 2014, from 12:30pm to 2:30pm)
Upping the joyous occasion of Easter, kids can get up close and be amazed by the magic tricks by their roving magician.
Reserve a happy seat at (+65) 6377 9688 or email:customerservice@mountfaber.com.sg now!
FREE VALET PARKING WITH MINIMUM SPEND OF $30!
– Applicable for all diners (Spuds & Aprons and Moonstone)
– Excludes Eve of Public Holidays & Public Holidays
Thanks for reading!