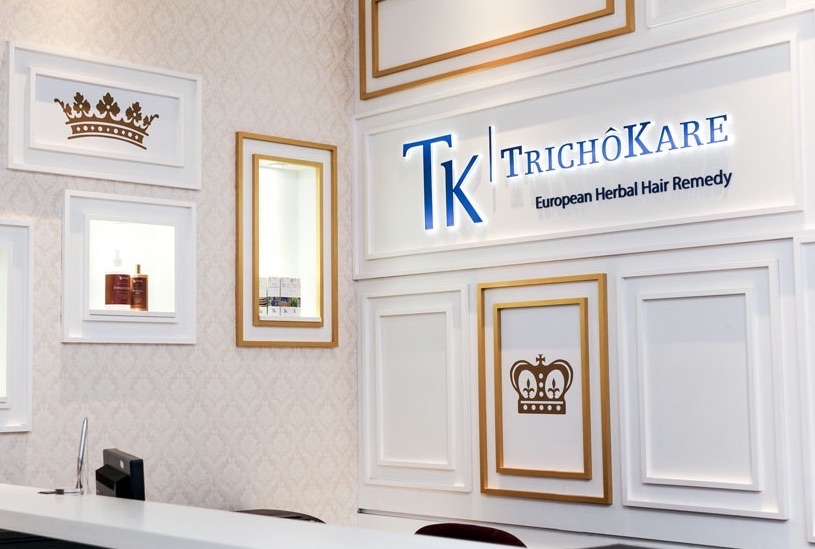 If I had to pick the one thing I hate most about my physical appearance, I'll have to say it's my thin, fine hair. Unfortunately, it's genetics and my whole family has got extremely thin, sparse and very fine hair. I'm actually the luckiest one of the lot! But my constant travel and high stress levels has only made the situation worse and I'm losing hair faster these days. It is pretty scary when you don't have much to start with.
From the minute I arrived at the TK TrichoKare branch at Novena Square for my appointment, I knew I was in good hands. The trichologist went into a detailed analysis of my health, habits and products used.
He took photos of my hair pores and explained carefully the whole process of the hair life cycle so I can actively protect and nourish my hair to prevent thinning issues. I even gleaned a few tips on how to properly wash my hair and when is the best time to use hair tonics! It's the professionalism and level of knowledge that truly differentiates TrichoKare from the rest.
There are three stages of treatments – Regulate, Strengthen and Densify. I was recommended a regulating treatment which will deeply cleanse & nourish the scalp.
TrichoKare is a leading trichological centre that provides customised European herbal hair remedies validated by certified trichologists.
It's no wonder that they have won so many awards including Elle 2017 Beauty Treat List. Famous personalities such as Xiaxue, Jaynesh and Anand have all visited TrichoKare to have their hair problems solved as well.
It is not my first time trying TrichoKare and you might have read about my previous experience before. TrichoKare addresses hair roots and scalp problems by leveraging on the healing abilities of natural European herbs. Using advanced formula and revolutionary technology, TrichoKare's Premium Herbal Hair Remedies are specially formulated by a professional herbalist and validated by Trichologists.  These products help in the promoting hair growth through regular maintenance.
 The whole treatment was very relaxing with hair masks, massages, hair washes, blow drying and even a red light treatment. However, my hair never felt cleaner or lighter after the process.
My pores before the treatment were blocked and completely clogged! It was actually terrifying to see.
The after care analysis showed that my pores were a lot cleaner as well. There was no more white build up blocking my hair follicles from growing stronger and denser.
It's been about a week after the treatment and I've already seen an improvement in the number of hair fall I get after my showers. I'm really impressed to see results after just one session and am completely tempted to go back to do a full course.
If you are facing hair issues and would like some help, you can try TrichoKare Award-winning Hair Densifying Treatment for $40 which includes a  FREE FolliGRO Ampoule and Energy Serum (total worth $743). More details on their website .
Thanks for reading!