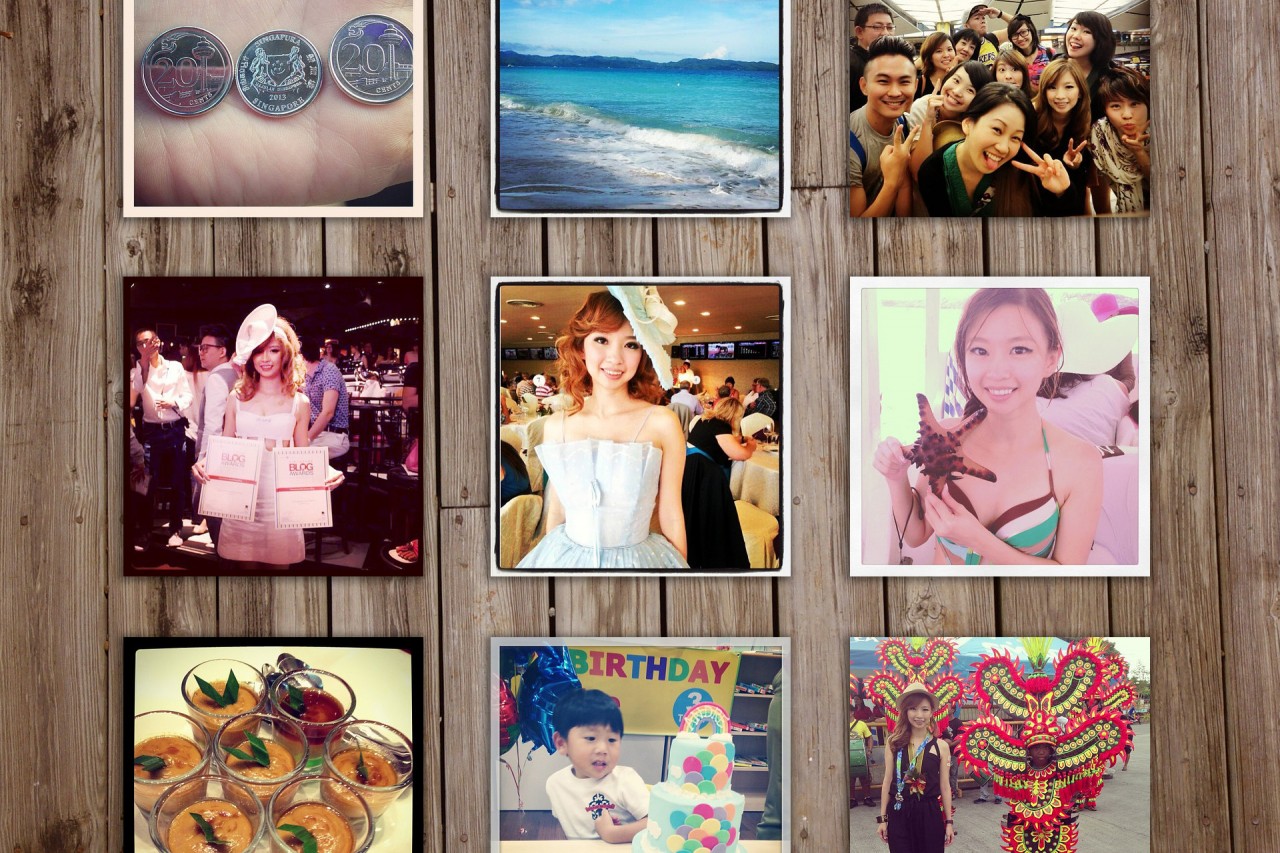 Here's a short summary of my July, I should have done this at the beginning of August but this was one of the post I lost when my iMac died but it's never too late to do a recap 🙂
Celebrated Smith's birthday at a lovely lunch with some peeps I used to work with.
Attended the Shiseido Ibuki launch to learn how skincare is tackling stress! You can read more here if  you want to know what it's all about.
My darling Clara H Nails came back to Singapore and did these lovely 60's inspired summer prints for my nails. They are all painstakingly hand drawn! In fact, they are still on my nails 2 months later even though my nail has grown quite a bit, I haven't had time to do a soak off so I'm just trimming them off slowly. I find it amazing that these nails survived 2 beach holidays with no problems!
I caught The Lone Ranger mainly because of Johnny Depp I'll admit. This show received mixed reviews from the critics but I actually quite liked it.
It was an exhilarating experience for me to have won Best Beauty Blog and Best Modelling Blog in this year's Singapore Blog Awards and I'm very grateful to all my family, friends and readers. I wouldn't have done it without your support. The whole event was 60s theme and you can read all about my outfit and the awards in my Singapore Blog Awards 2013 post.
I first held the new Singapore coins in July and they were much lighter then the old ones. It'll take getting a little used to the fact that the 50 cent coin is now smaller than the $1 coin.
I was very amazed to see how much the standard of film submission has gone up compared to last year. I have a weakness for perfectly executed creativity and I think both the student and open category winners for Best Overall Film are very impressive in this regard. They did so well and conveyed so much in the 3 mins time limit given for their videos, it made me very proud to be Singaporean. You can read more about the winners and their films on my ciNE65 post.
Had my first personalized Vanity Trove and I really love it! It's the best ever!
I have a soft spot for Straits Chinese or Peranakan food. It's one of the cuisines I grew up with and has one of the most unique tastes in the region. I was lucky enough to check out a whole new delicious spread of authentic Straits Chinese dishes at Orchard Café's show kitchen by new Executive Chef Paul!
I always have to head to Watsons to stock up on travel essentials before I head off on a trip!
I ran an instagram giveaway in July for these limited edition Emirates Derby Cup 2013 binos. Should I be running more contests and giveaways? Do you prefer instagram/facebook giveaways or blog giveaways? Let me know!
Outfit of the day shot as I travel super light out of SG to attend a wedding. Wearing my Roger Vivier heels that I intend to wear to the weddings so I don't have to bring additional shoes along. I actually fit a whole ball gown in my LV Keepall. That's traveling light for you!
Congrats to Alvin and Arlyn on their wedding! I've been waiting for these two to tie the knot 🙂
For the Emirates Derby Cup 2013, I went all 1950s vintage styled. This is one of my favorite vintage dresses cause it's super sweet!
Sweet surprise came in the form of a gorgeously big sunflower bouquet one of my sponsors passed to me to congratulate me for my wins at the#omysba2013
Had a new haircut and highlights. I actually trim my hair every 2-3 weeks cause it grows really fast.
So many beautiful memories of my Boracay trip with fellow bloggers. Thank you to Tiger Air and Philippines Department of Tourism as well as OMY for the experience.
All this medication and patches just for a muscle sprain I got from Zorbing in Boracay. Luckily it wasn't anything serious and healed on its own in a couple of days.
I had post holiday depression after coming back to Singapore and still wore outfits from dug out from my unpacked luggage for another day or 2 after I got back.
Hair treatment to help keep my hair healthy after putting it through strong sunlight and salty sea water almost everyday while I was on my Boracay trip.
Celebrated Godson Andre's 3rd birthday with a rainbow cake! More photos will be up on my blog soon!
Some sweets Rachie passed to me from her Phuket trip!
I splurged on orange temptations again. Shan't say what because I'm guilty!
Had Thai food with my family. I meet them every weekend and I've been away so much it makes me treasure family time even more. This also concludes my snapshot of July 2013! What an eventful month!