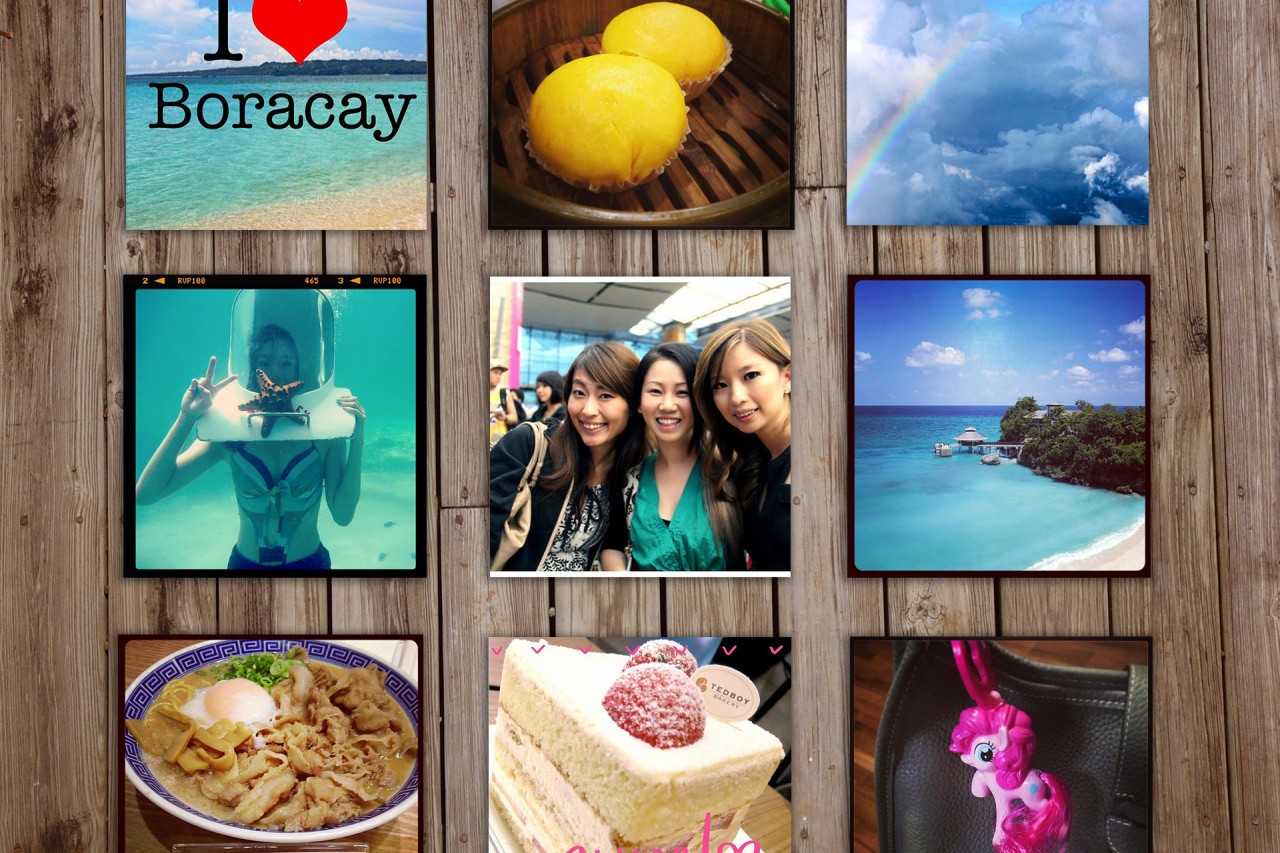 Seems that I may have not been doing flashbacks and monthly instagram snapshots for awhile so here I go.
Fell in love with this DVF jumpsuit even though I know I shouldn't be shopping so much anymore.
Went for food tasting for the Ultimate Ramen Champion of 2013 and I liked Buta God's noodle texture.
A vivi magazine and some lovely masks that Wendy gave me after she got back from Korea were the perfect end to many of my long days.
My favorite time to take selfies is when there is a natural sunset glow because the no color filter needed at all!
The above shot was a candid shot of me at the Singapore Airport as I waited to board my plane for a short weekend getaway to KL.
Yummiest 流沙包 (custard bun) together with all the dim sum brunch at Jin Xuan Hong Kong Restaurant in KL, Malaysia.
Did a McDonalds late night drive thru for supper and got this cute my little pony toy as part of my happy meal so I decided to use it as a bag charm!
Almost always, I'll try to have a slice of my favorite strawberry shortcake from Tedboy Bakery when I'm visiting KL.
This Giuseppe Zanotti high cut sneakers took me through my whole trip in the most comfortable and stylish way. Love it!
I spotted this cute and pretty DHC mini skincare set when I went Watsons shopping.
While doing up my Boracay posts in August, I couldn't help reminiscing the good times I had and this was also the push factor that inspired me to plan yet another beach holiday shortly.
Such a wonderful spread of goodies! Thanks to my lovely neighbors who invited us to tea to celebrate Hari Raya with them. I'm always thankful that all my neighbors are always so nice and kind.
My mum wasn't feeling too great because of work stress so I took her out for impromptu late night desserts.
The hard drive of my iMac died and it was one of the most painful things. Not only did I have to leave it at the service center for a week and fork out a hefty sum to repair it. All my information was gone. Luckily I did a backup for most of the most important things about a week or so before it died.
Had a lovely tea with my girfriend @reginachow_sg at one of my favorite hangout spots in Tiong Bahru.
Had 3 little pigs for dim sum at Changi Airport Terminal 2's Crystal Jade.
This miso pork and rice set from Tonkichi is so yummy too! I really do eat quite a lot even though now I've cut down to 4 meals a day.
Tried the salted caramel milk shake at The Providore but I still miss the ones I had in Melbourne.
Couldn't resist another beach vacation so I planned a short holiday trip to Maldives!
I don't know how to begin telling you how absolutely beautiful Maldives is. I spent the better part of my day in the crystal clear waters and woke up early for sunrise every day.
Met @sugar73 @euniqyou @pearlin for a lovely TGIF brunch right after I returned back to Singapore.
Had dinner with @melva_b and @sushiwu as part of Sushi's birthday celebrations at Bay Sushi (MBS) and I was absolutely not at all impressed with their service.
This concludes the snapshot of my August 2013 and I'll collate the snapshots of my September 2013 to share soon!