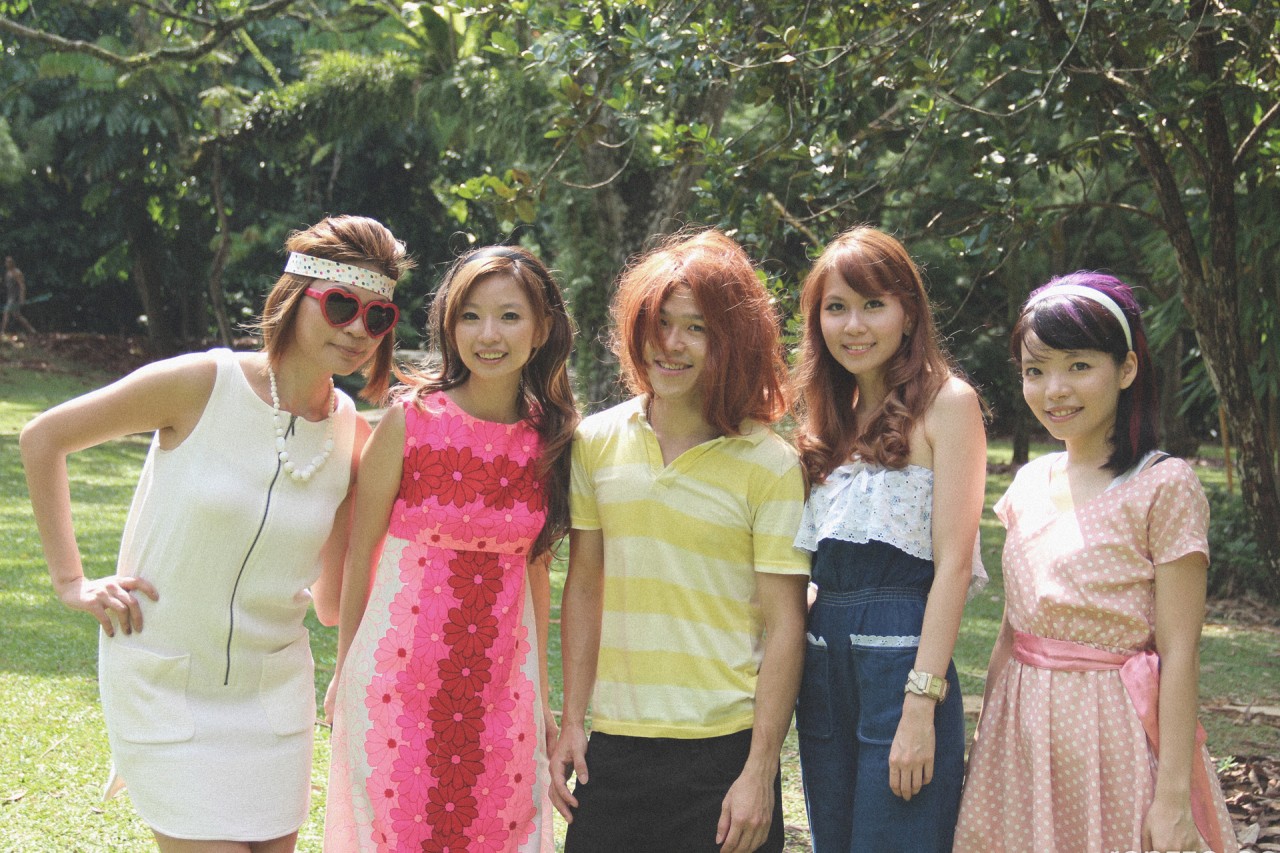 The main theme for this year's Singapore Blog Awards finalists is all about the 60s. I had gotten back from my Brunei trip and was actually surprised to have been shortlisted as a finalist in the Vlog category. Given my schedule, I only had 2 days to get my ideas, script and act together so that I could film my 60s inspired vlog post over the weekend. Thankfully, I have long been an avid collector of vintage fashion from the 1950s, 60s, and 70s which allowed me to have a vague idea of how revolutionary that time period was, even before embarking on a research of that era. The most difficult part was getting hold of items from the 1960s within a 24 hour period.
The 1960s was a time of political, social, cultural and psychological changes.
Starting from fashion, I delved deeper into what I know about the 1960s. Early 1960s was all about elegant suits, boxy jackets, oversized buttons and pill box hats as epitomized by Jacqueline Kennedy. By mid 60s, the British brought about a new wave of fashion trend known as The Mod. Men wore bellbottoms, turtleneck and had clean cut looks while the women followed suit with simple colored shift dresses and false eyelashes as hemlines started getting shorter. By the end of the 60s, the look moved from clean lines to a hippy rock style that will last long into the 70s. It was fashionable for men to keep their hair long and have a mop head hairstyle while women worked their beehive hairstyles to glamourous heights. Hats were no longer popular and everyone was sporting a bandana or something polka dot.
In music, Beatlemania had swept the world and brought together throngs of fans from all the different continents. New dances such as "The Twist" in the early 60s was all the rage and by mid to end 60s, rock and roll had morphed into many subgenres starting the evolution of modern rock music. Towards the end of the 60s, pop music culture had taken over.
While the west battled with the Cold War, in Asia, our attentions were focused on the Vietnam war as well as many civil unrests in the region. Singapore joined Malaysia on 31 August 1963 only to end up having to declare independence as The Republic of Singapore on 9 August 1965. Racial riots were common place in this region as well and it took a lot of understanding to bring harmony between the different races.
The Sixties also brought the space race to new heights and ended the race when America, through the Apollo 11 mission on 20 July 1969, put Neil Alden Armstrong and Edwin Eugene 'Buzz' Aldrin, Jr. as the first humans to land on the Moon.
Both Martin Luther King and John F Kennedy were assassinated during the 60's while our very own Lee Kuan Yew was holding his fort in the volatile, newly independent Singapore.
Iconic signs of Peace, Love, and Smiley faces that started in the 1960s are still prevalent in our society today even though it's been morph for different uses such as emoticons.
As you can tell, I had a decade of information that happened in the era of rapid change and instead of trying to deliver a series of facts, I decided instead to approach my vlog entry in a lighthearted casual manner in the same style I do with all my other videos – with imagination and a hint of humor. To convey the vibes, happiness, passions, inspirations and the changes of the 1960s in a SNAP. I wish I could have filmed with the authentic 1960s Canon Super 8 film camera I had but that's really just wishful thinking.
I do hope you enjoy my video and leave with a smiley face (pun intended)!
*****
*****
*****
*****
*****
SPOILER ALERT!!!!
If you haven't watched "SNAP" yet please do so before reading any further.
*****
*****
*****
*****
*****
I'm really thankful to all the friends that appeared in a moment's notice when I asked for actors and actresses 2 days before the shoot. It's in times like these that I get reminded of how blessed I am.
Of course, I could have chosen to do one person documentary styled vlog but I felt that one of the greatest impressions I have of the 60s era is how alive and sincere people were. In the 60s, technology hasn't gotten too much in the way of interaction and people naturally had authentic connections and interactions with each other. This magical bonding spirit is exactly what was needed to spark huge social changes like the Peace and Love Movement. The closeness and genuine caring for each other is something intangible and one trait that is lost in today's individualistic society. Feeling strongly about this in line with the theme, I just couldn't have been inspired to do a video with just me as the focus. I needed my friends to be a part of my 60s video movement so I can translate that vibe on camera.
Doing vlogs, short story films and YouTube clips is a passion that requires dedication. It's not always easy but when you enjoy the "work", the eventual result can be very satisfying.
I don't have a video crew and most of my vlogs are a one-man production with spontaneous friends who are willing to put their image on the line for me. I'm also working multiple roles from script creation, idea conceptualization, hair and makeup, direction, post editing and if need be, actress and host. Working with such limitations has taught me so much and I learn more with each video I do.
I have a ton of ideas, video concepts, tutorials and short films that I'll love to produce in the near future and it's my friends, readers, subscribers and family that have been giving me endless support and encouragement to pursue my hobby of content creation in both my blog and YouTube channel.
In preparation of this video, I had gone to at least 4 venues in one day just to scout for 1960s props but most of them were just too expensive.
Friends who heard that I was sourcing for items from the 1960s immediately surged forward with their precious items that they have collected or inherited. Most of the items carry sentimental value and each have their own stories to tell.
Since I love wearing authentic vintage clothing, its not surprising that Pia Chew of Dustbunny Vintage has become more than just the owner of my regular vintage shop but also a long time friend who offered some 1960's items for my shoot.
This Trimline phone was considered a premium design in the 1960s. It was an era where telephones were't widely available for purchase and most people rented their phones from the telco companies instead.
Another super premium 1960s item I managed to score for my shoot was this incredibly well kept Canon Super 8 film camera. (You've already seen some photos of it at the beginning of the post.)
Unfortunately, the clip where this item was featured had later been edited out of my final video so you don't see it being used in SNAP. Nevertheless, it taught me more about the 60s and their technological advancement.
Another behind the scenes authentic 1960s item that you won't see in the film is this Samsonite Suitcase.
Talking about dedication to theme, even my 'behind the camera' preparations used items from the 60s! This 1960s suitcase was used to transport all my 1960s precious memorabilia and props for the day of the shoot. I love old suitcases and I'm sure if I this suitcase could talk it'll tell me wonderful stories of the places it has been and the excitement of the 1960s. Oh, what another interesting 60's themed video that would make.
There are a couple more interesting props such as the book I was reading in the video which is an old Oxford dictionary my mother used in the 1960s and which had be subsequently handed down to me when I went to school. Inside the dictionary you could see my mother's name written when she was a child and my name which I had written in my childish scribbles when I was 5 years old. Or I could talk about the long vintage maxi dress I was wearing. As you can see, I could go on and on with all the the items that fascinated me but to keep things simple I 'm only blogging about the more unique items.
The last prop I want to highlight was lent to me by my good friends, Sushi and Daryl.
This old school camera was handed down from Daryl's grandfather to Daryl.
This Twin-lens reflex camera is by Shanghai Seagull Camera Ltd who is the oldest camera maker in China. This impressive premium top of the range 60s camera is an expensive piece of equipment in that era. To put it in perspective, this  camera costs about RMB290 in a decade where the average worker earned only RMB20 a month.
Seagull's cameras usually use basic, time-tested mechanical designs that require no batteries and you can still see lovely shots through this one!
Another thank you goes out to Wendy and Patrick for lending me their mobile changing tent on short notice.
Lastly, I also want to say a special thanks to God for giving me perfectly good weather in the only time slot I had to film this video.
The weather these days are unpredictable and it can rain at any moment. Luckily on that Sunday morning, I had a good dose of sunshine (maybe a little too much), and the rain only visited much later after filming had ended; when we were nicely sheltered and fed.
I would have loved to have featured my Godson, Leo, in the video as well but child actors have a even tougher schedule than adult ones. Do look out for him in my next one!
Once again, thank you Melva, Regina, JW and Tiffany for turning up even when you have no idea what the script was or what your roles will be. You just trusted me completely and I'm truly humbled by your love.
If you like my video or appreciate what I've documented here, please vote for me in The Best Vlog Category of Singapore Blog Awards 2013. Just sign up an account and you can vote for me everyday! Either way, I'll still be working on bringing you more videos on my YouTube Channel. In fact I'm working on a new one as I type.