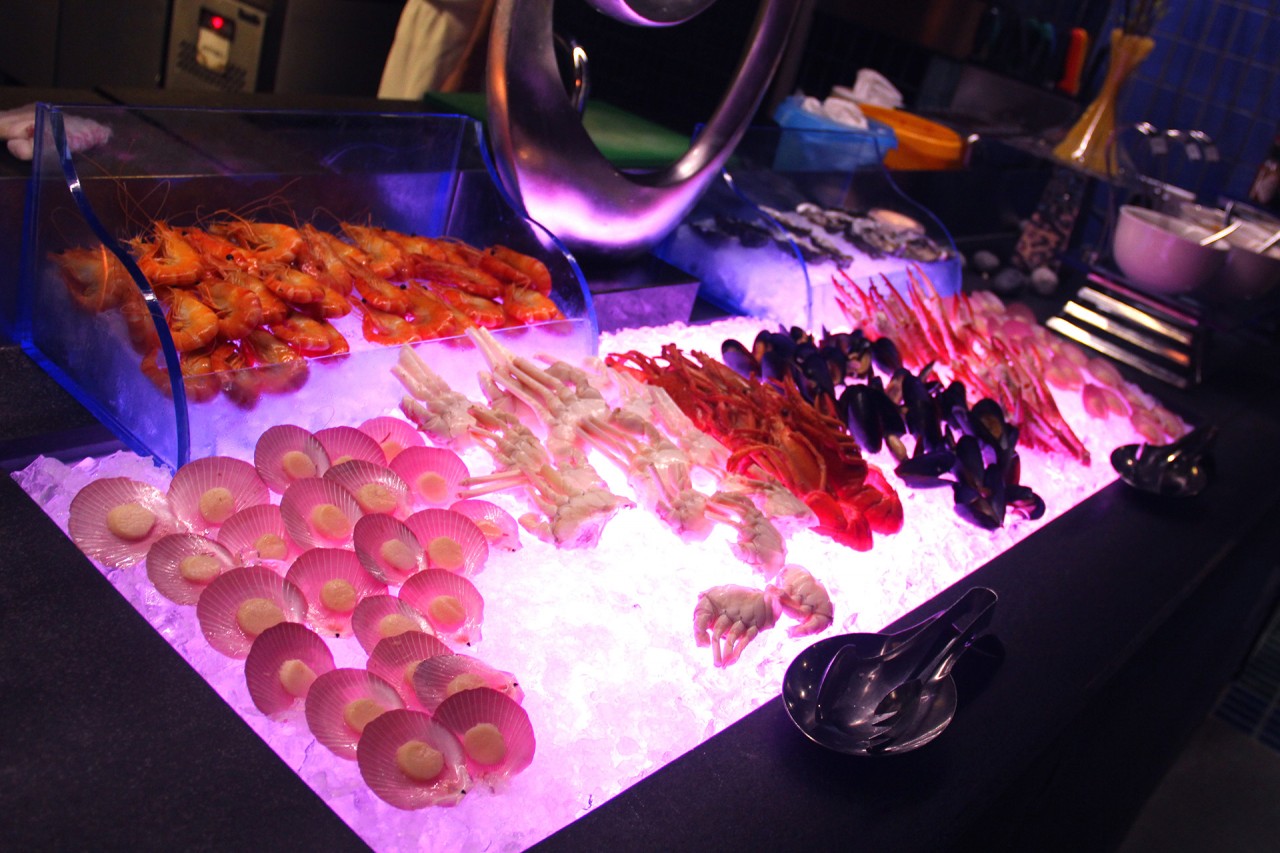 I frequent the Singapore airport pretty often but strangely I never tried Azur Restaurant at the Crowne Plaza Changi Airport until I was invited to preview their new Singaporean and Malaysian dishes created specially by Executive Sous  Chef, Andrew Tharm and his culinary team to celebrate both nation's birthdays.
Before I got too waylaid by the myriad of colors, tastes and smells of the buffet offering, I was informed that the chef was ready to showcase the some of the many local dishes that will be introduced for the Singapore & Malaysia Street Food Fiesta that will available at Azur every weekend in August starting 7th August 2013.
The first dish I tried is the Ipoh Hor Fun (Flat rice noodles, shredded chicken, shrimp, Chinese mushrooms, greens and gravy topped with fried shallots and green pickled chilli).
The melody of ingredients fused lovely together and you the sauce was rich and herbal tasting without being too overpowering.
Next, I had a taste of the Black Pepper Sri Lankan Crab. Executive Sous  Chef, Andrew Tharm used specially imported quality black pepper and you can immediately taste the difference as this black pepper was a lot more fragrant and gave a nicer kick.
A perennial favourite in both Singapore and Malaysia is the Sambal Stingray. This was probably the only dish that I felt could have been improved but that's mainly because I love my stingray to have a lot more sambal and the pieces to be not as thick. I gave my honest feedback to the Chef and he said that they will be fine tuning the dishes before it is officially launched.
My personal favourite of all the dishes I tried was the Curry Yong Tau Foo. I hadn't expected much of it but I was hooked the moment I tasted it. The curry looks very spicy but it is in fact pretty mild yet curry was incredibly rich and flavourful. This dish made my night one serving was just not enough. Luckily, this dish is part of Azur's buffet offering in August and you could eat as much as you like. In fact, I'm seriously craving another plate of this as I type.
Next, we tried the Oyster Omelette with Chinese Celery. The unique factor about this dish is the chilli. To give a unique Azur twist to the dish, the chilli was specially created with a special blend of spices.
As part of the Singapore and Malaysian Street food experience,the dessert bar, you can expect to be delighted by sinfully delicious Bobo Cha Cha with  Shaved Ice, Layered Pandan Kaya Cake as well as selection of yummy miniature desserts. I tried the Cheng Teng Gelee which is Azur's way of giving the common local ice dessert a more sophisticated finish.
In August, look forward to live stations where iconic street food will be prepared ala minute for diners and Azur's interpretation of hawker fare by Executive Sous Chef, Andrew Tharm and his culinary team.
Singapore & Malaysia Street Food Fiesta is available on weekends for brunch
and dinner.
Brunch (8 – 11, 17 – 18, 24 – 25, 31 August, 1 September 2013)
Adult: $52.00++ Child: $26.00++
Dinner (7 – 11, 16 – 18, 23 – 25. 30 – 31 August, 1 September 2013)
Adult: $65.00++ Child: $32.50++
* Please note that menu items differ for lunch and dinner and are rotated on a daily
basis. Please check with Azur for the full menu.
For information and reservations, please call 6823 5354 or visit
www.crowneplazadining.com.
*****
*****
*****
*****
*****
It was my first time at Azur and I also had a taste of their lovely selection at their usual buffet dinner so here's sharing with you even more photos of the food  there to get you salivating with me.
The standard buffet dinner fare at Azur has a huge selection of east meets west dishes from drool-worthy belly pork slices to exotic seafood.
I'm sorry for the overload of food photos but I really got carried away with the buffet fare. In Azur, the main buffet line is divided into 2 kitchens. One slightly tuned towards an international buffet lineup while the other kitchen caters to those who are looking forward to local dishes.
There was even a little sashimi and sushi corner for those who wants something different.
My favourite section in any buffet is always the dessert section. Just looking at the beautiful display of sweets is enough to brighten my day.
If you are a fan of ice-creams, I think you'll enjoy trying out the unique New Zealand ice-cream flavors that Azur carries. I really liked the blueberry muffin ice-cream and raspberry chocolate with chilli ice-cream.