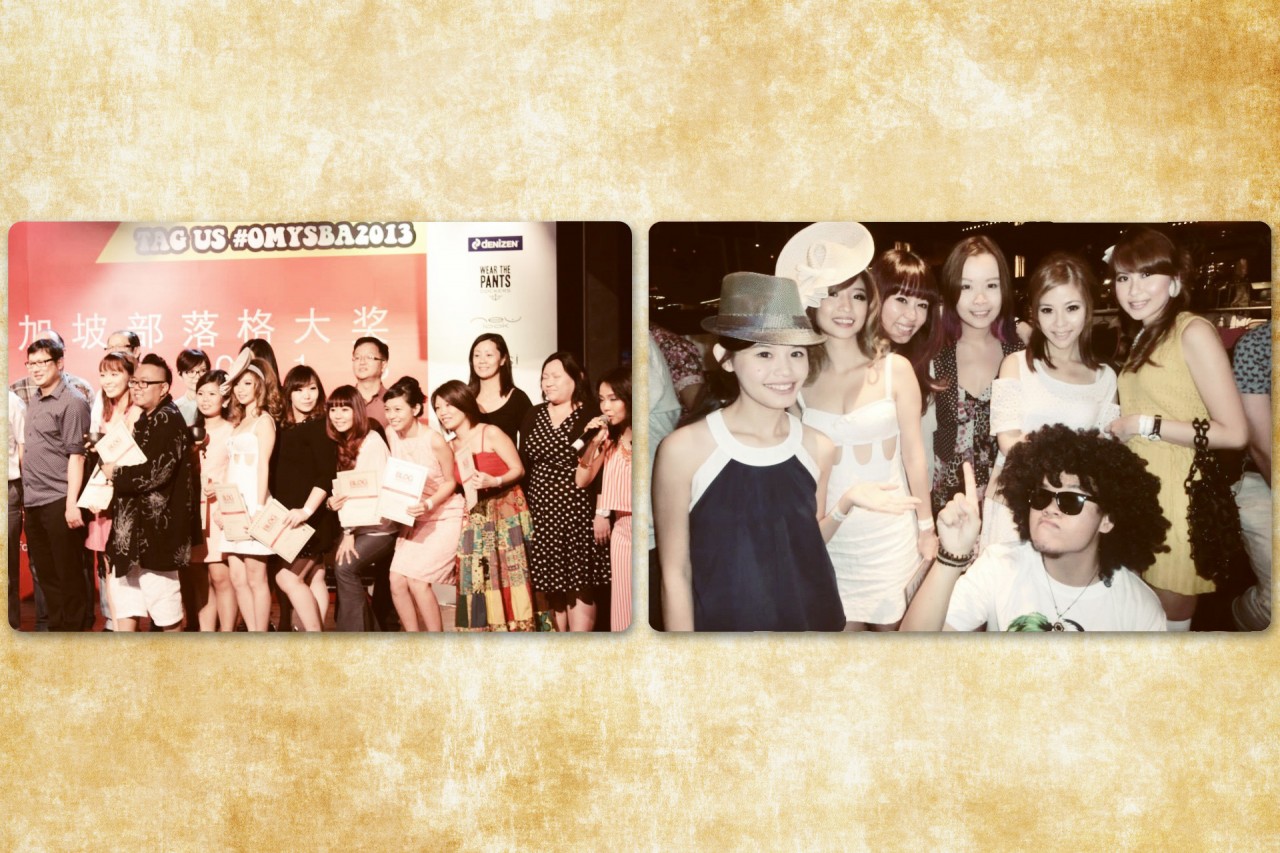 Warning: This is going to be a really long post because there is so much I want to share and so many wonderful people to thank.
I'm not sure if you have heard but I won 2 awards in the Singapore Blog Awards 2013. It was really exciting and unexpected for me and I can only thank all of you for reading my blog and showing me your love all these years. I'm really grateful that I've forged so many lovely relationships through my blog over the years and that my blog has documented a large part of my experiences which I can look back with nostalgia. I never expected to actually win anything from blogging since it only sprouted from simple passion to document my thoughts and experiences but it is always nice to be recognized for the efforts I've invested and it also gives me a good indication that whatever it is I'm doing, I must be doing it right.
This year, the Singapore Blog Awards ceremony was held at Shanghai Dolly with a 60's theme. As such, I've edited all the photos in this post to imitate how the photographs of the 60's would look like using film. Credits to fellow blogger Malcolm Sunny who contributed to a large part of the SBA event photos you see here because I didn't get much chances to take photos that day.
The 60's theme is quite a fun one and I've already had a taste of that when I filmed SNAP previously. I met Regina for lunch and we look incredibly out of place in our 60's getup at Liang Court.
However, once we stepped into Shanghai Dolly, we were instantaneously transported back in time. I love how everyone was game enough to really go all out with their 60's interpretations as well. There were so many familiar faces and it felt so heart-warming to walk into the place and feel surrounded by friends. Everyone was happy for everyone else and boy did we cheer our loudest for each other.
Even before we could finished catching up with hellos and getting excited with our different outfits, the awards ceremony started. The first prize given out was for the Panasonic Best Beauty Blog Award and I'm very honored to be sharing the stage with fellow winners Elrica and Elaine. It happened so fast I couldn't comprehend my win and I basically didn't move at all even when my name was announced.  It wasn't until friends around me started shouting "Karen, your name is called!!! Get on stage!!! What are you still doing here!", that I finally snapped out of my daze and quickly proceed to the stage to collect my prize.
Upon getting off the stage, winners were ushered off to do short video interviews to capture their emotions and thoughts about their win. To be honest, my mind was really blank and I didn't know what to say except that I was happy and shocked at the same time. Before I could finish my interview, Janet from OMY came over and told me to stay where I can see the stage since I was nominated for 4 different categories. I must have taken dozens of photo with others that day but none on my own camera! LOL. If it wasn't for Malclom who so diligently took photos for me and Regina that day, I probably won't have any photos to share. Please give me a shoutout if you see my photos elsewhere ya?
Shortly after, my name was announced yet again. This time I had won Glossi's Best Modelling Blog Award. It was another shocker for me to have won another award but I was not as blur this time and promptly went on stage to collect my award. Modelling my usual "Outfit Of The Day" is and has always been a very integral part of my blog. In fact, I can remember modelling outfits and posting them in forums even before I had renzze.com and it's been something I've continued to upkeep through the years.
I didn't get to really catch up much in the Singapore Blog Awards Ceremony because I was dashing around and everything seemed like a blur. But somehow, I still managed to share short moments with other bloggers and these photos are memories to be treasured. Who knows where each our paths will lead us in the years ahead.
Of course, I also had the mandatory photo taken together with all the other winners that night. Congratulations everyone!
I was then invited again to be back on stage as one of the top 10 finalist for Singapore Blog Awards 2013 Best Dressed. I love everyone's costumes! From big hair divas to hawker style uncle, you had all sorts of interpretations from the 60s.
I even got into the top 4 for best dress. I really have my sponsors to thank for helping me pull together my look for the 60s theme. The winner went to Mr. Mata (or maybe it's Ms. police woman with big moustache since it was actually a girl). Kudos to her for keeping in character all through the night with her toy gun. She really embodies the 60s era when "mata 穿短裤 " (Police wears shorts) as it was fondly remembered.
Thank you OMY, Panasonic, Glossi and all the other sponsors for organizing this event and recognizing bloggers for their efforts.
*****
*****
*****
*****
*****
Hat: Eskpade
Hair Styling: Sabun Cabane
Dress: Dustbunny Vintage
Magazine Clutch: myjotterbook
Boots: Masion Martin Margiela
I'll like to also thank the people behind the scenes that day that helped pull together my outfit. Seriously, with the exception of the boots which I purchased 2nd hand in Australia, this outfit wouldn't have been able to come together without much love from some awesome sponsors and they definitely deserve some recognition.
*****
*****
*****
*****
*****
Firstly, my incredible authentic big 60s hair style was created by Serene from Sabun Cabane. Here's some behind the scenes photos for you. Serene is an awesome stylist that is capable of giving you the exact style you wanted even before you know you wanted it! LOL. If you watched my hair styling tips using the Panasonic multi-style straightener video, you would have seen some of Serene's creations and tips that can be re-created on your own.
When Serene first heard about the 60s theme, her first question was " Which part of the 60s are you styling for?" It's a simple question but shows her versatility and also her vast understanding of trends and fashion which is an important quality for a stylist to have. I briefly considered the prim and proper early 60s ala Jacqueline Kennedy, the mid-60s with mod styling or the late 60s with a more hippy bellbottom feel. In the end, because it was an afternoon event in warm equatorial Singapore,  I went for the "Summer in the Mid-60s" look.
As you can see from the photos, Serene styled my huge bouffant hairstyle the traditional way, by setting my hair in rollers, just as how my mother would have done it in the 60s. The only other tools she used were, a hair dryer, brush and hairspray.
I have very fine and thin hair and I was throughly amazed that she could create so much volume using just my natural hair. It looks already voluminous from the front but if you view it sideways, then you can really appreciate how huge the hair really is. According to Serene, this is not even the biggest hair she has done before nor it this the biggest that my hair could possibly be . But she didn't want to tease my hair too much as over teasing the hair causes it to break easily.
The hair industry is saturated these days but once you find someone that is talented and knows how to achieve the looks you like, hold on tight! Most popular stylists these days relies on crazy loud colors to showcase their styles and while I love colors, I also place high value on stylist that can give me varied styles and looks that are striking without needed to use loud colors. I love fashion and so hairstyles that are versatile are very important to me. More importantly, I want great hair that I can take to play as well as to work.
If you are looking for a reliable stylist, I highly recommend Serene from Sabun Cabane. I'm quite picky when it comes to choosing a good stylist and I've given full trust in her abilities and I believe I'm not the only one because Sabun Cabane is always packed with loyal, regular customers (from locals to Caucasians to Indonesian Tai Tais) who will wait outside the salon even before it opens at 9.30am.
Sabun Cabane
Tanglin Mall, #03-22
163 Tanglin Road
Singapore 247933
Tel: +65 62352910
*****
*****
*****
*****
*****
Next, mine as well as Regina's authentic 1960s dresses are lovingly loaned to us by Pia of Dustbunny Vintage. Both Regina and I are huge fans of vintage outfits and are long time loyal supporters of Dustbunny Vintage. Pia, who owns Dustbunny Vintage is also a friend and she very kindly sourced these 2 outfits from her own personal collection when she heard that we were dressing up for a 60s theme event.
I'm in love with my white dress with the cute cutout holes. In general, I don't own a lot of slinky dresses and my vintage style is usually more sweet and classic rather than edgy. But this dress was able to push the envelope and still keeping to the 1960s theme. The cutouts are so strategically place to give some fun and sexiness without letting it look trashy despite it being short and slinky.
I love the yellow dress she lent Regina as well. That dress actually belonged to her mother in the 1960s. Regina's white earrings and black bag are also from Dustbunny Vintage. Pia made it her mission to dress us up for the Singapore Blog Awards and I think she accomplished it beautifully.
Dustbunny Vintage
Blk 112, #01-203
Bukit Purmei Road
Singapore 090112
Tel : +65 6274 4200
pia@dustbunnyvintage.com
*****
*****
*****
*****
*****
One of the most outstanding accessories I had on me that day was my hat. I'm sure it's no surprise to you (if you've been reading my blog regularly) that I'm a big fan of hats and fascinators. In fact, over the years, I've amassed quite a collection and most of them were bought in US, Australia and Hong Kong. Naturally, I was super excited when Kristine Hakim set up Eskpade in Mandrine Gallery to cater to hat lovers like myself.
Both Regina and I had our headpiece sponsored by Eskpade. Regina's headpiece is slightly less visible on photos because she pinned it behind her cute little beehive but if you look through all the photos, you'll spot the beautiful ribbon that is very Valentino bow inspired.
Entering Eskpade boutique for me was basically like a child walking into a toy store. I was delighted and fascinated all at the same time. Each piece at the store is unique and hand crafted with love from the talented owner, Kristine Hakim.  Kristine lived most of her life in Singapore where she obtained her Diploma in Fashion Design from Raffles Design Institute before embarking on a journey to Paris to pursue her dreams. In Paris, she trained in the legendary L'ecole Lesage Atelier de broderie, Paris American Academy and the famous oldest fashion school in Paris, Studio Bercot. Her fashion experience includes working with a french haute couture designer, Dominique Sirop, Esther Perbandt in Berlin, textile and style curator, Jennifer Shorto, and Studio Bercot as the textile application lecturer in Paris.
A lot of her design oozes old school glamour which is perfectly up my alley. I was almost transported in to the world of The Great Gasby just by trying on some of the more 1920s inspired designs. In fact, both Regina and I got so mesmerized with all the hats, feathers and hand crafted lovlies that we almost forgot that the purpose was to choose something for our 60s outfits.
Even though I was casually dressed with no hairstyling or glamourous makeup, just putting on the these hats immediately gives a subtle air of distinction. If you really want to stand out at your next party, photo shoot, event, this is the easiest way to do it. More importantly, these designs are so gorgeous, they are natural conversation starters.
One of my personal favorites in the shop is this eye-catching headpiece with a hand embroidered bird. I could think of a dozen dresses that I have in my wardrobe that will go perfectly with it.
In case you were wondering, I didn't pick it in the end because I was more focused on choosing something that would match my dress. I really loved the bow one that Regina picked but there's only one piece of everything and in the end I went with the headpiece that reminded me of summers, picnics and sunshine.
Since it was pretty last minute, we couldn't take up the offer of customizing bespoke designs that Kristine so generously offered. At Eskpade, they can customize hats, accessories (and well, almost anything, really) to suit your needs. I think it a wonderful service and it would mean that you can match any of your outfits easily. I think customizing special headpieces make a great gift especially if there is a special occasion. Kristine can even embroider your initials or a special message to commemorate it.  I'll love to have a beautiful classic headpiece with my name and date sewn on the inside just so that I could pass it on to future generations. It's the details (and good workmanship) that makes a fashion piece special and worth preserving.
Thank you Eskpade for giving us such beautiful works of art.
Eskpade
333A Orchard Road,
#03-20, Mandrine Gallery
Singapore 238897
Tel: +65 6887 3680
info.eskpade@gmail.com
*****
*****
*****
*****
*****
On the SBA 2013 event, a lot of people came up to me to tell me how much they love my magazine clutch and most of them were actually surprised to find out it was a clutch that as they thought I was holding on a vintage magazine to complete my look. Personally I love it and I'm grateful for the cool girls at myjotterbook.com for gifting it to me. In case you didn't know, I'm crazy about their book clutches. Anyways, I told a number of you at the event ( especially the two girls that  repeatedly told me not to forget to blog about it because you guys are dying to get your hands on one) that I'll blog about it and share it with you. Unfortunately, myjotterbook no longer carries their range of magazine clutches. However, you should seriously check out their book clutches and cute offerings. You'll fall in love just like I did.
*****
*****
*****
*****
*****
Thanks again to Malcolm Sunny for staying back after the event to do a little mini-photo shoot with us and generously sharing it with us.
To Regina for being the friend that shares my blogging passion, joys, frustrations, fashion tastes and more. Congratulations babe, for winning 3rd prize for "Qoo10 Best Shopping Blog" in the Singapore Blog Awards 2013. To JW who played impromptu photographer/actor on several occasions and tolerated my teasing over the last few years. Thank you also to my inner circle of close friends for being there for me always (I'm not naming names here because this post is long enough as it is, but you know who you are and you know how much I love you all). I'm stronger because you all love me and are always rooting for me even though I'm always busy and not catching up as often as before.
Of course, a big thank you to those that voted during the campaign period for me as well. I know voting takes effort and it's deeply appreciated!
Finally, to my mystery man who hates any mentions or publicity and prefers to stay hidden from prying eyes, thank you. You will always be my rock and I'm better because of you.
I'm going to end this post by sharing some of the photos taken by Malcolm at the Singapore River. He just got his DSLR and making good use of it!
Solo shots.