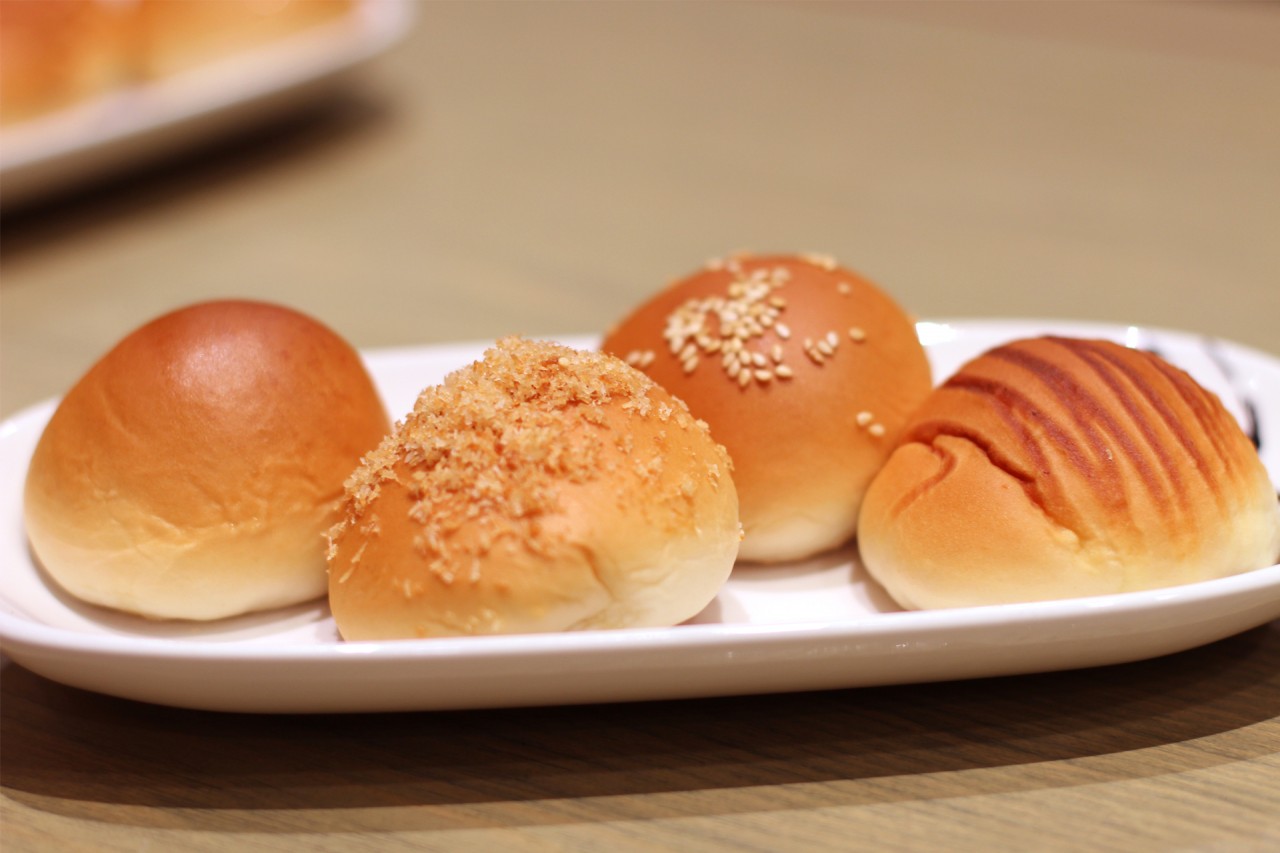 Occupying the space that once used to be MOS Burger in Bugis is a new Hong Kong inspired restaurant, SIFU.
SIFU, a reference to 'master' or 'teacher' in Cantonese, pays homage to a master with over thirty years of experience with its signature dishes. Led by a Hong Kong chef, its team of cooks put their unique touch on classic dishes by balancing original tastes with local palate preferences. A lot of thought and feedbacks have been considered with each dish and they are open to constant improvements which will be the key to this restaurant's success.
Great for families, gatherings or even a fun casual date, the interior of the restaurant has a contemporary casual chic vibe which makes it a lovely place to stop by for a comfort meal after a busy day.
In the corner of the restaurant, there's a little in-house bunnery and take away counter which is the source of the delicious fresh bread aroma that wafts down to whet the diners' appetite. The handmade soft pillow buns (香港式餐包) are one of the signature dishes at SIFU. Each day, the buns are baked fresh using traditional chinese styled methods of bread making. What's unique about these pillowy soft buns is the technique used in wrapping the filling. Individually handmade, each SIFU pillow bun is made using the same wrapping technique for a Xiao Long Bao to leave an air pocket cavity above the filling on its base, and giving the bun its soft bite. It takes a total of 98 mins to make each bun!
Some diners might feel "cheated" that their bun consists of an air pocket instead of being filled completely with the fillings but the amount of fillings and texture of the buns are balanced just nice to give the best overall taste.
These handmade buns come in four fillings, ranging from the traditional Hong Kong-style savoury Char Siew (Roasted Pork) and Hong Kong-style creamy Sweet Custard, to the creative Azuki (Japanese Red Bean) Custard and refreshing Yuzu Cheese. Personally, I liked the Char Siew version best but Raphael preferred the Azuki bun. The Azuki (Japanese Red Bean) bun was created because an elderly lady customer requested for it. It goes to show how much SIFU values feedback from their customers. You can either choose to order the buns for dine-in with their meal or walk in for over the counter take-away. Each bun is retailed at S$1.20 and a box of eight buns is at S$9.60.
The must-try dish for me at SIFU is their Signature Caramelised Roasted Ribs in special sauce which is sold uniquely as individual ribs (S$3.90/rib). Gorgeously tender and well cooked, the rich caramelised ribs are delicious! You may order as many of them to complete your meal as a part of a multitude of dishes at SIFU. In fact, I heard that one customer bought 10 of these ribs and a side of vegetables to create his own 'rack of ribs' meal! These yummy ribs are made in limited batches to ensure freshness so be sure to order them early!
Another hot favourite is the Prawn Toast (S$8.80) which were crispy and flavourful. A great starter to any meal or even as a savoury afternoon tea snack.
The Pulled Pork Ribs Chinese-style Slider (S$4.80) uses Chinese Lotus Leaf Bun traditionally paired with fatty pork slices.  SIFU replaces the fatty pork slices with its version of caramelised roasted pulled pork, and complements it with crunchy greens for a refreshing balance. I love how the lean meat shreds make it a healthier snack compared to the usual Kong Bak Pau.
Those looking for a healthier snack can try the Salad with anchovies and Japanese Dressing. It's fairly simple but having greens helps to refresh the palate and gives the taste buds a break from all the other rich foods.
For those who prefer a more traditionally prepared chinese greens, you can try the vegetables with mushroom and garlic instead.
Now for the heavyweights. One of SIFU's top three dishes is this full-flavoured Homemade Beef Stew Rice (S$10.80).
The dish of beef, carrots and radish is served with rice (instead of the traditional noodles) so that the gravy envelopes the fluffy rice and quail egg well. The beef is cooked for six hours to tenderise and absorb the flavours of the herbs and seasoning, leaving it fork-tender and delectable to the taste buds.
The Pork Chop Dry Noodles (S$9.80) features a very generous slab of 'palm size' pork chop. Each pork chop is chosen for their substantial portions to ensure you a hearty meal. The highlight of this dish lies in its sauce and noodles. Specially-ordered thin, stringy traditional Hong Kong egg noodles soak up the house sauce so customers can enjoy flavour with every bite.
If you needed a one-dish meal then your best bet will be to order the Signature Roasted Chicken Thigh and Shrimp Dumpling Soup Noodles (S$10.80).  A truly comforting dish, the hearty rich soup is served with special beehoon (a cross between vermicelli and local beehoon) that takes the place of typical egg noodles, to provide a springy and light bite. All these are topped with juicy fat shrimp dumplings, marinated and wrapped in-house by the chefs. The colossal portion promises to leave you satiated and gratified. I felt that the chicken thigh was tender though not marinated long enough. To counter that, you can ask for their spicy in-house 'chilli oil' as a dip.
To end of my meal, I tried the Milk Pudding (S$5.80) which reminded me of the ones I enjoyed in Hong Kong. A popular dessert from Macau, this dessert is milky goodness in a jar! Creamy and smooth with fine "sawdust" (finely crushed biscuits) topping and the delicate texture makes a perfect ending to the meal. I was already very full by the time dessert came around but this yummy pudding convinced me to scoop spoonful after spoonful into my mouth. The "sawdust" is added just before serving so you can choose to have your dessert without it if you don't like that additional texture.
If you are a "Cha Chan Ting" fan and want to explore new alternatives in Singapore, just pop over to SIFU Hong Kong Dining and give them a go. Don't forget to order the pork ribs and the milk pudding!
SIFU
Bugis Junction, #01-69,
200 Victoria Street, Singapore 188021
Tel: +65 6337 7613
open daily from 11:30am to 10:00pm
Thanks for reading!