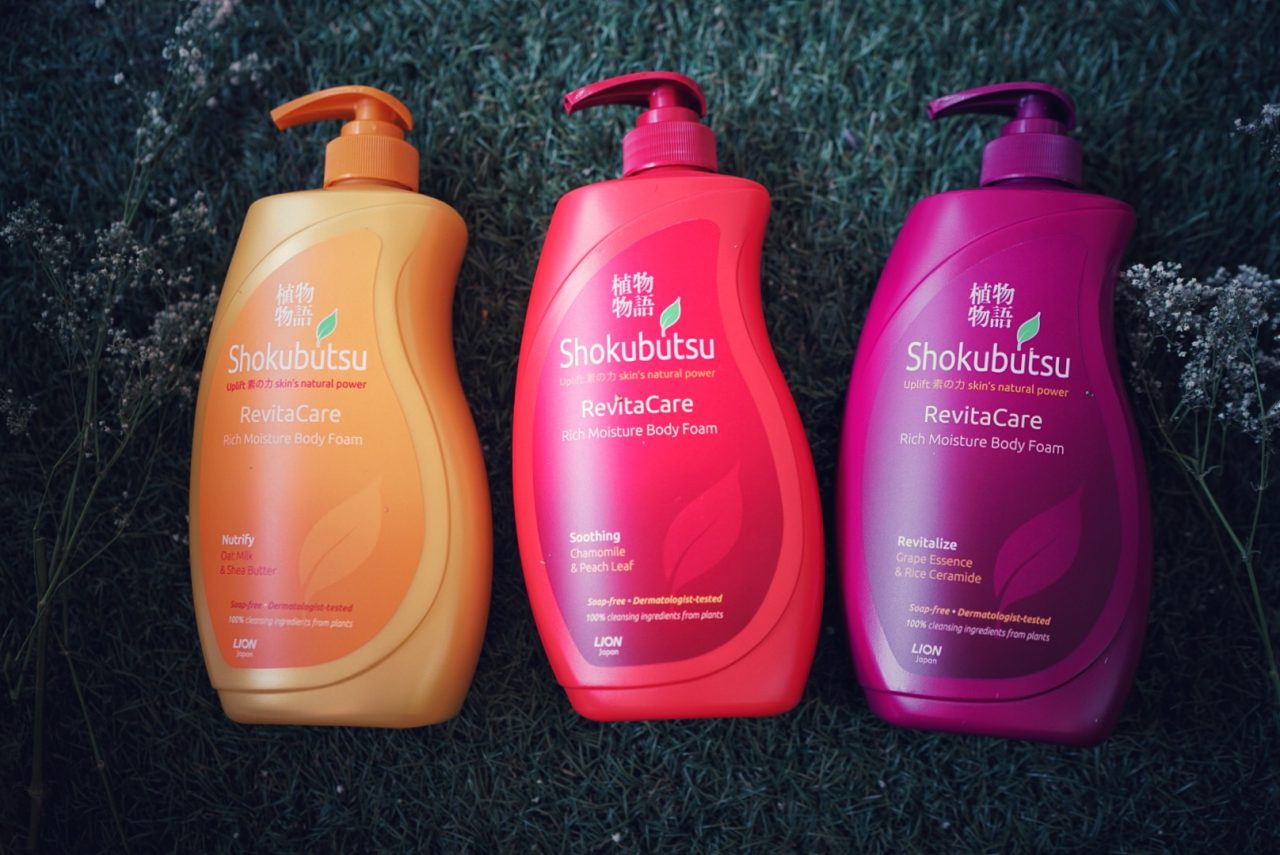 Singapore Fashion Week just passed and while fashion trends come and go, beautiful hydrated skin is never going to go out of style. These days, I'm noticing how my skin gets dry easily whenever I travel or when I fall ill and skimp on my beauty routine. I have had a very hectic October with different time zones, birthdays, weddings and even a funeral squashed between my over-packed work schedule.
It's time to get back on track with hydration and my review of Shokubutsu Revitacare Rich Moisture Body Foam couldn't be more timely.
This range of body foams contains a new 'UPLIFT 素の力' formula that helps to melt away the stresses of modern living. I've written many times in various blog posts and articles that I am a firm believer of hydration. Traveling brings its own forms of stresses such as dry, low oxygen flight cabins that sucks all the moisture out of the skin leaving it lifeless and dull. If you have been following my Instagram @renzze , you would also realise that I'm constantly moving from one climate type to another. Today I might be enjoying the sun, sand and sea of Maldives (as seen in the photos) and tomorrow I could be bundled up for winter in Tokyo. To counter all the various changes that cause stresses to my skin, I need to make sure I'm hydrated and that my skin is well-taken care o and moisturised.
Before going into more complicated routines and lotions, we should start with the easiest way of moisturising – in the shower with a gentle body foam that has additional moisturising care. While there are many body shower foams that provide moisturising benefits, Shokubutsu Revitacare Rich Moisture Body Foam takes it one step further.
However, their new Shokubutsu Revitacare Rich Moisture Body Foam does more than just moisturising, the unique botanical blend not only moisturises but helps to reduce skin irritations.
It's soap-free, paraben-free and dermatologist tested to leave your skin soft, dewy and healthy.
There are 3 variants for you to choose from:
Nutrify – Oat Milk & Shea Butter for moisture boost and renewed glow.
Soothing – Chamomile & Peach Leaf for soothing care and renewed glow.
Revitalize – Grape Essence & Rice Ceramide for youthful and renewed glow.
 Personally, I really like the comforting and hydrating feel of the Nutrify one best though I will be putting all three variants in my shower for rotation.
My family is a big fan of the Shokubutsu Radiance Body Foam for several years already and they were more than happy to make the switch to this new formula.
You can purchase them at all leading supermarkets and retail outlets at $10.50 for a 900ml bottle and $5.50 for a 600ml refill.  If you would like to try a free sample of it, simply head over to Sample Store here: https://www.samplestore.com/shokubutsu-revitacare-rich-moisture-body-foam.html
Thanks for reading and have a great week!