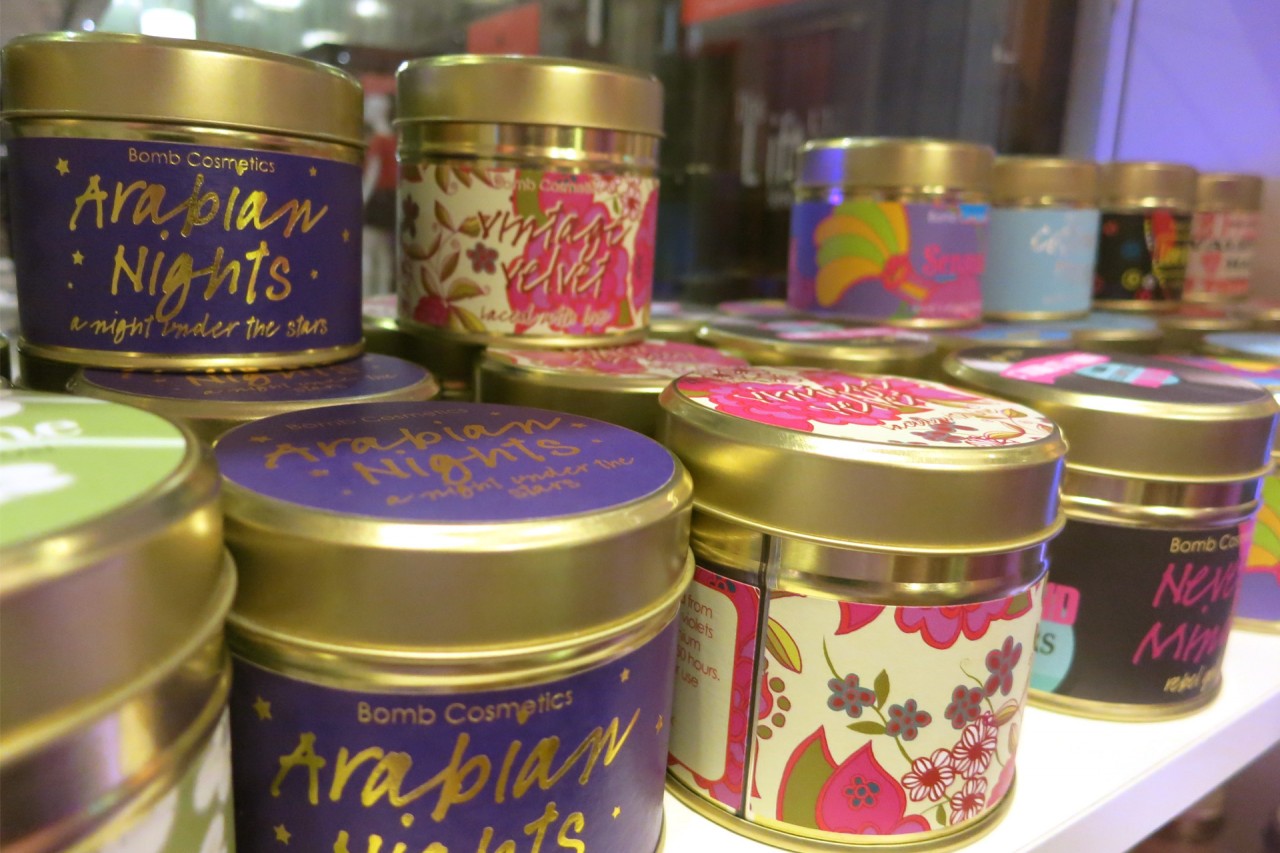 Singapore is a wonderful country to live in (yes, I know it's not perfect) but after traveling all over the world, I've come to appreciate the beauty of this small island. One of the best things about Singapore is the shopping, you can get almost anything and everything in a easy and accessible way. I was reminded of this when I visited a little shop called Shea at the basement of Orchard Central. I had discovered this little gem just before I left for my Boracay trip but didn't really get to writing about it till now as I wanted to test some of the products out over time before giving my reviews.
This shop is a wonderful minefield of surprises. You can find brands from all over the world – England, Australia, Wales, Africa, India, Southern France, Morocco, Ghana and more. The owner, Jagdeep, brought in most of these unique brands out of the passion to make high quality bath and body products easily accessible to the Singapore market. Shea was named after shea butter as it is one of the key ingredients in the store and also one of the most moisturizing and hydrating ingredients when it comes to bath and body products!
Amazingly, despite the excellent quality, most of the products have incredibly down to earth prices which makes me wonder why I'll ever want to buy similar priced drug store bath products again. The colors, smells, texture and variety available at Shea are totally heavenly!
Some of the brands you see in this photos are Bomb Cosmetics (England), Savonneire le Serail (France), Nyssa (India), Specialty Soap Shoppe Queensland (Australia), You're Gorgeous (Wales), Shea (Ghana) and Saadia Organics (Morocco).
To be absolutely honest, I got pretty lost while browsing through the racks and racks of products. There were just too many choices and I wanted to try everything! Luckily the staff at Shea were extremely passionate and knowledgeable about the various products and could give me a background of the brands, what they were good for and which ones were most suitable for me.
After trying the products for close to a month I'm happy to report that I'm one satisfied customer and I'm looking forward to going back and buying more! Most of the products in the stores are generally SLS and paraben free. In addition, almost all their soaps and shampoos are painstakingly hand crafted with the finest materials resulting in not only a beautiful outlook but are also extremely functional. Bath time to me is not just necessary but also a very sacred process as it's one of those rare moment in a long hectic day that I can just relax and unwind. These products make that special time even more pampering and takes good care of my skin by adjusting the pH levels to suit the skin and using natural ingredients to lock in the moisture.
The photo above shows the items that I've been trying out recently and I'm gonna share with you my thoughts on each and everyone of them.
First up is this Mandarin & Orange Cleansing Shower Butter from Bomb Cosmetics. Bomb Cosmetics currently export to around 47 countries and they distribute to just about 2,800 retailers in the UK alone! I noticed that they have one of the largest and most creative ranges in Shea with a multitude of products having distinctive fragrances using shea butter and expertly blended essential oils. Their packagings are so pretty that they make great gifts especially for girls who love smelling good the whole day.
I brought a tub of Mandarin & Orange Cleansing Shower Butter from Bomb Cosmetics home and was surprised to find that the texture is quite solid and felt more like thick and very rich body butter rather than liquid soap. You can see the texture in the little tub on the right side of the photo below. I had scooped a little out in a handy travel container when I went to Boracay. A little goes a long way and the scent fills up the whole bathroom in the most pleasant manner. Absolutely moisturizing, it's great for those who have dry skin like me! I'm so glad I brought this on my trip because my skin was so dehydrated and sunburnt from too much sun that it would probably have been even more irritated and itchy had I used the hotel's gel soap.
In the tiny travel tube on the left side of the above photo, I had scooped some of Bomb Cosmetics Sunkissed Body Butter for my trip.
This is the best body butter for showing off your skin! Other than smelling fantastic because of the patchouli and mandarin essential oils, it is totally moisturizing, easy to apply and is non-sticky. The main reason why I rate this as the best body butter to show off your skin is because it makes your skin shimmer! There are very subtle and fine gold shimmers that makes your skin looks absolutely divine. Shimmering lotions are not exactly a new concept but it's hard to find products that are able to get just the right amount of shimmer. I've come across a fair share of shimmer products that didn't get the consistency right, making it seem as though you accidentally spilled a whole lot of art and craft glitter on yourself. Bomb cosmetics' Sunkissed is the perfect name to describe what this shimmer does to your skin, it's the subtlety of the shimmer that makes this product highly desirable, your skin glows gently looking moisturized and smooth and most people can't even tell that you applied a layer of shimmer lotion.
Also from Bomb Cosmetics, UK is this Rhassoul Mud mask. A purifying mask with Kaolin sourced from Cornwall mixed together with pure Chamomile and Bergamot essential oils. The scent is lively and refreshing, making this a great mask to put on at the end of a long day out. The mud draws out the impurities from your skin and you can apply it when you feel that your skin is oily or clogged.
Bomb Cosmetics Lavender Bath Blaster is one of easiest and most convenient way to introduce aromatherapy and essential oils into your bath routine. Just drop this into your bath tub and watch it fizzle away as it fills the air with the wonderful scents. In Singapore, it's not common for most people to have bathtubs in your home but you can always pack one of this away when you are planning for your next vacation or staycation. Most American or European countries that I travel to tend to have hard water. It makes my hair dull and leaves an invisible soap film on my skin after my bath which is super drying to the skin. For places like these I'll bring the Bath Blasters for my bath as the Bicarbonate of Soda softens the water and gives me a beautiful bath experience.
If making your home smell fantastic is one of the ways you relax, then you should give these Little Hotties from Bomb Cosmetics a go. There are so many fragrances to choose from and you can even pick and mix them together for your very own fragrant recipe.  Pop a few of this over an oil burner without adding anything else. The fragrance is strong, long and lasting.
It's the easiest way to create your very own signature scent for your home and if you don't have a burner, just pop into any Daiso to grab a $2 version because it works just as well. A full box of Little Hotties can give you up to 132 hours of fragrance.
I also tried out a slab of Rose Butter Soap from You're Gorgeous. They make gorgeous (pun intended) natural organic soap using the traditional cold pressed method in Northern Wales. Although there were so many blocks to choose from, I eventually decided to try their best selling Rose Butter Soap as it's mild, creamy and absolutely beautiful to look at. The cocoa and shea butter content in this soap keeps my skin well moisturized while the essential oils of geranium, petitgrain and ylang ylang worked on my senses. I had actually expected to find it difficult to switch to using bar soaps after being used to using liquid soaps for years but I found no resistance to the change. Putting a slice of it into my cute Hello Kitty soap dish with cover, a small slice lasted me more than a month and I will be looking to try out other butter soaps from this range once I've finished my current supplies.
Founded in 1949 by Vincent Boette, LE SERAIL soap factory has, for almost half a century, continued to traditionally manufacture Marseilles soap according to the very best practices. The owner of Shea highly recommended me to try this pure and organic soap that works best on sensitive skin. It comes in both solid soap as well as in liquid form. There is nothing fancy about the packaging but that doesn't diminish the fact that it's a wondrous little product. Marseilles soap is renowned worldwide for its hygienic qualities but traditional soap making is a laborious art and LE SERAIL soap factory is now the last factory in Marseilles. It produces top-quality soap that is entirely natural. Savonnerie le Serail is the only savonnerie (soap factory) that still makes the famous Savon de Marseilles by hand; cooking the delicate mixture of olive oil and Mediterranean Sea salt in an ancient cauldron for 8 hours, then letting the soap set for 4 days and finally drying it for at least another 14 days. They then dry it for yet another 4 weeks to reduce the water content and harden the bar so that it lasts even longer.  The bactericidal and hypoallergenic properties are recommended by pediatricians and dermatologists alike.
I'm currently trying out LE SERAIL soap in the liquid version and it works wonders on my dry skin. I do have spates of eczema or hives from time to time and this soap soothes the skin to prevent further inflammation or itching. It is so mild, I'm considering taking it along on my next visit to the vet to ask if I could use this on my dog, Louis to help sooth his skin issues. I think that it's only after trying out the super pure and moisturizing soaps from Shea that I realize what all the fuss about quality soaps is about. It really does make a difference compared to the usual chemical filled soaps and yet the difference in price is almost on par!
Maybe next time I'll try LE SERAIL's lavender infused shea soap bar with a 72% olive oil base.
For those with dry problem skin, Shea based soap may only be step one to helping your skin ease the irritations. You can also try using Pure Unrefined Shea Butter as a moisturizer after your bath. Shea has a variety of uses but is famously used as a skin moisturizer and treatment for certain skin conditions like eczema, diaper rashes, sun burns, stretch marks and more. Super-rich in Vitamin A, E and F, this Pure Unrefined Shea Butter contains no chemicals, preservatives, or additives.
Initially I found it difficult to work with but I soon learn the trick was to warm it up your hands before applying to the skin. I have been having a little fun customizing my own moisturizer with this little ingredient. Here's one of my homemade recipe: First, pour out the shea butter into a plastic wrap and leave it in the sun to melt slightly, then transfer to a bowl. Add 5 table spoons of pure grapeseed oil and a few drops of whatever essential oils you like. I used a few drops of lavender and rose essential oils. Whip it up till it's nicely mixed then transfer back into the original container. My homemade oil is so good and so fun to design that I can't wait to use it all up so I can make a new batch using different oils!
Last but not least is Saadia Organics Argan Oil. Argan Oil is rare and precious and has been used in the beauty rituals of Moroccan women since antiquity. If you have been reading a lot of women and beauty magazine you'll realized how highly sought after Argan Oil is due to its' endless benefits. Truly authentic Argan Oil is next to impossible to find, but Saadia Organics is offering the purest, cosmetic grade Argan Oil available anywhere. With such an exquisite oil in such high demand worldwide, it's only natural that there are many diluted or fake versions out there. Pure Argan Oil like Saadia Organics smells a little nutty and are normally sold in a dark cobalt or amber glass bottle instead of plastic to help keep the oil fresher for a longer time. I had an incredible time using this on my travels as it's so wonderfully multi-purposed. You can apply it on your face and skin to sooth itchiness, sunburns, help keep dryness and stretch marks away or use it on the hair ends to let the high levels of Vitamin E lock in the moisture or even use it as a cuticle oil to counter brittleness for your nails. I have found out that this oil is baby friendly and pet friendly so feel free to use it on your little ones.
These few products I've tested in the last month are just a small sampling of the many treasures you can find at Shea. I'm pretty sure I'll be back there to stock up more stuff once I'm through with my current stash because I love great organic products that shows results. I have yet to try out their Black African Soap so let me put that on my to-buy list!
If you would like to seek out some quality bath and skincare products, just drop by Shea and they'll be able to assist you.
Shea
#B2-47/48, Orchard Central,
181 Orchard Road, S238896
Tel : +65 62381690