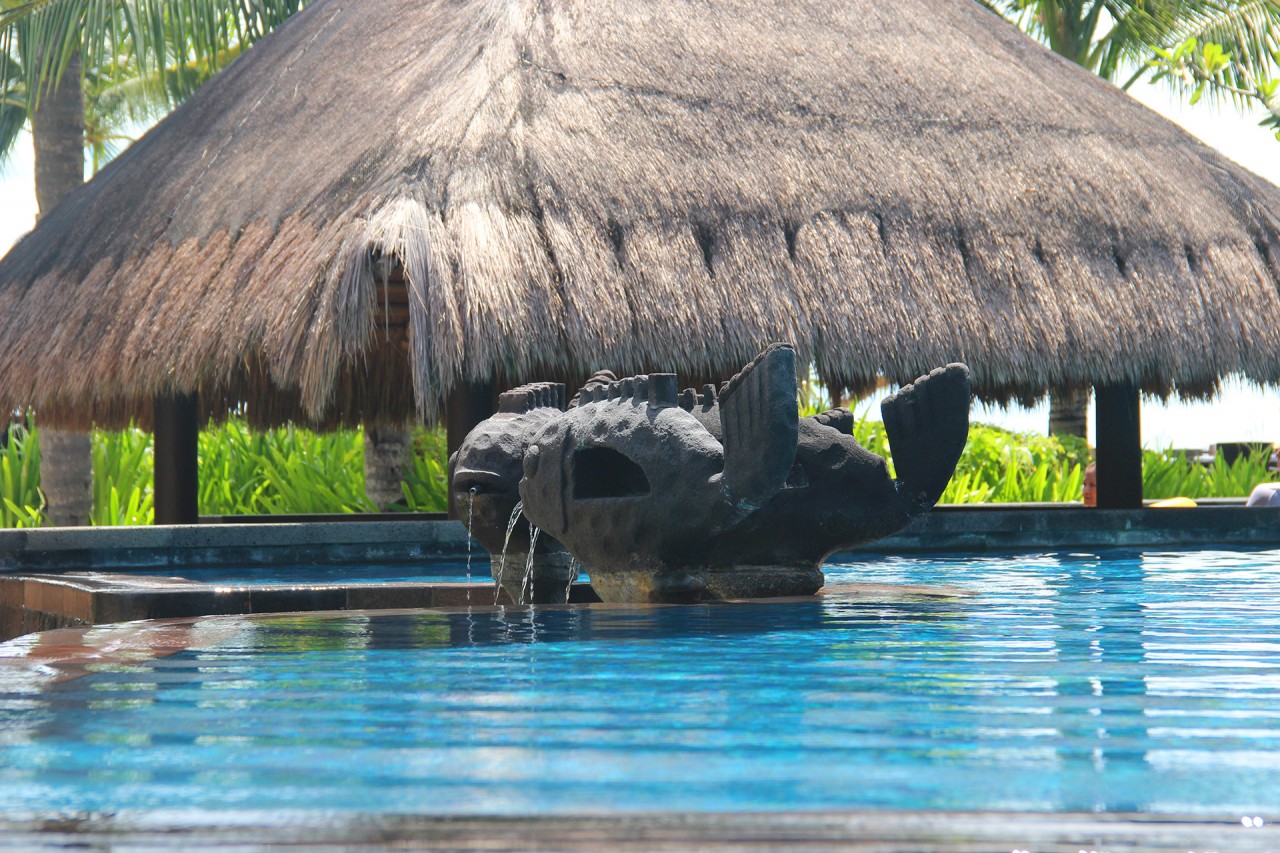 Shangri-La Hotels and Resorts is one of the world's premier hotel companies and I generally expect nothing but the best from them.
The idea is to be able to maximize a guest's leisure time without the hassles of stepping out of the resort and going all the way to the main beach of Boracay, which is about 15 minutes away. At Shangri-La's Boracay Resort and Spa, there is a variety of restaurants and bars that can be found all over the resort, offering an array of dishes and drinks to suit different folks. I had a superb lunch at Cielo and Alon Bar while I learnt more about this first and only five-star international deluxe resort to open on the famed island.
The lunch may look deceivingly simple but every bite was delicious and special mention goes out to their lobster and steak pizzas. The steak was incredibly tender!

Here's a tip for romantic couples looking for the perfect dining location to unwind. Go to Sirena restaurant and Solana bar located by the scenic cliff-side. Sirena is the main seafood outlet where you can feast on the freshest catch from the sea, cooked exquisitely by the seasoned chefs of the resort. It'll be an unforgettable experience.
After we have stuffed ourselves till we could stuff no more, there was a little surprise in store for the birthday hunk and babe. Happy birthday to Smith and Atsuko! It was such a sweet surprise for them 🙂

The environment at Shangri-La is incredibly relaxed and you feel safe and contented to let the world pass you by. I highly recommend this hotel for couples and honeymooners that just want to be in their own little bubble so that they can explore their relationship in the most beautiful and conducive environment.
There are 219 rooms and villas sprawled on a vast 12-hectare land and they are the only resort that has an exclusive jetty port for their guests for extra exclusivity.
What I fell in love with at Shangri-La Boracay Resorts is their gorgeous villas with private pools and amazing lookouts. I didn't get a chance to try their spa this time round but I've made a mental note of it.
The expansive territory houses some of Philippines' most indulgent and stylish accommodations.
|
|
I think the photos shows it all. Every villa seems like the perfect vacation home rather than just an accommodation. The Pool Villa is a bungalow that has one bedroom while Villa Balani has two bedrooms. Each type has a private lap pool, a pergola for outdoor dining, an outdoor shower, and a daybed for relaxation. These villas are ideal for family vacations.
After exploring Shangri-La Boracay Resorts, I finally found my personal favorite villa for my next special occasion. It's the Shangri-La's loft villa.
The 2 story Loft Villas are intimately perched amidst the forested hillside and thriving foliage in the aptly named Tanawin (vista) area of the Resort with amazing views of the sea which can be viewed at both levels and even when you are taking a bath or a swim!
Loft Villas provide a homey atmosphere that measure 216 square meters, with the master's bedroom on one level and a living room with a pantry on the other.
I can seriously just skinny dip in the private infinity pool all day while watching the sunset and the boats go past. What a wonderful way to spend the day!

The view was so amazing I couldn't stop snapping photos. Maybe I'll share some of those photos in my next photo journal post 🙂
If you want a luxury holiday that feels your senses with beauty, you can consider booking a couple of nights at the Shangri-La Boracay Resorts.