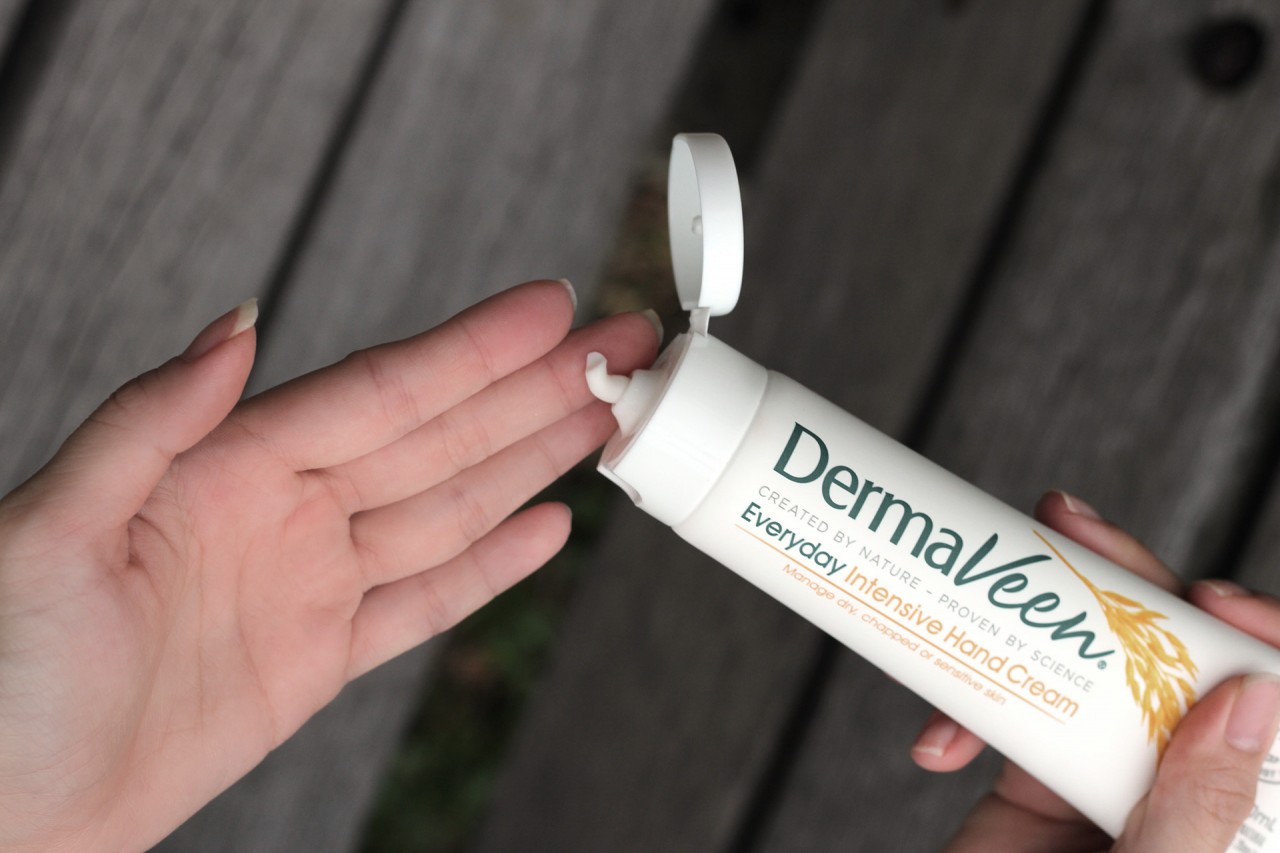 I've always had sensitive skin and it's imperative that I stay away from anything that's too harsh or contains too much chemical. It seems like a huge pain to have skin like that but I'm actually thankful because it serves as a sort of litmus test to ensure that I pay closer attention to what I should be using for my skin.
Whenever I travel, my skin turns dry and if I don't take care of it properly, it'll will start to itch, turn flaky or even start having eczema. As such, I've tried all kinds of different solutions there are in the market and even self-concocted a few so I believe I am able to gauge which products works and which only offer temporary relief. Recently, DeermaVeen range entered into my radar of things to try and I was really excited because I have long recognized the amazing anti-inflammatory effect properties of colloidal oatmeal which happens to be the key ingredients in DeermaVeen's products. DermaVeen is an Australian-made range specifically formulated for dry, itchy and sensitive skin.
If you have sensitive skin, dermatitis, eczema, or even sunburns, using normal chemically rich products can be really harsh on your skin, strip your natural barrier oils and make your skin feel worse than before. A specially formulated for sensitive skin range like DermaVeen is what you should be looking out for. To be honest, I usually concoct my own oil based moisturizer using a mixture of pure shea butter and various oils (argan, grapeseed, rosehip,etc) whenever I have skin dryness, redness or ezcema. It is a personal recipe that I've tried and tested with much success. However, DermaVeen offers a full range of products that covers me from head to toe that is just irresistible. Most importantly, it really works.
If you've ever been living for a long period in a dry climate, you'll probably experienced dry itchy scalp before and you know how incredibly irritating it can be. Even if you are lucky enough to be based in a humid location like Singapore, having chemical treatments such as hair dye, perm or rebonding can be really harsh to your scalp and strips it of it's natural oils thus resulting in a dry sensitive scalp.  DermaVeen Oatmeal Shampoo and Conditioner is probably the key to alleviating your scalp's dryness while gently handling the delicate skin.
If you already have sensitive or problematic skin condition, by using soap-freee hair cleansing products such as DermaVeen Oatmeal Shampoo and Conditioner, you can also assure that run-off during wash-off does not strip skin of essential oils. We tend to see hair products and body products as unrelated but letting chemical soapy residue flow through the surface of your sensitive body can cause further irritation that should be avoided. If you do insist on using a harsher shampoo and condition, do remember to wash your hair at the sink or try not to let the rinsing waters flow through your body surface.
Next is DermaVeen Soap Free Wash with a pH5.5 balance and is formulated for skin that  might be sensitive even to minimal concentrations of of sodium lauryl sulphate (SLS) and sodium lauryl ether sulphate (SLES) which is found in most body soaps. Knowing that this does not contain SLS or SLES really makes my day. This body wash is fragrance-free, pH balanced, lanolin, paraben and dye-free and can be used on the delicate skin of newborns. So go ahead to use it on your kids especially if you want to relieve nappy rash.
Once you are out of the bath or shower, you can use DermaVeen Moisturizing Lotion to sooth your skin. As with all their products, it doesn't clog pore and can be used on all skin types including infants. Despite that, I only tried this on my body and stop short of using it on my face.
The lotion is thick and white in color. It doesn't contain any fragrances, lanolin, parabens or dyes so there is a slightly oat smell from the oatmeal which disappears after the lotion absorbs into the skin. The rate of absorption depends greatly on how dry your skin is. After a slight massage, mine took awhile to soak completely into the skin but when my girlfriend, Sushi, who was suffering from eczema and dry skin tried, it absorbed almost immediately. A protective film is left on skin and I love that this non-greasy formula that keeps skin smooth and soft without any sticky feeling.
The DermaVeen Moisturizing lotion is light and can be reapplied frequently for best effect. However, if you have dry sensitive itchy skin and tend to sleep in dry environments such as an air-con room, it may be a wise idea to use the thicker DermaVeen Moisturizing Cream instead of lotion before you sleep as you won't be reapplying it for many hours.
Last but not least is the DermaVeen Everyday Intensive Hand Cream. Our hands are our tools and need even more TLC since they get exposed to all sorts of chemical and water exposure. Hands also show one of the earliest signs of aging and should not be neglected. Ideal for dry, chapped hands, split cuticles and finger tips, DermaVeen Intensive Hand Cream is a gentle formula that is enriched with two percent natural colloidal oatmeal. It doesn't leave hands greasy after application and it worked wonders for my girlfriend, Sushi, who was having a patch of eczema on her hands that had been aggravated by washing her baby's bottles.
I love the DermaVeen series! It may not have the most fancy packaging or colors or fragrances but it is gentle, delicate and effective. Since you can find it in most pharmacies, it's convenient as well! I've already advised my friends who have problem skin associated with dryness to switch to this and I hope it will help you as well. In fact, I'm really keen to test out their DermaVeen Shower and Bath Oil as well as the DermaVeen Eczema Cream in the future.
I'll be doing a special DermaVeen hamper giveaway on my Instagram (@renzze) and Facebook Page sometime this weekend so look out for it! All you have to do is like and/or comment to stand a chance in winning one of the 3 DermaVeen hampers (each worth more than $100) that I'll be giving away.
Each one contains:
DermaVeen Soap Free Wash pH 5.5 250ml ( $19.75 each )
DermaVeen Moisturizing Lotion 250ml ( $18.65 each )
DermaVeen Moisturizing Cream 100g ($14.90 each)
DermaVeen Everyday Intensive Hand Cream 100g ( $19.95 each)
DermaVeen Oatmeal Shampoo 250ml ( $17.60 each )
DermaVeen Oatmeal Conditioner 250ml ( $16.45 each)
*****
*****
*****
*****
*****
Outfit of the day
Dress: Liz Lisa
Bag: Love Pink
Heel: Korean